Brad Cole's "Come Home" Named February "Best Song Of The Month"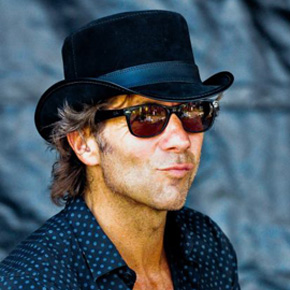 Brad Cole, a talented Americana/soul singer/songwriter based in New York City, has won the SongwriterUniverse 'Best Song Of The Month' Contest for February, for his song "Come Home.' This song is included on his 2010 album, Exile, and he has since released (in July 2012) his latest album, Down The Line.
'Come Home' is a heartfelt, acoustic guitar-based song which starts off with a slow intro, and then quickly picks up energy and momentum when the band comes in. The song's highlight is the chorus, which has a hooky melody and is bolstered by rich, background harmonies. This recording also showcases Cole's expressive, soulful lead vocals. "Come Home" was skillfully produced by Cole and Josh Shapera, who handled the recording and engineering.
Cole was born and raised in Chicago, IL, where he learned to play guitar and write songs when he was a teenager. He was inspired by listening to such favorite singer/songwriters  as Patty Griffin, Aimee Mann and Shawn Colvin. Cole played in several bands (including a ska band), and for college, he attended the University of Illinois and subsequently graduated with a Bachelor's Degree in Communications.
It was after college that Cole began to seriously concentrate on a music career. In 2000, he recorded & released his first EP, and in 2008 he released his first full album, called Highway 200. Then in 2010, Cole released his second album, Exile. Both of these albums were produced in Chicago by Josh Shapera and Cole.
Then in early 2011, Cole decided to move to Nashville, TN for a year. "Things really started to pick up when I moved to Nashville," explained Cole. "I was ready for a change, and I was able to plug into more of the music business. I co-wrote with other writers, and I signed with a music publisher there."
It was in Nashville that Cole recorded his most recent album, Down The Line. The key cuts on this album are "Something About Goodbye," "Cry, Cry, Cry" and "Butterfly.
In addition to his writing & recording, Cole remains very busy as a steady live performer. He's been able to build a living as a touring artist, playing over 100 shows per year, mostly in the East Coast, Midwest and Midsouth. "This year I'll be spending a good amount of time on the road, supporting the new album," said Cole.
Top Five Songs Of The Month
Here are the Top Five Songs which were submitted for this month's contest, with the songwriter credits, plus their e-mail and website links. You can listen to the winning songs by clicking the music players below.
"Best Song Of The Month" Winner
Song Title:
"Come Home."
Written by:
Brad Cole of New York, NY. Performed by Brad Cole..
More Best Songs Of The Month
To enter the next "Best Song Of The Month" Contest (the deadline is the last day of each month), please
Click Here