Rock Duo Trapdoor Social's "Away" Named December "Best Song Of The Month"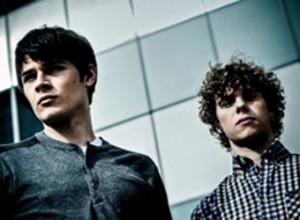 Trapdoor Social, a promising, alternative/pop/rock duo based in Los Angeles, has won the SongwriterUniverse 'Best Song Of The Month' Contest for December, for their song 'Away" (written by mostly by Skylar Funk, with Merritt Graves and producer Curt Schneider). This song is included on the group's debut 6-song EP Death Of A Friend, which was released independently in November (2012).
'Away' is a modern, high energy alt./pop song which is very catchy. The intro sets the tone with some fun whistling, and then by the chorus a full-band sound kicks in with strong guitar tracks. The lead vocals are capably sung by Merritt Graves, with hooky harmony vocals by Graves and Skylar Funk. This recording was expertly produced in Los Angeles by Curt Schneider, who has worked with Jason Mraz, Five For Fighting, Natasha Bedingfield and others.
Skylar Funk grew up near Seattle, WA, and Merritt Graves is from Iowa City. They met at Pomona College in Southern California, where they both majored in Environmental Analysis, and developed a mutual interest in promoting renewal energy. They also started writing songs together.
After graduating, they moved to Los Angeles and formed Trapdoor Social in November 2011. "We started writing and went into the studio with Curt Schneider in January (2012)," said Funk. "We posted some music online in the spring, and we've put a band together'our first live show was in July."
Funk wrote "Away" with Merritt and Schneider right before they went into the studio. "The song is about breaking free from the monotony or an oppressive reality," he explained. "'Away' is a song that hopefully can inspire people to break out of the daily grind and cut loose."
Notably, Funk & Graves have produced a highly entertaining, festive video of "Away." "Arie Hovenkamp directed the video'the three of us came up with the video concept, and we hired a dozen actors and got a dozen extras to help us out. We're also working on a video for our song, 'Like You Never.'"
In addition to filming these videos and performing shows with their band, Funk & Graves have returned to the studio to begin recording their next EP. "We want to release a new EP in a few months," said Funk. "Also, we've been developing our live show in L.A. and we played a show at the Hotel Cafe. Eventually, we'd like to do a college tour; we're starting to get good airplay from some college radio stations."
Top Five Songs Of The Month
Here are the Top Five Songs which were submitted for this month's contest, with the songwriter credits, plus their e-mail and website links. You can listen to the winning songs by clicking the music players below.
"Best Song Of The Month" Winner
Song Title:
"Away."
Written by:
Skylar Funk, Merritt Graves & Curt Schneider. Performed by Trapdoor Social.
More Best Songs Of The Month
To enter the next "Best Song Of The Month" Contest (the deadline is the last day of each month), please
Click Here