Kate Diaz's "Down To Earth" Named October "Best Song Of The Month"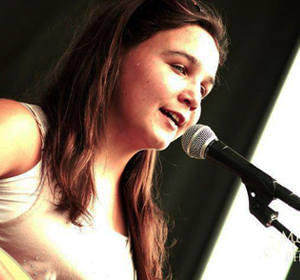 Kate Diaz, a promising pop/rock singer/songwriter (from Chicago, IL) who is only 15 years old, has won the SongwriterUniverse 'Best Song Of The Month' Contest for October, for her song "Down To Earth". This song, which has a theme about protecting the environment,  was written specifically for Earthday.org.  Notably, Diaz performed this song at the Earth Day 2012 festival at the National Mall in Washington D.C. last April.
'Down To Earth' is an assertive rock/pop song which has the energy and full sound of a Kelly Clarkson radio hit–you wouldn't guess that it's a 15-year-old who wrote and sang this song. It has a distinctive song title which cleverly captures the Earth Day theme, and a well crafted lyric which elaborates on this message. "Down To Earth" also provides a good showcase for Diaz's expressive, soulful vocal performance, and the recording was expertly produced by Tadpole, a Chicago-based producer/engineer who has worked with 3 Doors Down, the Plain White T's and Disturbed.
Diaz grew up in the Chicago area, where she learned to play guitar when she was eight, and soon after began writing songs. She's been inspired by listening to such favorite artists as OneRepublic (especially the writing of Ryan Tedder), the Beatles, Adele and K'naan. When she was 12, Diaz landed a steady gig performing weekly at a nearby Potbelly sandwich shop, and she's played there ever since.
To date, Diaz has written 30-40 songs, many of which have been released on the three acoustic, 8-song live albums she has recorded. Her first album, Two By Four, was released in April 2011, followed by Electrified (Fall 2011) and this year's album, Wildfire.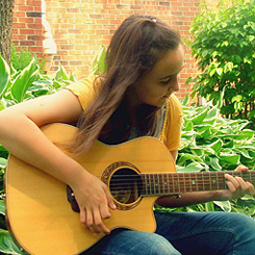 Diaz wrote "Down To Earth" when she was just 14. "I wrote this song after watching (on TV) the Tsunami in Japan and the oil spills in the Gulf," recalled Diaz. "Both events were on my mind, and around that time Earth Day was coming up. So I wrote 'Down To Earth' for Earth Day." Proceeds from "Down To Earth" go to  Earthday.org to help fund sustainable resource projects.
Impressively, Diaz has already won several honors, including several scholarships to attend Berklee School of Music's summer sessions, plus a 2012 ASCAP songwriting award. She has also performed at national events such as the 2012 Earth Day Festival, Lollapalooza, and the Milwaukee Summerfest.
Currently, Diaz attends high school, while continuing to write songs, perform live and build exposure. "I would love to put together a band," she said. "And someday I'd love for songwriting be my profession, and to write songs for other people."
Top Five Songs Of The Month
Here are the Top Five Songs which were submitted for this month's contest, with the songwriter credits, plus their e-mail and website links. You can listen to the winning songs by clicking the music players below.
"Best Song Of The Month" Winner
Song Title:
"Down To Earth."
Written by:
Kate Diaz of Chicago, IL. Performed by Kate Diaz.
More Best Songs Of The Month
To enter the next "Best Song Of The Month" Contest (the deadline is the last day of each month), please
Click Here