Danielle Barbe's "Ghost Town" Named May "Best Song Of The Month"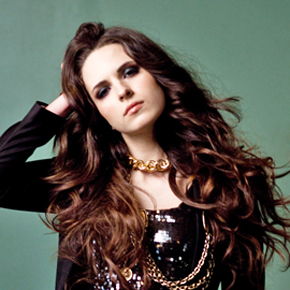 Danielle Barbe, a talented rock/pop singer/songwriter based in Pittsburgh, PA, has won the SongwriterUniverse 'Best Song Of The Month' Contest for May, for her song "Ghost Town" (co-written by David Barbe, Mike Dugan & James Flannigan). This song is included on Barbe's self-titled debut album, which she released independently in March 2011.
'Ghost Town' is a high energy, mainstream rock tune which sounds ready for major radio airplay. The song was expertly produced Luke Ebbin, who has produced platinum & gold albums for Bon Jovi and the All-American Rejects, and co-wrote the hit "Hey There Delilah" for the Plain White T's. "Ghost Town" also provides a fine showcase for Barbe's strong, expressive vocal performance. In addition, Barbe has filmed an impressive video of "Ghost Town," which is currently being played on MTVu and Fuse Music.
Barbe (who is 23) was born and raised in a small town south of Pittsburgh. Her father was a drummer who played in rock bands, and her brother David Barbe is a guitarist/writer who plays in her band. Barbe learned to play piano at a young age, and she later began playing guitar. Barbe grew up listening to such favorite artists as Alanis Morissette, Carole King, and Chris Robinson (of the Black Crowes).
Following high school, Barbe first attended University of Pittsburgh, and she is scheduled to graduate with a Bachelor's Degree this December. However, she also took time off  and moved to Los Angeles to pursue her music career. "I decided to move to L.A. in 2009–it took awhile to meet people there, but eventually I met some great (music) people including Luke Ebbin," recalled Barbe. "I started writing with Luke, and we ended up recording a full album. Luke is great–he loves music and he genuinely wanted to help me with my career.
Barbe's self-titled debut album was released in March 2011, and it's received good feedback and exposure. "Ghost Town" has caught the attention of music supervisors and it was licensed for the CBS-TV show, The Ghost Whisperer. Also, her song "Wango Tango" was featured in the Regency/20th Century-Fox movie, Vampires Suck.
Notably, Barbe entered the Ernie Ball Battle Of The Bands (in conjunction with Van's Warped Tour), and she beat out 23,000 other entries for this competition. Barbe & her band won the championship after performing live in the Finals last December (2011) at the Key Club in Los Angeles. One of the main prizes is an opportunity to collaborate and record (a three-song EP) with hit writer/producer Matt Squire, who is known for working with One Direction, Panic! At The Disco, The Used and Selena Gomez. Barbe will be recording with Squire this summer.
Lastly, Barbe & her band will be performing on the  Van's Warped Tour starting in July, and this June she will be playing at the New York club Arlene's Grocery as part of this year's New Music Seminar.
Top Five Songs Of The Month
Here are the Top Five Songs which were submitted for this month's contest, with the songwriter credits, plus their e-mail and website links. You can listen to the winning songs by clicking the music players below.
"Best Song Of The Month" Winner
Song Title:
"Ghost Town."
Written by:
Danielle Barbe, David Barbe, Mike Dugan & Phil Flannigan. Performed by Danielle Barbe.
More Best Songs Of The Month
To enter the next "Best Song Of The Month" Contest (the deadline is the last day of each month), please
Click Here