Amanda Dove's "Close The Door" Named April "Best Song Of The Month"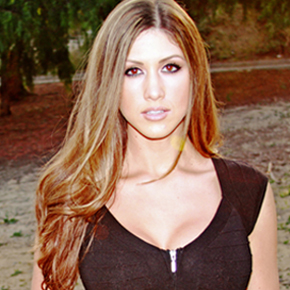 Amanda Dove, a promising pop/AC singer/songwriter based in Los Angeles, has won the SongwriterUniverse 'Best Song Of The Month' Contest for April, for her song "Close The Door". This song will be included on Dove's upcoming 4-song EP, which she will release independently later this year.
'Close The Door' is an intimate, graceful ballad which has an arrangement that features just piano and vocals, but the emotion and theme of the song come across well. The lyric is about the end of a relationship–"closing the door" on a romance which no longer works. The song features Dove's rich, expressive lead vocals, plus good harmonies in the chorus. "Close The Door" was adeptly produced by Jervy Hou, a talented producer/musician who also plays piano on this cut.
Dove  grew up in Orange County, CA, where she was exposed to music at an early age, by her grandparents (who were paid musicians) and her parents (who loved classic rock). She was inspired early on by listening to such favorite artists as Eric Clapton, the Beatles and Led Zeppelin, and more recently to Jewel, Jamey Johnson, Jamie O'Neal, Adele and the Civil Wars. Dove learned to play acoustic guitar and some piano, and she started writing songs when she was a teenager.
For college, Dove attended nearby Cal State Fullerton, where she subsequently graduated with a B.A. in Communications with an emphasis in Entertainment Studies. It was during this period that Dove also developed her songwriting and honed her guitar skills. And it was at Fullerton that she met producer Jervy Hou, and they recorded some demos together.
"Close The Door" was written in July 2010 and recorded that November. "I tend to write bittersweet, ballady type of songs," said Dove. "'Close The Door' was in part inspired by some relationships I've had." Notably, Dove has produced an attractive video for "Close The Door," which was directed by her friend, Susan Nogues.
In addition to working on her EP, Dove has been writing steadily and recording many  demos. "I love to write, both for myself as an artist, and to write songs for other artists to record," she explained. "I've traveled to Nashville twice–it's a wonderful place for inspiration. I'm looking forward to returning to Nashville to write, network and to build relationships. I'm also looking for a music publishing deal, and to collaborate with new producers and writers."
Top Five Songs Of The Month
Here are the Top Five Songs which were submitted for this month's contest, with the songwriter credits, plus their e-mail and website links. You can listen to the winning songs by clicking the music players below.
"Best Song Of The Month" Winner
Song Title:
"Close The Door."
Written by:
Amanda Dove of Orange County, CA. Performed by Amanda Dove.
More Best Songs Of The Month
To enter the next "Best Song Of The Month" Contest (the deadline is the last day of each month), please
Click Here