Chris Stein, Co-Founder Of Blondie, Talks About The Band's Album, Pollinator, And Co-Writing Their Classic Hit Songs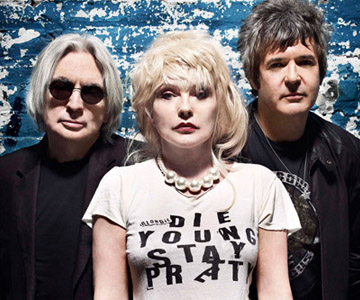 Chris Stein has long been the lead guitarist and a key songwriter for legendary rock band, Blondie. He has collaborated with lead singer Debbie Harry on many albums, and they co-wrote Blondie's number one hits, "Heart of Glass" and "Rapture." They have written many songs together, including six of the 12 songs on the group's greatest hits album, The Best of Blondie.
This year, Blondie is back in the spotlight, with the release of their new album, Pollinator (on the BMG Rights Management label). The album impressively combines the classic Blondie sound with modern production and arrangements, and features songwriting contributions by current hit artists Sia and Charli XCX, plus new songs by Johnny Marr, Nick Valensi (from The Strokes), Dave Sitek (TV on the Radio), Des Hynes and Erik Hassle.
In addition, Pollinator contains two new songs written by Stein & Harry: "Doom or Destiny" (featuring vocals by Joan Jett) and "Love Level." In particular, "Doom or Destiny" is an exciting, modern punk/pop song that ranks with the best of Stein & Harry's songs.
Pollinator was produced by Grammy-winning producer, John Congleton, who has also worked with Franz Ferdinand, St. Vincent and Sigur Ros. Blondie's current band lineup consists of Harry, Stein, original drummer Clem Burke, Matt Katz-Bohen (keyboards), Leigh Foxx (bass) and Tommy Kessler (guitar). Notably, Blondie was inducted into the Rock & Roll Hall of Fame in 2006.
Blondie recently announced that they will be launching a North American concert tour this summer, called the Rage and Rapture Tour. They will be co-headlining the tour with acclaimed rock band, Garbage (featuring Shirley Manson). The tour starts July 5 in California, and includes dates at the Hollywood Bowl in Los Angeles and the Beacon Theatre in New York City.
We are pleased to do this new Q&A interview with Chris Stein of Blondie. He discusses the making of their new album, his songwriting collaborations with Debbie Harry, and how the duo wrote the classic hits "Heart of Glass" and "Rapture."
DK: I like your new album; it sounds fresh while still keeping that classic Blondie sound. Can you talk about the making of Blondie's new album?
Chris Stein: Well, the only thing that was really pre-planned going into it, was to do more of a roots thing and get the whole band in to record it together, and to see where things should go. And then it was a collaborative effort, getting all these contributions from all the people (like Sia, Charli XCX and Johnny Marr), that took shape over a period of time. And (producer) John Congleton was really smart—I think he had the right feel for the direction (of the album).
DK: For the new album, you brought in some top current songwriters who wrote songs for the album.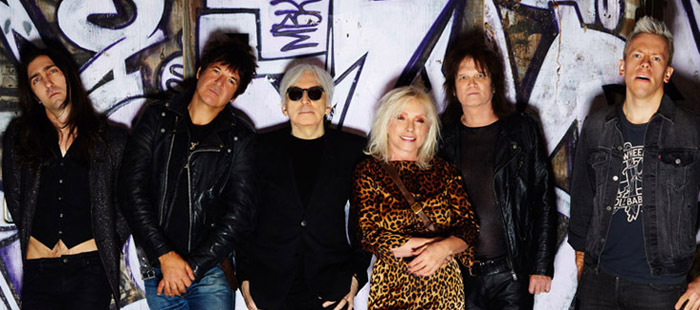 Stein: It was more like a curated thing. People just contributed songs [that we recorded]. John Congleton and me went through a lot of songs; we must have went through 25 or 30 different pieces of music, and that was the process.
DK: Were Sia and Charli XCX longtime Blondie fans, who wanted to write a song for your album?
Stein: Well, we approached Sia because everyone loves her—she's great. So it was coincidental that she had these tracks she'd worked on with Nick (Valensi) from The Strokes. So it seemed to work out [to record their song, "Best Day Ever"]. The Strokes, like Blondie, also came out of the New York music scene.
DK: You co-wrote two new songs with Debbie Harry for the album, including the excellent opening cut,  "Doom or Destiny." How did you co-write this song?
Stein: That was just really easy—I just wanted to make sort of a modern sounding punk song. It originally had a longer intro that I suppose was reminiscent of "Anarchy In The U.K" (by the Sex Pistols), so we cut the intro down to just the drums.
DK: I noticed that Joan Jett contributes vocals on this song. How did you decide to have Joan sing on this song?
Stein: I think Debbie thought it would be a good idea for Joan to sing on it. We've known Joan for about 30 years. So she's an old friend, and she agreed (to sing on it) right away.
DK: You've had a great, longtime songwriting collaboration with Debbie Harry. When you write with Debbie, what's the general way that you like to write together?

Here's the video of Blondie's excellent new song, "Doom Or Destiny," which
features Joan Jett.
Stein: Mostly, I will just send her a semi-complete demo track, and she'll add to it. Sometimes, I'll have a suggested melody that she'll develop herself or embellish. We kind of write in every different way—there's no really one set way. Sometimes I'll just have an empty track, and she'll work up a melody from scratch.
DK: So a good amount of the time, you'll create a track with the chords and maybe some melody, and then Debbie would add to the melody and write most of the lyrics?
Stein: Yes. Debbie would write (most of) the lyrics. I generally don't write too many lyrics. Occasionally, I will write a phrase or two.
DK: Back in Blondie's earlier years, you and Debbie wrote two of the band's biggest hits: "Heart of Glass" and "Rapture." How do you and Debbie write these songs?
Stein: "Heart of Glass" was floating around for a long time in different demo forms. It was kind of referencing "Rock Your Baby" by George McCrae.
"Rapture" was much more spontaneous—it came more quickly. We probably wrote "Rapture" while we were (in the middle of) working on the album (Autoamerican).
DK: "Rapture" was the first, big pop hit to have rap in it. Can you talk a little more about how you wrote "Rapture"?
Stein: You know, (hip-hop pioneer) Fab 5 Freddy had taken us to see this big rap event in 1977—it was a hip-hop party at the Police Athletic League in the Bronx (NY). It was a big event with a lot of DJs and MCs going on. I'd heard (the hit) "Rappers Delight" and a few pieces here and there, but when we were suddenly exposed to this whole scene, it was very fresh and exciting. So it just seemed like a no-brainer to reference it (in the lyrics of "Rapture").
DK: Is there anything else you'd like to mention for this article?
Stein: We just appreciate everyone's support. We're already feeling a bit of momentum from this record, so we'll just see where it goes.