Interview With Chris DeStefano, Hit Songwriter For Carrie Underwood, Luke Bryan, Jason Aldean And Other Artists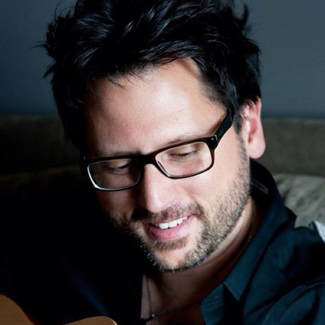 Grammy award-winning songwriter & producer Chris DeStefano has laid the groove down on many chart-topping songs in the country music world. While the Mt. Laurel, New Jersey native knows his greatest strength is in creating the musical landscapes of songs, he also enjoys flexing his muscles as a wordsmith when penning songs in a writing session.
DeStefano's collaborations with fellow songwriters have churned out a series of #1 and Top 10 country hits. Remarkably, all of these hits (over 15) have charted in just the past three years, making him one of Nashville hottest songwriters. Most recently, DeStefano co-wrote Carrie Underwood's hot new single, "Smoke Break," and he co-wrote one of this summer's biggest hits, "Kick The Dust Up" for Luke Bryan.
Here's a list of his other key hits: Carrie Underwood ("Something in the Water," "Good Girl," "Little Toy Guns"), Luke Bryan ("That's My Kind of Night"), Billy Currington ("Hey Girl"), Brett Eldredge ("Don't Ya") Rascal Flatts ("Rewind"), Jason Aldean ("Just Gettin' Started"), Miranda Lambert & Carrie Underwood ("Somethin' Bad"), Rascal Flatts ("Rewind"), Jana Kramer ("Why Ya Wanna"), Chris Young ("Aw Naw") and Chase Rice ("Ready Set Roll").
Besides the country genre, DeStefano has co-written songs for many pop artists including Kelly Clarkson, Gavin DeGraw, Bon Jovi, David Archuleta, David Cook and Big Time Rush.
In addition, DeStefano has many credits as a record producer, and he is a multi-instrumentalist. His production discography includes working with Kelly Clarkson, Dan + Shay, Chase Rice, Brett Eldredge, Big Time Rush, Haley Reinhart, Kris Allen and David Archuleta. Notably, DeStefano won a Grammy award for his work on Kelly Clarkson's platinum album, Stronger.
We're pleased to do this new Q&A interview with Chris DeStefano, who is signed with Sony/ATV Music Publishing. He talks about how his songwriting muse works, and he recalls how he co-wrote such hits as "Something in the Water" and "That's My Kind Of Night."
BC: How did the songwriting begin for you?
DeStefano: I got into music early. I was about 8-years-old. I was asked to audition for the Boys Choir of Philadelphia—I did and got in. That was my first experience of seeing the world. We did some traveling overseas in Europe. When you're that age, I thought if I can stick with it long enough, I can just become a professional singer. It's not quite like that (laughs). I remember having those kinds of dreams even being that young. When I was 13, I picked up the guitar and became obsessed and played eight or 10 hours a day. I literally didn't miss a day for about three years. I did nothing but play guitar. Definitely, my grades suffered a little bit, but I think it worked out. All that time while I started playing guitar, I pretty much started writing songs from day one. I still remember the first riff that I ever wrote. I wouldn't even play it for anybody…it was really bad. It was this simple little one string thing.
I ended up going out to Los Angeles and signed a publishing deal with EMI in 2008. They sent me on a writing trip down here in Nashville in 2010. I fell in love with Nashville, the community and the people, and the songwriting. It brought me home to what I really grew up on in so many ways.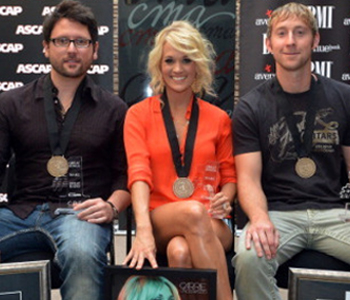 BC: What were some of your songwriting and guitar influences?
DeStefano: I used to play a ton of songs by James Taylor, a lot of Stevie Wonder, Lionel Richie and Pearl Jam. I loved a lot of the grunge bands back in the day, Alice In Chains and Soundgarden. Also, I studied a lot of jazz as well. [My music taste] was kind of all over the place. I went to college for film music, which I've really loved. Later on, [I listened to] Shania Twain, Keith Urban, Rascal Flatts— definitely spun those records many, many times. To have the opportunity to work with some of those guys is pretty great.
BC: Are you stronger with writing melody or lyrics?
DeStefano: I think you have to have a hat for each thing. I do enjoy working with great lyric writers because a lot of times in a room I'll be more on the music/melody side. We'll all put our ideas in the hat, but I'd say my strengths are definitely more on the music and melody side. It's really about being efficient in the room where everybody has their strong suits and at the end of the day, I feel like it makes for a stronger song.
BC: Do you bring ideas into the room usually, or do the lyrics help motivate you to come up with ideas?
DeStefano: It depends. Sometimes somebody will say a lyric or a title or something, and it really just comes out. The other thing happens too, where you're singing something that sounds like a lot of vowels and a little bit of consonants here and there—there's really not words (yet), but it sounds good. You kind of go after what that particular emotion is musically and how it can work in a lyric, and what lyric would really match that emotion.
BC: In talking to a lot of songwriters, they usually like to come into the session with a few ideas on the table. Are you the same way?
DeStefano: I do love to do that. It's probably 50/50. I'll work up ideas almost to the point that it sounds like a record, but there's no melody or lyric. It's just music. I'll go in and play everything and make it sound like it could be a hit record. That's always fun. I usually come up with a few of those before, depending on who the writing session is with. At this point I have so many close friends I write with often, that we kind of know how our writing process works. It's better if we start from scratch, because we all get involved in all kinds of different aspects of the writing process.
BC: When it comes to writing the music/melody, what helps you to get inspired? Do you doodle—for lack of a better word–around on the guitar and then something comes to mind?
DeStefano: That definitely happens, or I even go to other instruments sometimes. Different ideas will come out inherently in different instruments whether it be sitting down at my grand piano and playing a few chords or grabbing a mandolin, which is such a cool, interesting instrument, because it's so melodic and you can do so much with it. Sometimes I'll just pick up a mandolin or start with a beat even. It sounds crazy, but a lot of times we'll start with that. We'll say, "that sounds like a hot beat," and we'll get on it that way, too.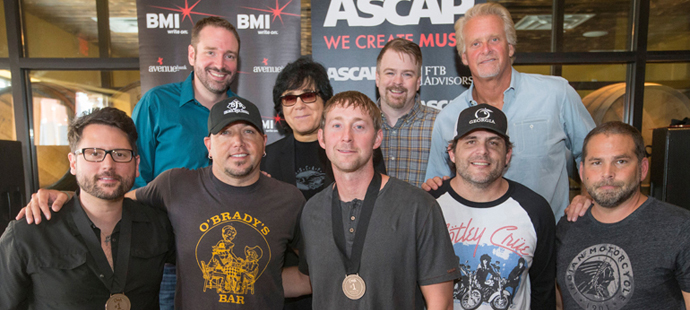 BC: How did Carrie Underwood's hit "Something in the Water" develop?
DeStefano: I was planning on going in [the writing session] with Carrie and Brett (James), and both of them are such amazing songwriters that I always like to come with a musical idea. I had a few tracks kind of sussed out. A lot of the parts on the final records are all in the original track. I played the track for them—they really reacted to it. Before it even got finished playing, Carrie said "I've got this title called 'Something in the Water', and she explained what she wanted to write about…baptismal water. It just immediately felt right. That was one of those songs that God was definitely in the room that day. We really felt it. By the end of the day, I remember us cranking it up and putting it on repeat and really taking it to church. It was a great, great day.
I try never to have expectations on songs. I feel that at the end of the day you really want to feel great about the song you're written, and anything outside of that is all blessings, and that's really what happened. To see ["Something in the Water"] go on and do what it did and for all the fans and everybody to react how they did is amazing.
BC: How did Luke Bryan's "That's My Kind of Night" develop?
DeStefano: We were looking to get in and have fun. Ashley Gorley, Dallas Davidson, and I always try to push the limits to each other and the kinds of songs we're going to write. That might have been the third song we wrote that day. I started out with that bass riff (vocalizes part of the song's groove), and once we had that kind of vibe, it was like this is a get wild song. We were writing about living in the country and having fun. They all live exactly how the song plays out. It's pretty awesome.
BC: Are you interested in pursuing writing in other genres?
DeStefano: It's a win-win. I definitely grew up on a lot of pop as well, and did it for a hot minute out in L.A. before I started coming to Nashville. I love pop music. I'm not comparing it. But when I'm thinking of a pop song, maybe the hooks are a little more simplified in a good way. Again, I'm in no way comparing because they're two completely different things. We all will be influenced, to many degrees, to what we write in country music by a lot of the great pop stuff. Those influences definitely come out even in the country songs we write. I've done some stuff with Kelly Clarkson and Gavin DeGraw and enjoy that whole side of it as well. Again, it's a different genre. They shake hands in a lot of areas, but it is a little bit of a different head space.
BC: What advice do you have for songwriters?
DeStefano: My advice would be to write as much as possible and love what you write. There's going to be good days, and there's going to be not as good days. It's funny…I have an expression. There are good days, and there are good days. Do it, enjoy it, do it regularly.
I've never been good at critiquing other people's songs. Obviously, we all hear certain things, but it's kind of like that's the song they wrote that day, and there's going to be more songs. It's never a healthy thing to think that the song you're in the middle of writing is going to be the last song you ever write. You have to realize, you give it 150% but also know there's going to be many more songs.
Bill Conger is a freelance writer for various publications including Bluegrass Unlimited, GACTV.com, Bluegrass Music Profiles and ParentLife. He can be reached at [email protected].He is also on Google+