Top Songwriter Desmond Child Writes Hit Songs For Aerosmith, Katy Perry, Bon Jovi And Ricky Martin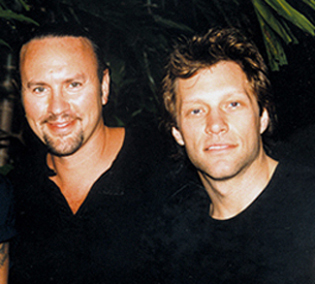 Update: Desmond Child co-wrote with Katy Perry (in 2009) her big hit, "Waking Up In Vegas."
Desmond Child has been one of the most successful, versatile songwriters in the music business for more than two decades. This consummate hitmaker first enjoyed success as an artist (with his group, Desmond Child & Rouge), then went on to co-write numerous hits for KISS, Bon Jovi, Aerosmith, Joan Jett, Michael Bolton and Cher. Most recently, he has co-written and produced several hits for Ricky Martin, including the breakthrough single, "Livin' La Vida Loca." Over the course of his career, Child has remarkably written forty, Top 40 chart hits.
In a new interview, Child recalled moments from his entire career, including his early years as a writer/artist in Florida and New York, and which artists have inspired him. He talked about many of his hit songs, including how he established collaborations with KISS, Bon Jovi and Aerosmith. Lastly, he offers words of advice to aspiring songwriters and artists who are trying to break into the business.
Growing up in Miami Beach, Child was first inspired by his mother, Elena Casals, a Cuban songwriter who has had cuts with Latin artists. "My mother loved music, and she was always writing songs," explained Child. "As soon as I was able to sit on the piano, I started imitating her. I learned how to play piano, and started writing songs at a young age."
When he was 14, his friend Lisa Wexler (daughter of legendary, R&B producer Jerry Wexler) would play him albums by Otis Redding and Aretha Franklin that her father had produced. Then one day, she played him Laura Nyro's debut album, More Than A New Discovery (on Verve Records), which immediately had a profound impact on him.
"I was deeply moved by her music," explained Child. "The album (which contained such classics as 'Stoney End,' 'And When I Die' and 'Wedding Bell Blues') inspired me to take my songwriting very seriously, and I began writing songs which were influenced by her. It was a tremendous thrill for me, many years later, when I had the chance to meet with her."
In high school, Child formed an acoustic/folk duo called Night Child with singer/guitarist, Debra Walls. They drove north and performed gigs in Woodstock (NY), Boston and Montreal. The duo ended up recording demos with Van Morrison's band at Bearsville Studio near Woodstock, and were almost signed by label executive Seymour Stein in 1971.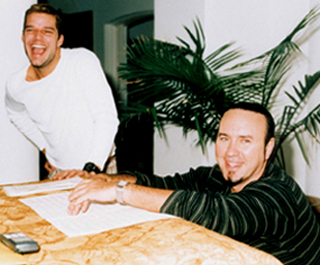 However, Night Child subsequently disbanded, and Child attended Miami-Dade College, where he met singers Maria Vidal and Diana Grasselli in 1973. The trio formed the group, Desmond Child & Rouge, and moved to New York City to pursue their music aspirations. Playing the club circuit, the group gradually developed a major following, and was signed to Capitol Records by A&R exec/producer Richard Landis in 1978.
"We recorded two albums for Capitol (both released in 1979), and we had a dance hit called "Our Love Was Insane," recalled Child. "However, we were doing something very different and urban, combining dance and Latin rhythms, rock and roll, punk, all with singer/songwriter-style lyrics. We weren't understood by our label, and there was a lot of pressure on us at the time, so we ultimately broke up in 1980."
From that point on, Child primarily focused on his songwriting career, which had begun auspiciously in 1979, when he started collaborating with Paul Stanley of KISS. The duo wrote "I Was Made For Loving You" for the group's Dynasty album, which became a Top 10 hit. Child went on to co-write 16 songs for KISS, including the hit "Heaven's On Fire" from the group's Animalize album in 1984.
When Jon Bon Jovi heard and loved "Heaven's On Fire," he called up Child to collaborate with him. "I got together with Jon Bon Jovi and Richie Sambora, and the first song we wrote was 'You Give Love A Bad Name,'" said Child. "I ended up writing at least 10 cuts with them, including the hits 'Livin' On A Prayer,' 'Bad Medicine' and 'Keep The Faith.'"
During the late '80s, Child established a hit collaboration with another, multi-platinum band, Aerosmith. "A&R exec John Kalodner introduced me to Aerosmith, bringing me in to write with the group for their Permanent Vacation album," explained Child. "Steven Tyler and I wrote 'Dude (Looks Like A Lady)' and 'Angel,' with Joe Perry co-writing 'Dude' with us. We also wrote [the Top 10 hit] 'What It Takes' for their Pump album, plus [the Grammy-winning hit] 'Crazy' for Get A Grip."
Throughout this period, Child collaborated with (or wrote songs for) many other artists, including Cher, Roxette, Cyndi Lauper, Ratt, Chicago, Alice Cooper and Cinderella. Child co-wrote two additional, noteworthy hits: the rock classic "I Hate Myself For Loving You" for Joan Jett, and the hit "How Can We Be Lovers" for Michael Bolton.
After living for several years in both New York and Los Angeles, Child moved back to Miami in the mid-90s. He built a new studio in his home garage, utilizing ProTools studio equipment. In fact, as a producer, Child made history in 1999 when he produced, recorded and mixed the worldwide smash, "Livin' La Vida Loca," completely on Pro Tools equipment.
Co-writing and producing "Livin' La Vida Loca" was a tremendous achievement for Child, because the song helped establish Ricky Martin as an international pop star. In addition, Child has co-written and produced several other hits for Martin, including "She Bangs," "Shake Your Bon-Bon," "Cup Of Life," and "Nobody Wants To Be Lonely" (featuring Christina Aguilera).
Besides living and working in Miami, Child has also purchased a home in Nashville, where he works regularly. "I came to Nashville in 1993, and I immediately felt a kinship with country music, because country has lyrics that tell stories," explained Child. "I've since built a house there, and I love coming to Nashville every month to collaborate and produce. Right now, I'm collaborating with Jo Dee Messina."
Despite having worked for more than two decades as a writer, producer and artist, Child remains energized and enthusiastic, ready to keep creating the hits indefinitely. "I think I was born with a certain drive and sense of destiny that keeps me going," said Child. "Through all the ups and downs, I believe that's something you can't learn. Maybe it was because I was born poor; I wanted to win for the family. I still put a lot of energy in what I do. I work the phones, work in the studio, and travel regularly. I try to live a lot, so I have new experiences that I can write about."
"For any aspiring songwriter who might be reading this article, my advice would be to live life to the fullest, and then write about it. Dare to suck and put your music out there, and just keep on going."
Dale Kawashima is on Google+