Rising Country Artist Chayce Beckham Talks About His Hit "23," Winning American Idol, And His New Songs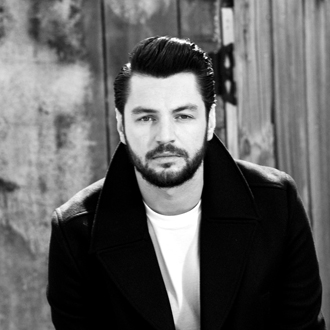 In less than three years, country singer/songwriter Chayce Beckham has gone from being an unknown artist to winning American Idol (in 2021), and he is now having his first hit on the Billboard charts. His song "23," which he originally performed on American Idol, was released earlier this year as a single, and its steady rise is showing that Beckham's career is reaching a new level of success.
Beckham is a powerful, soulful singer, and his gritty style gives his songs a real authenticity. This is especially true on his single, "23," where he writes in a direct way about his life, and the ups and downs he's had so far. When Beckham performed "23" on American Idol, he became the first singer to win with his own, self-penned song.
Since winning American Idol, Beckham has signed with BMG/19/Wheelhouse Records, and in 2022 he released his 6-song EP, Doin' It Right. He has also sung a duet with hit country artist Lindsay Ell on the song "Can't Do Without Me," which reached the charts in 2021.
SPECIAL FEATURE: STREAMING AUDIO

Here's an excerpt of our interview with Chayce Beckham, who tells how he wrote his hit song "23," and how he performed it on American Idol.
Currently, in addition to promoting his hit, "23," Beckham has released two new songs: "Till The Day I Die" and "Little Less Lonely." Also, he has been writing and recording many new songs, which he'll be releasing in the coming months.
Beckham grew up in Victorville and Apple Valley (in Southern California), where he learned to play guitar and started singing at a young age. When he was a teenager, he began writing songs, and after high school he formed a band.
For a few years, Beckham enjoyed playing local shows. But when Covid happened, it forced the band to stop playing live and it put him in a tough situation. He ended up moving back home with his parents, who encouraged him to audition for American Idol. To his great surprise, Beckham entered and won the TV show's 19th season, which led to him signing his label deal.

Here's the video of Chayce Beckham's hit, "23."
In additon to writing songs & recording, Beckham has been busy playing live, opening shows for country star Luke Bryan's tour this year. Bryan (who first met Beckham when he was a judge on Idol), has been a mentor and supporter to Beckham.
Chayce Beckham Interview
We are pleased to do this new Q&A interview with Chayce Beckham. He discusses his early years leading up to winning Idol, writing his hit "23," and the new songs he's recently released.
DK: I read that you grew up in Victorville and Apple Valley in California. How did you get started with music and writing songs?
Chayce Beckham: I was always interested in music; I taught myself to play guitar when I was young. [Then as a teenager] I started messing around with songwriting and writing poetry. And once you start dabbling in it, you get a knack for it. I like writing songs because it usually makes you feel good, if you write a good one and you get to share it with people. It's something that you chase all the time, trying to write a good song.
DK: Can you talk your early years in music, before you entered American Idol?
Beckham: During that time, I grew up and bounced around different places. I lived in Victorville, Hesperia and Apple Valley (in Southern California). Once I got out of high school, I started a band, which is a pretty hard thing to do when you're struggling to pay your bills (laughs). We played rock and reggae stuff. Our scene was playing a lot of local dive bars around Southern California and some beaches.
We were pretty busy, and having a lot of fun with it. I was writing all the music. But once Covid happened, everything came to a halt. We couldn't play shows anymore, which trashed the momentum we were able to build. So that put me in a bad place…I got into a lot of trouble and made some bad choices. So I moved back home with my parents in Apple Valley. That's where I was living, when they encouraged me to audition for American Idol. They kind of forced me to do it. They said, "If you want to stay at our house, you need to audition for American Idol" (laughs).

Here's the lyric video of Chayce Beckham's song, "Little
Less Lonely."
My parents knew how much I loved music, singing and performing. I think they saw something in me. They pushed me to enter Idol and that changed everything. I learned a lot from being on Idol and doing a TV show. I never imagined winning the show, but somehow I was able to make my way through it. And after Idol, that's what got me to Nashville. I left California right after the show and moved into a place in Nashville. And I've been here ever since, writing more songs and getting into the songwriting community. Out here in Nashville, it's a whole different game, instead of just writing songs by myself in my bedroom.
DK: On American Idol, you performed your song "23," and you were the first Idol winner who won by performing their own song. What inspired you to write "23"?
Beckham: Well, "23" is just a story about me, and about a couple pieces of my life that got me to where I was at the time, before I auditioned for Idol. When I wrote that song. I was going through a tough time, and I wrote that song and it made me feel better.
When I sent some my songs to the Idol producers, it was "23" they really liked. They would say, "We think you should do '23'." I never expected it to be a big song or anything like that. I just thought that it told my story.
DK: Now two years later, "23" is moving up the Billboard country charts. When was it released as a single?
Beckham: It went to country radio early this year, so the people who didn't watch me on Idol could hear the song. It's cool to watch it get onto country radio. I want to give a big thank you to country radio and everybody out there who's spinning the song and getting it up to where it's at now. It's awesome to watch it grow on a bigger scale and to see more people connect with the song.
DK: I like the duet song you did with Lindsey Ell, "Can't Do Without Me." How did you connect with Lindsey to sing this song with her?

Here's the video of Chayce Beckham's song, "Till The Day
I Die."
Beckham: When I moved to Nashville, that was a song that came up. I jumped on it, and we asked Lindsey if she wanted to be the female vocalist. Then we both worked out the song to where we liked it a lot. It was great…it was my first collaboration with another artist, outside of American Idol. It was a lot of fun to work with her, and I love that song.
DK: Last year, you released your EP, Doin' It Right. Can you talk about the making of this EP, and your favorite songs on it?
Beckham: That's a project we've been working on since I got to Nashville. I tried to write more happy songs, and picked songs that I really loved. There's a couple songs on it that I didn't write, "I'll Take The Bar" and "Talk to Me," that are my favorites. I wanted to put our some positive, good feelin' music rather than go darker, and that's what we did with this Doin' It Right. I love a lot of the songs on that project.
DK: More recently, you've released two new songs: "Till The Day I Die" and "Little Less Lonely." Can you talk about these songs?
Beckham: "Till The Day I Die" is a song that I wrote with a few friends in Nashville. It's about a person who doesn't feel remorse for not being perfect…just embracing our vices, and I don't think that makes people horrible or evil. I think there are certain things that make people different, and we all come from different places. It's about owning who you are and what you wanna be, and not feeling ashamed or letting anyone tell you different.
I had a buddy who passed away a few days after we wrote that song, so it has a significant meaning to me. I felt like he was that person in the song. Nobody could tell him anything different. He was gonna be who he was, and that's why I loved him so much. We play that song almost every night, and dedicate it to my buddy who passed away.

Here's the video of Chayce Beckham & Lindsay Ell's single,
"Can't Do Without Me."
With "Little Less Lonely," it's on a different note…a fun song about meeting somebody. It's just a carefree song—you run into somebody and have a fun night. You go dancing, take a couple shots, enjoy yourself and forget about your worries for the night. It's about being a little less lonely (laughs).
DK: I want to ask you about your live shows, and how you've been the opening act for Luke Bryan this year. Are you still on tour with Luke?
Beckham: Yeah, I'm on tour with Luke right now. We're doing the Farm Tour. We wrapped up the first week, and we'll be leaving tomorrow for the next leg of the tour. We've been on tour with Luke most of the year. It's been awesome getting to tour with Luke. He's a huge inspiration to me, and he's been a great mentor to me since Idol. I appreciate all the things he's done for me.
Here's the link to Chayce Beckham's site: https://www.chaycebeckham.com/