Ben Berger & Ryan McMahon (of Captain Cuts prod. team) Co-Write Big Hit "Shut Up And Dance"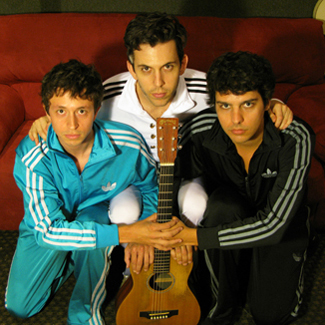 Ben Berger and Ryan McMahon are young writer/producers who are part of a successful production trio (along with Ryan Rabin) called Captain Cuts, which is based in Los Angeles. The team has worked with many pop and alternative artists such as Grouplove (for which Rabin is the drummer), Tove Lo, Tegan and Sara, R5, Marina and the Diamonds, Smallpools, American Author and the Mowgli's.
Notwithstanding these fine credits, Berger & McMahon are currently enjoying pop success on a worldwide scale. They co-wrote with indie rock band Walk The Moon their smash hit, "Shut Up And Dance." This song spent four full months in the Top 10 of the Billboard Hot 100, and achieved #1 status on the Billboard rock, AC and Adult Top 40 charts. In addition, "Shut Up And Dance" has reached #1 or Top 10 in a dozen other countries, including the United Kingdom, Canada, Australia, Austria, Japan, Colombia, Israel and Poland.
The success of "Shut Up And Dance" has made Captain Cuts a hot writing/producing team which can adeptly work in several genres, ranging from pop, alternative, rock and dance. They are also known for their remix work.
We are pleased to do this Q&A interview with Ben Berger and Ryan McMahon of Captain Cuts. They tell how they got started and formed Captain Cuts, and they recall how they wrote "Shut Up And Dance" with Walk The Moon. They also talk about their other cuts and collaborations. Notably, Captain Cuts has signed a publishing agreement with Warner/Chappell Music, and they've launched a label called Cuts Records, which is a joint venture with Warner Bros. Records.
DK: How did the three of you become a writing/producing team?
Berger: We all went to high school together and grew up in LA. After college (around 2009), we met back up again. The two Ryans (McMahon and Rabin) were already working together. Our first few songs weren't very good, but we kept going.
McMahon: In high school we played together in a pop/punk band. Then we went our own way, going to separate colleges. After college we got back together and started writing pop songs, although at first we didn't get any traction. We also started to do remixes. It was in 2011 that we formed Captain Cuts.
DK: What was the first success for Captain Cuts?
Berger: The first big cut we had was a song for the FIFA 12 (video game) soundtrack—Grouplove had a song called "Colors" that we remixed.
McMahon: We also had success with a couple of artists signed with Sony Australia. We got together with Jessica Mauboy, who was (the runner-up) on Australian Idol. We co-wrote and produced her (dance/pop) single "To the End of the Earth," which went gold in Australia. We also had a single with the group Third Degree called "Different Kind of Love."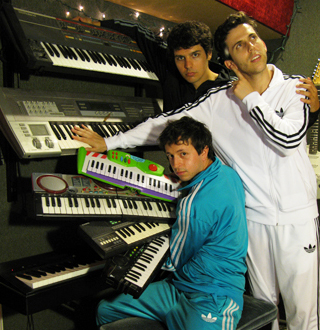 Berger: It's been a steady progression of continually working with artists. We've been getting better as time goes on
DK: What are your roles as writers & producers? Is there one person who focuses on writing the lyrics?
McMahon: At first there was one person who focused on the lyric writing, but now we've all learned each other's roles and we contribute both music and lyrics. [Regarding instruments] I play guitars, Ben plays keys, and Ryan (Rabin) plays drums. We all produce equally, too.
DK: Congratulations on your huge success with "Shut Up And Dance." How did you hook up with Walk The Moon and write this song?
McMahon: We originally met Walk The Moon at Martha's Vineyard (in Massachusetts) — we've been friends with them and we're huge fans of their first album. Then in November 2013, we had a chance to work with them for two days in our studio in L.A. We went through some ideas. Nick (Petricca) and Eli (Maiman) played us the basic chords of a chorus, which we liked. We developed the chorus melody and we helped write the lyrics with them.
Berger: At the time, the song had a different title (not "Shut Up And Dance" yet) but Ryan and I knew there was so much potential for the song, so we set up a second session to finish it. In the meantime, we wrote a song with them called "Up 2 You" which is also on their album.
Several days later, we got back in the studio with Nick and Eli. We were throwing ideas around, and Nick mentioned the phrase "shut up and dance." Nick had gone to The Echo in Silver Lake for the club's monthly Funky Soul Night party, and he said his girlfriend told him to "shut up and dance." We all loved this title, so "Shut Up And Dance" became the title and we finished the song.
DK: When you finished writing the song, did you think it would become a hit?
McMahon: We had no idea it would become a hit. We thought it could be a special song, but we didn't think that with an alternative band, that it would cross over to the mainstream.
Berger: We both really liked "Shut Up And Dance" and were excited about it. But it was hard to fathom that it could ever go as far as it did.
DK: Has this hit success led to some great new opportunities and collaborations?
Berger: In the past couple months we've gotten to work with some of our heroes and it's been amazing. In May, we went to Stockholm and wrote with Carl Falk and Rami Yacoub (hit writer/producers for One Direction, Britney Spears). We've also worked with Peter Svensson (The Weeknd, Carly Rae Jepsen) and Wayne Hector (One Direction, Nicki Minaj). We've now written with Wayne a bunch of times. We recently worked with Wayne on songs for the band Hey Violet, who are signed to Capitol Records.
McMahon: We learned so much from working with these guys.

Here's the video of Walk The Moon's "Shut Up And Dance,"
co-written by Ben Berger & Ryan McMahon.
DK: What other projects are you working on?
Berger: We have the new single called "All Night" with the group R5 (on Hollywood Records) which we wrote & produced. We've also been working with the band American Authors (on Island Records), and we're working with (female pop artist) Halsey who's on Astralwerks, and the band St. Lucia on Columbia Records.
DK: Do you work in all genres of music?
McMahon: We have a natural inclination to move towards the poppier side of music even if its rock or dance. We have a secret love for pop. We do like working with all genres because it keeps things fresh and exciting.
DK: I read that you have a label called Cuts Records which is a joint venture with Warner Bros. Records. Is that correct?
Berger: Yes, we have a label with Warner Bros. called Cuts Records. We've developed different bands in the past, but now the idea is to develop artists and bands for our own label.
DK: You've had an amazing year with "Shut Up And Dance" being a worldwide hit. How has it felt to have this success?
Berger: It's the best feeling. We're doing this because music is all we've ever wanted to do. It's great to have it validated…it's the most overwhelming feeling. Recently, we saw (on YouTube) Walk The Moon perform "Shut Up And Dance" live with Taylor Swift, with 60,000 people singing along to it—that was amazing to watch. Walk The Moon also performed the song at Lollapalooza in Chicago, in front of a huge crowd.
This whole year has been an amazing celebration…we're definitely enjoying the moment. But we still have a lot to learn and more to improve upon. We want this to be our career forever. We're working hard and we want to get better.