Candice Russell's "So Much More" Named November "Best Song Of The Month"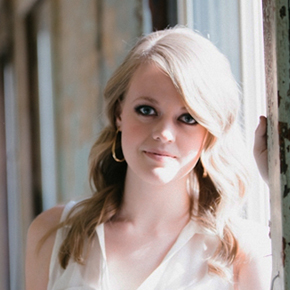 Candice Russell, a promising pop singer/songwriter based in Tualatin, Oregon, has won the SongwriterUniverse "Best Song Of The Month" Contest for November, for her song "So Much More" (co-written by Dave Lubben & Aaron Russell). This song is the title cut of her debut album, So Much More, which she released independently last June (2013).
"So Much More" is a high energy, pop/rock tune which sounds ready for radio airplay. The song's propulsive arrangement immediately grabs the listener's attention, and continues to build momentum throughout. "So Much More" also has an appealing pop melody and a hooky chorus. The song provides a good showcase for Russell's clear, expressive lead vocals and full harmonies. This recording was expertly produced by Dave Lubben, who also contributed piano and acoustic guitar tracks.
Russell (who is 21) grew up in the city of Tualatin, which is a suburb or Portland. She comes from a family with a musical background—her father Stan was a Christian artist who released an album, and her brother Dave plays several instruments. Russell learned to play guitar when she was 14, and soon after started to write songs. At age 16, she won a statewide singer/songwriting contest at the Oregon Fine Arts Festival.
Russell also fared well in two other competitions, which demonstrated her music potential. In 2011, she auditioned for American Idol and advanced to Hollywood Week, where she flew to Los Angeles to compete with other top vocalists. Then in 2012, she made it into the showcase final of as a singer/songwriter at AMTC's Shine event in Orlando, FL.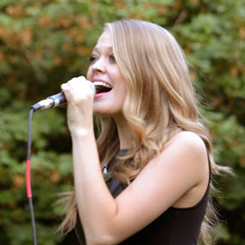 It was also in 2012 that Russell began writing the songs for her debut album. She found two, good collaborators to work with—Dave Lubben and her brother Aaron—and together they wrote all 10 songs for her album. Aaron also assisted in the production, and studio musicians were hired to create a high quality album which is well produced and sounds ready for radio airplay.
With the release of her album this year, Russell has been busy promoting her music via her YouTube channel and social media, and some of her songs have been played on internet radio stations. "Things have been going well," said Russell. "My YouTube videos have gotten 100,000 views, and my song 'Good Luck With That' was #1 on an indie chart," she said. "We've also hired Howard Rosen Promotion to pitch 'So Much More' for pop radio airplay this January."
In addition, Russell continues to write more songs, work on her live performing, and she will be filming more videos for her YouTube channel.
Top Five Songs Of The Month
Here are the Top Five Songs which were submitted for this month's contest, with the songwriter credits, plus their e-mail and website links. You can listen to the winning songs by clicking the music players below.
"Best Song Of The Month" Winner
Song Title:
"So Much More."
Written by:
Candice Russell, David Lubben & Aaron Russell. Performed by Candice Russell of Tualatin, OR.
More Best Songs Of The Month
To enter the next "Best Song Of The Month" Contest (the deadline is the last day of each month), please
Click Here