John Osborne Of Brothers Osborne Talks About Their Album Port Saint Joe, Hits "Shoot Me Straight," It Ain't My Fault" And "Stay A Little Longer"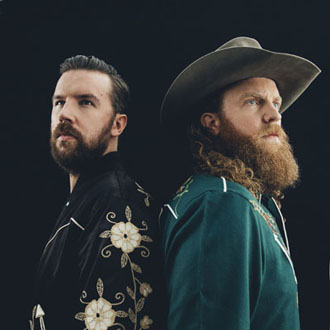 The duo Brothers Osborne, which consists of singer/songwriter TJ Osborne & guitarist/songwriter John Osborne, has quickly become one of the most popular and acclaimed acts in country music. Following the release of their debut album Pawn Shop in 2016, they have won three CMA awards (for Vocal Duo of the Year and Music Video of the Year), three ACM awards, and they've received three Grammy nominations.
The brothers have already co-written two big hits ("Stay a Little Longer" and "It Ain't My Fault") from their debut album, and on April 20 they'll be releasing their second album, Port Saint Joe (named after the beach town in Florida where they recorded the album). In addition, they have a new hit single "Shoot Me Straight," that is currently moving up the country chart. Port Saint Joe was produced by Jay Joyce, a top producer/writer who's known for producing Eric Church, Little Big Town and Carrie Underwood.
SPECIAL FEATURE: STREAMING AUDIO

Here's an excerpt of our interview with John Osborne of Brothers Osborne, who tells how he and his brother T.J. wrote (with Lee Thomas Miller) their hit song, "Shoot Me Straight."
What makes Brothers Osborne's music distinctive, is that they combine an aggressive, Southern-rock edge with their country sound. As John Osborne says in this interview, he grew up loving the Allman Brothers and Lynyrd Skynyrd, and he plays lead guitar with the fierce intensity of a Duane Allman or Gary Rossington. The lead vocalist of Brothers Osborne is TJ Osborne, whose deep, powerful voice makes the duo's songs stand out on the radio and in concert.
TJ and John grew up in the small town of Deale, Maryland, and they moved to Nashville in the mid-2000s. They eventually signed a publishing deal with Warner/Chappell Music, and they later signed a label deal with EMI Nashville Records. In 2014, they released a 5-song EP on EMI Nashville, and their first album, Pawn Shop, was released in January 2016. Besides their hits "Stay a Little Longer" and "It Ain't My Fault," they've also made the charts with their singles "Let's Go There," "Rum" and "21 Summer."
We are pleased to do this new Q&A interview with John Osborne of Brothers Osborne. He discusses the duo's breakthrough, their new album, and how they wrote their hits "Shoot Me Straight," "It Ain't My Fault" and "Stay a Little Longer."
DK: In the past two years, you and TJ have come a long way, from making your first album to winning CMA and ACM awards. What's it been like to see this terrific progress?
John Osborne: It's amazing. When you're right in the middle of it, you don't notice that it's happening. When we won our first CMA award, we thought to ourselves, Wait…this is actually working. We had no idea, because we were out on the road slugging it out. And then we'd come home and write all the time, or we're in the studio or we're taking meetings. But then there are those moments, that have allowed us to step back and see the progress that we've made, and it's incredibly rewarding.
DK: The title of your new album is Port Saint Joe. Is it named after the beach town in Florida where you recorded your album?
Osborne: Yeah that's true. We recorded the album in Port Saint Joe, Florida. Our producer, Jay Joyce, has a beach house down there. We met with him before we were going into the studio, and he mentioned just in passing, "Maybe we should go down to the beach house in Florida and take our recording equipment and instruments for the record." Then I think the more he thought about it, the more he loved the idea.

Here's the video of Brother Osborne's new single, "Shoot Me Straight."
Logistically, it was a nightmare, because he had to get a U-Haul, rack up all the studio gear in the U-Haul, drive it down to Port Saint Joe and set it up. And then because we were already out on the road, we had to take our bus to Port Saint Joe to drop our equipment there. It did allow us to stay put out of Nashville, away from our daily distractions of being home, and just have fun and create at our leisure.
DK: On the writing credits for your new album, it says that you and TJ co-wrote all the songs, usually with a co-writer. So how does the songwriting process work for you and TJ? Do you come up with ideas before a writing session?
Osborne: Every song is a completely different animal. We usually have a list of concepts or titles or hook lines that we like to write to. I keep them all on my phone. I have hundreds of titles and ideas or lyrics. You know, when you have that burst of inspiration, you don't want to lose it or forget it. So you just type it in your phone, which is great. Or sometimes you have a guitar riff or a guitar hook, and then I'll put that in my phone, and you save it for later. Or sometimes you get in a room and just talk for two hours, and out of a conversation a song just appears.
Every [writing session] is a different thing. Sometimes TJ has the guitar riff, even though I'm the guitar player. Or sometimes I have the melody in the chorus written, even though he's the singer. Sometimes the third person in the room is a good buffer between TJ and I, because we have very strong opinions. And they bring their own flavor into the mix.
DK: I like your new single, "Shoot Me Straight." Can you talk about how you guys wrote this song?
Osborne: I had that title for a long time. I love the double entendre—you know country writers and myself love whiskey…I love the double entendre of  "give it to me straight" and "shooting straight whiskey." I also knew I wanted it to be a breakup song. I wanted this person to tell me the truth—don't water it down, just give it to me straight…tell me exactly what you feel. We got in a room with (hit songwriter) Lee Thomas Miller, who we wrote our last single "It Ain't My Fault" with, and we wrote a ballad.
Lyrically, we knew it was really cool…we had some cool lyrics and some good play-on-words. But melodically and arrangement-wise, it was kind of uninteresting at first. But we loved the guts of the song. And TJ had that opening guitar riff he'd been playing for weeks, and I was like, "What if we just took that riff and the lyrics and we matched them together?" And then that's what created the song, "Shoot Me Straight." So it was originally a ballad, but we put it to TJ's guitar lick and it became the biggest uptempo song on the record.

Here's the video of Brother Osborne's hit, "It Ain't My Fault."
DK: "Shoot Me Straight" is a longer song with a lengthy guitar solo, and your song "Pushing Up Daisies" has a nice guitar solo, too. Does having these guitar solos help make your band stand out? It reminds me of the Allman Brothers or Lynyrd Skynyrd, with their guitar solos.
Osborne: Yeah, that's exactly what we were going for—Lynyrd Skynyrd and the Allman Brothers are my two favorite bands. With TJ and I, we're a duo comprised of a singer and a guitar player. Typically as a duo, you would have two harmony singers. But we took the more classic rock approach, where it was a singer and a sideman guitar player. For me, I love writing songs and I like singing, but my voice is my guitar. That's the way I can sonically express myself.
DK: Another good song on your new album is called "Weed, Whiskey and Willie," which is a cool title. How did you write this song (with co-writer Laura Veltz)?
Osborne: I had the melody and the structure already written for a while. I can't remember what the original title was, but I was just singing a 6/8 classic country heartbreak song. Then I remember thinking of weed, whisky and then Willie, and those things just came together. Then I brought it to TJ and Laura (Veltz). I said, "I have this idea for a classic country song." I played it for them and they were like, "Absolutely, this is killer," and we finished the song in 30 minutes. The song pretty much wrote itself.
DK: Besides that song and "Shoot Me Straight," what are your favorite songs on the album?
Osborne: I would say that lyrically, one of the songs I'm most proud of is "While You Still Can," which is the last song on the record. That's a song about doing all the things in your life that you can do while you have the opportunity, and making sure that you take time with your family. In fact, we're up in Maryland right now…our mom is in the hospital undergoing triple bypass surgery. So with "While You Still Can," we wanted to just remind the world to take advantage of the time that you have on earth while you have it. We're proud of the lyrics on that song.
DK: You had two big hits on your last album: "Stay a Little Longer" and "It Ain't My  Fault." Can you talk about how you guys wrote these songs?
Osborne: "It Ain't My Fault" was a title and idea brought in by (hit songwriter) Lee Thomas Miller. I loved the groove for "Satisfaction" by the Rolling Stones—I love that heavy downbeat with the snare drum, which is a classic take on a very old R&B groove. And when Lee said that title, I loved it…it's so raunchy and gritty. As soon as he said that, I just started playing this guitar riff, because it immediately inspired a guitar riff like that. That was one of the most fun songs we've ever written, and that song is lyrically very Lee. He has a way of things flowing out that way. He's like, "Blame the this on the that, and blame this on that, but it ain't my fault." I was like, "Dude, that is awesome!" That's another song that we wrote fairly quickly.

Here's the video of Brother Osborne's hit, "Stay a Little Longer."
With "Stay a Little Longer," we wrote it with (hit songwriter) Shane McAnally. It was the first time that we had written with Shane, and we were sitting around talking with him. We were just joking and laughing, and then I started noodling on the guitar, and Shane said, "I hear (a phrase like) "a one more this and a one more that, and a one more this and a one more that." And I was like, "That sounds cool…it has a really cool rhythm to it." So that's where it started. We didn't have a hook yet, and when we were working on the chorus, the last thing we said was "Stay a little longer." We wrote the verses in a matter of minutes, but we worked really hard on the chorus because we wanted to make sure the rhythms and the words worked well together.