Brian Lee Co-Writes Hits for DJ Snake & Justin Bieber ("Let Me Love You") and Fifth Harmony ("Work From Home")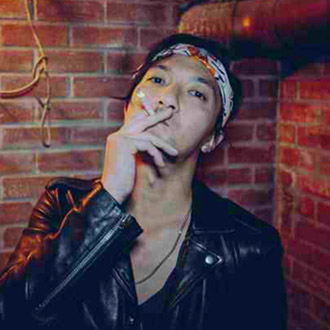 Update: Since this article was written, Brian Lee has also co-written the hits "Havana" (by Camila Cabello), "It Ain't Me" (by KYGO & Selena Gomez), and "Wolves" (by Selena Gomez & Marshmello).
During the past five years, Brian Lee has emerged as a successful hit songwriter who has co-written three pop hits during this period. Impressively, he currently has two hits on the charts which he co-wrote: the hot new single "Let Me Love You" by DJ Snake featuring Justin Bieber, and "Work From Home," which went Top 5 and remains in the Top 30 of the Billboard Hot 100 chart.
Lee's other Top 10 hit is the single "Good Time" (in 2012), which was recorded by Owl City & Carly Rae Jepsen. In addition, he co-wrote & co-produced the #1 Dance hit "All Night" by Swedish pop duo, Icona Pop. Lee also has cuts with Lady Gaga ("Americano" from her Born This Way album), Selena Gomez, Ingrid Michaelson, Kygo, Michael Franti, Relient K, Dev, Ricki-Lee Coulter, Jake Miller and Conrad Sewell.
Lee was born in Michigan and grew up in New York City. He learned to play classical violin at a young age, and eventually he formed a band called Made In America. Notably, he later joined a band called The White Tie Affair which was signed to Epic Records.
We are pleased to do this new Q&A interview with Brian Lee. He tells how he got started, and how he co-wrote the hits "Work from Home" and "Let Me Love You."
DK: Where are you from, and how did you get started with music?
Brian Lee: I am from the Midwest/Chicago area—I was born in Michigan and raised in Queens, New York City. I got started in music when I was 3-years-old playing the violin. As I grew older, I realized you can't get girls playing this thing, so I learned guitar by going to my mom's Korean church and acting like I wanted to be "born again." And as soon as I learned everything I needed, which were power chords at the time, I stopped going to church and started a ska band!
When I was in grade school, my cousins would always play the Beach Boys or Guns N' Roses, and I remember I loved the smell of the tape insert for Use Your Illusion 2. Then I went from Beach Boys to Green Day, and eventually started listening to radio and pop music like Ace of Base and Britney (Spears).
DK: What instruments do you play? I read that early on, you played classical violin.
Lee: I can play anything with strings except the cello and double bass etc. Once you play the violin, you pretty much know how to maneuver around any instrument with strings.
DK: In Chicago, you co-founded a band called Made In Hollywood. Was your original goal to be an artist?
Lee: Yes I wanted to be a rock star onstage that played to millions daily and tour. Made in Hollywood was started just for fun but ended up getting some attention, and then me and this kid that was in a local cover band did a project called The White Tie Affair. We got signed without pictures, without a show, and one song on MySpace to Epic Records.

Here's the lyric video of DJ Snake & Justin Bieber's hit "Let Me Love You,"
which was co-written by Brian Lee.
DK: Your first big cut was co-writing "Americano" for Lady Gaga's Born This Way album. How did you hook up with Lady Gaga?
Lee: I actually met her backstage at the BMI stage where she played Lollapalooza for the first time. (Music exec) Samantha Cox from BMI, said you have to meet this girl (Gaga), she's amazing. I just liked that she was punk rock and wearing nothing but fishnets and bra. She just looked like a star. I remember people were sitting Indian-style front row watching her play with her disco shtick.
DK: In 2012, you co-wrote the hit "Good Time" for Owl City & Carly Rae Jepsen, How did this song come together?
Lee: This song was written very quickly. I remember the night before, me and Matthew Thiessen (of the band Relient K) had a session, and we went to Scott Storch's house until late and I remember wanting to cancel the Owl City session. At the last minute we decided to go, and I sat on a bean bag hungover and somehow the song was written.
DK: You've also had success as a producer. Do you often create tracks & produce, or is your main strength writing topline (melody & lyrics)?
Lee: I used to produce a lot more four years or so ago before I moved to L.A., then I met all these prodigies from Canada and Dr. Luke's people such as Billboard (producer) and the list goes on. So I focused more on melody and topline, so that way I can excel at one thing instead of competing. But every song I do usually starts with an acoustic guitar or piano and then I contribute to production.
DK: This year (2016) you've had two hits already. First, how did you co-write "Work From Home" for Fifth Harmony?
Lee: "Work from Home" was written at a writing camp that (writer/producer) Ammo put on. He wanted to invite his friends over and he would have catered food and pool party, and have just an all-around fun environment to write and play. Ammo had the track and chords before I got there, and the rest of us just vibed off the chorus hook "work work work" which Ammo came up with, we wanted to keep the lyrics somewhat dirty so that's what happened. We originally wanted the song for Natalie La Rose, but they passed.
DK: Currently, you have another hit, "Let Me Love You" by DJ Snake featuring Justin Bieber. How did this song come together?

Here's the video of Fifth Harmony's hit "Work From Home," which was
co-written by Brian Lee.
Lee: "Let Me Love You" is a movie (i.e. an event). The song started on the balcony of my management studio, Electric Feel. (Singer/songwriter) Andrew Watt and I were outside and we both love "Blackbird" by the Beatles, and we wanted to try to flip it for Rihanna or Kygo or whomever. He had a riff on the guitar that he played me and I told him we gotta do this. We brought the song to (songwriter) Ali Tamposi and she just absolutely nailed the vibe and the feel that we both wanted. My Definition of Ali is "beautiful pain". She always takes heartbreak or hurt and makes it feel elegant and beautiful. Anyways, we had a layout but no hook, and I tried to imagine Rihanna singing this, and started singing the hook "don't you give up na na na." Ali told me to record it—I didn't think it was that good, but then everyone convinced me it was the hook. So now we had "Let Me Love You" part 1…Acoustic and organic. People loved the song and several artists cut it, but my manager sent it to DJ Snake and he made a track around the song and kept the hook. He sent us the track and wanted a different verse. So we all got back in and wrote a new verse, once again shooting for Riri (Rihanna). We went for a Fleetwood Mac/Sia vibe. And that's what it became. Finding the featured artist was the battle.
Many people cut the song. At one point the song was about to be just another forgotten song on someone's MacBook. Andrew really didn't give up on it and eventually got JB (Justin Bieber) to record it and once we heard him on it, the rest is history!
DK: Are you now based in Los Angeles? Do you often travel to co-write or produce sessions?
Lee: Yes I'm L.A. based. I'm currently in Shanghai working with Jia from (girl group) Miss A, and then going to London to work with Rita Ora with Andrew (Watt), and Ali (Tamposi) the following week. So yes, lots of travel!!!