Country Singer Brett Young Talks About His Hit Songs "Sleep Without You," "In Case You Didn't Know", And His Debut Album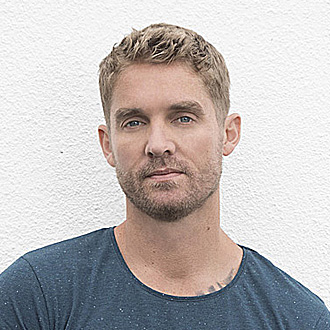 The Country Music Association's New Artist of the Year nominee Brett Young is expanding his debut headlining tour after a whirlwind 18 months of success. Since releasing his self-titled debut album Brett Young, Young has enjoyed two back-to-back chart-toppers, "Sleep Without You," and "In Case You Didn't Know." In addition, he's currently moving up the Billboard Hot Country Songs chart with his latest single, "Like I Loved You."
Notably, Young has established his credentials as a talented songwriter. He co-wrote all three of his hit singles, and he co-wrote 11 of the 12 songs on his debut album. His co-writers include such top songwriters as Trent Tomlinson, Jesse Lee, Jimmy Robbins and Jon Nite.
Impressively, Young has also become a popular video artist. He landed in Vevo's Top 10 Videos of 2017 with "In Case You Didn't Know," which surpassed 120 million views and joined the rankings with Zayn and Taylor Swift, Kendrick Lamar and DJ Khaled. This past summer, his live shows also garnered attention as he opened shows for Lady Antebellum.
A native of Anaheim, California, Young wrote & recorded several albums and released music independently for years, until his voice on his songwriting demos caught the ears of Nashville's music executives. Eventually, Big Machine Label Group signed him, and his first album was subsequently released and made its debut at No. 2 on the Billboard Top Country Albums chart.
We are pleased to do this new Q&A interview with Brett Young. He talks about the intimidating move from being a solo songwriter/artist to co-writing with Nashville's top tunesmiths. He also tells how he co-wrote his first two hits, and discusses the influence of pop/rock singer/songwriter, Gavin DeGraw.
BC: When did you first realize you had a special gift with words, as a songwriter?
Brett Young: Songwriting for me is personal and vulnerable. I don't know that if I ever necessarily thought of it as something that I was good at, so much as something that I was passionate about. I remember being young in school, and I'd get crushes on girls. Before I even considered songwriting, it was even more like poetry or trying to find ways with words that were a little bit different in order to get somebody's attention. It's always been something that's been ingrained in me. I had already been playing music and grew up in the church playing music, but it wasn't until I heard Gavin DeGraw's first record, Chariot, that I kind of fell in love with his style of songwriting. He would take a concept or an idea that was very familiar with people, but then, he would put a little bit of a twist on it. Then, I realized that was what I was always drawn to as a music listener. I was probably 22 years old when I really realized this affection I have for words is really an affection I have for songwriting. That was when I really started to try to dive in and figure out where to go from there.
BC: Do you recall the first song you wrote?

Here's the video of Brett Young's debut hit single, "Sleep Without You."
Young: Unfortunately, I do (laughs). The first song that I ever wrote was called "Define Me." I don't say unfortunately because I'm not proud of the song. I say unfortunately because it feels like forever ago. It's one of those songs that in a very cool way I still get requested by fans. Going back and listening to something written about 10 years ago, in a positive light I'm able to see and reflect on the growth that I've had as a songwriter.
BC: How have you seen your songwriting grow over the last decade?
Young: The first five albums I did, I wrote all by myself. There's a lot of opportunity for growth when you're writing by yourself because with repetition, you're going to see some sort of growth. As you go through different experiences in your life, you're able to touch on new topics, and I think I saw a little bit of growth within those first five records. But it wasn't really until I moved to Nashville and opened myself up to co-writing and meeting in the room with writers, that not only have so much experience as songwriters, they also have so much life experience that I haven't had the opportunity to live. I think the first year or so that I was living in Nashville, was when I started to really see my songwriting change and grow and mature.
BC: When you first went to songwriting sessions with other writers, was that something you felt confident in?
Young: It was pretty rough. I was really scared of it, not only because of my insecurities as a songwriter, but … I'm an artist as well. There's some sort of concern, letting somebody else have their hands on your project, that it could change your artistry a little bit too. I had walls up for a while. I became the person holding the song back in those rooms. I would say it took a good part of the first year that I was in Nashville, to let those insecurities go and open myself up and let the song do what it was supposed to. It was a rough first year for me.
BC: When you moved to Nashville, were you hoping to be an artist or songwriter?
Young: I definitely moved to Nashville to focus on the songwriting. We started working with some independent songpluggers, and I was basically writing songs and trying to hand them off to artists who I knew were in the studio cutting and needed music. We kept sending demos out to the A&R people at labels, and we kept hearing back, 'Who's the demo singer?' By default, I was putting my voice on all the demos, and next thing we know, people want to take a meeting with me as an artist based on the demos we're turning in. It was one of those God things.
BC:  You're busy now on the road as an artist. Has the songwriting process changed any?

Here's the video of Brett Young's hit single, "In Case You Didn't Know."
Young: Most songwriters have a pretty specific process that they like to follow when they write. That's never really been me. I'm more tied to like a title or a topic and however we need to get there from that point we get there. I will say, though, one thing that's changed dramatically for me is where and when I write. I do want to continue to get in the rooms with these bigger writers, but I'm on the road so much playing shows, that there's not as much time in Nashville. We almost always write on the bus on the road now. I don't know what it is, but I feel like it has changed the game for me in a positive way. Being out here at live venues and having audience energy around, there's something about the energy and creative juices out on the road that I think have upped the game.
BC: Do you ever try out and play some of your brand new songs on the road, to see what the audience thinks?
Young: I'm pretty close to the vest with that stuff. We're getting pretty close to getting back in the studio to make the second record. I'm pretty private about the new stuff. There's one thing that I take very seriously is song selection on a record, and wanting every song on the record to feel like it belongs.
BC:  Life out on the road is busy. When you travel with a group like Lady Antebellum, is there time that you can get together and write with them?
Young: It is pretty tight. We were out the whole summer with them, and I would have writers out almost every weekend, and Charles Kelly would regularly go, "I want to hop in, if you guys are available." I ended up getting in the room with Charles four or five times over the summer. You have to make the time…it's not going to be easy. Sometimes you want to be the consummate artist and sleep until one o'clock in the afternoon every day, but if you can set the alarm a little bit earlier and make the time, you can do that.
BC: What's the story behind your #1 hit, "Sleep Without You"?
Young: What a fun way to start this record. Had you asked me before we put the record out what I would want the first single to be like, I would say of course, I would want the sweet uptempo love song. Then, you go and try to write a song like that, and 99 times out of 100, you write something extremely cheesy. ["Sleep Without You"] was inspired by my parents' relationship, in all honesty. I already had the title and I was excited to write it. I was back home in Southern California—I had kind of a frustrating moment listening to pop radio, where three songs in a row were very filthy, sexy, not-in-a good way…those songs that topically cross the line just to cross the line when it's not necessary. I said, "Why does every song have to be about this? We're missing the sweet love song here."

Here's the video of Brett Young's new single, "Like I Loved You."
For whatever reason, I started thinking about my parents and their relationship. My parents have been together almost 40 years, and whenever my mom's out of town for women's retreat for church or whatever, it's still hard for him to sleep in her bed. What a cool concept for everybody, but how much cooler that it's my parents and that after almost 40 years of marriage, they still feel that way about each other. I took all of that to (co-writers) Justin Ebach and Kelly Archer, and I said I want to make this a sweet love song that could be true for a couple that just started dating, or for a couple that's been together for 40 years. They did such a great job helping me craft that.
BC: How did you write your hit song, "In Case You Didn't Know"?
Young: It was written during a songwriters retreat in Mexico. It was one of those late nights where we thought we were done writing for the day. Trent Tomlinson, one of the writers on the song, started talking about his childhood, and he said that his mom had this cool, cute thing that she would do every time that she would do every time he would leave the house. She would stop him on his way out the door and she would say, "In case you didn't know, I love you." I thought, "Wow!" That's got to be the song. We've got to figure out a way to not write it about your mom, but I think that's the song.
We could all agree that men are really bad at expressing their feelings, and once we realized that was the angle we wanted to take, that song actually fell out pretty fast.
BC: You've had a huge amount of success in a short time. How have things turned out compared to what you expected?
Young: It's been an incredible 18 months. I'm not exaggerating when I say it's been the best year-and-a-half of my life. I went into this without really having any expectations—I didn't know what to expect. Also, I like to manage expectations so I don't get let down. It has been so much fun and so much work all at the same time. I think what's most encouraging and most exciting for me, has been the way the music and songwriting has given me an opportunity to connect with fans, people that I would have never had an opportunity to meet and have something in common with. The stories that I've heard about people that have been touched by the songs is the reason that I write. Looking forward, I'm really hopeful that I'll be able to continue to find songs and topics that are meaningful for people, that more than coming out to a show to have a good time and enjoy music, it'll be a deeper experience and the people will be able to connect and feel known. I think that's one thing that's always been important for me as a music listener—to hear somebody sing about something that I've been through and feel like I'm not the only one going through it.
Bill Conger is a freelance writer for various publications including Bluegrass Unlimited, ParentLife, Homecoming, and Singing News and is currently writing a biography on The Osborne Brothers with Bobby Osborne. He can be reached at [email protected]. He is also on Google+