Bradford Loomis' "Come Dance With Me" Named September "Best Song Of The Month"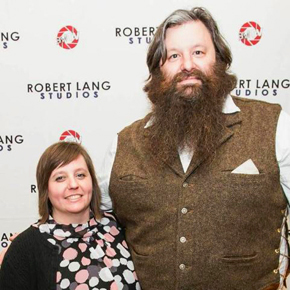 Bradford Loomis, a soul/folk singer/songwriter based in Seattle, WA, has won the SongwriterUniverse "Best Song Of The Month" Contest for September, for his song "Come Dance With Me" (co-written by his wife, Kimberly Loomis). This song is included on the debut EP by the Banner Days, a duo he has formed with singer/songwriter Beth Whitney. The EP has just been released (August 2014).
"Come Dance With Me" is an acoustic guitar-based ballad which has a graceful, elegant quality to it. The song's arrangement creates a gentle, soulful mood which lasts from beginning to end. This recording features expressive lead vocals by Loomis, with heartfelt, additional vocals by Whitney. "Come Dance With Me" was expertly produced in Seattle by Brandon Bee, who is known for producing several artists and is a singer/songwriter.
Loomis was born and raised in Marysville, WA, which is a small town an hour north of Seattle. He learned to play guitar around 9th grade and started writing songs soon after. He was inspired by listening to such varied artists as Prince, Alice In Chains, Neil Diamond and Stone Temple Pilots. When he was in high school, Loomis sang in several different choirs, and he formed a band and sang his original songs.
After high school, Loomis contunued playing in bands, but then he took some time away from music. He got married and had a son (and later two daughters), worked at Verizon and bought a house. However, when after a couple years he lost his job at Verizon, he said, "it became clear that we would lose the house. So I started music again—this time with much more direction and ambition."
Loomis launched his solo career, releasing an EP called Under The August Sky in 2011, and then his album Into The Great Unknown in 2013. "We've sold about 5,000 copies (digital & physical) of the album, and I started touring throughout much of the U.S.," he said.

Here's a video of the Banner Days (Bradford Loomis
& Beth Whitney) performing live at radio station KSER.
Besides his solo projects, in 2013 Loomis began a collaboration with singer/songwriter Beth Whitney, and they formed the duo, the Banner Days. Loomis & Whitney have recently released their debut EP as a duo, which contains the songs they wrote together, plus some songs they wrote separately. One of the songs on their EP is "Come Dance With Me," which Loomis wrote with his wife, Kimberly.
Currently, Loomis has been busy promoting the Banner Days EP and playing shows with Whitney, while also performing shows as a solo artist. "Beth and I will be working on a second record together, and I will also be releasing a solo EP next year," he said. "In addition, I've been working on a musical about a fictional character named Samuel Porter, whom I wrote about in two songs on my Into The Great Unknown album."
Top Five Songs Of The Month
Here are the Top Five Songs which were submitted for this month's contest, with the songwriter credits, plus their e-mail and website links. You can listen to the winning songs by clicking the music players below.
"Best Song Of The Month" Winner
Song Title:
Come Dance With Me.
Written by:
Bradford Loomis & Kimberly Loomis of Seattle, WA. Performed by the Banner Days (Bradford Loomis & Beth Whitney).
More Best Songs Of The Month
To enter the next "Best Song Of The Month" Contest (the deadline is the last day of each month), please
Click Here