Bori Afolabi's "Love Isn't Waiting" Named August "Best Song Of The Month""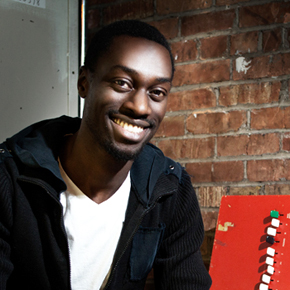 Bori Afolabi, a pop/soul/rock singer/songwriter based in the Greater Toronto Area (Ontario, Canada), has won the SongwriterUniverse "Best Song Of The Month" Contest for August, for his song "Love Isn't Waiting". This song is included on his debut 5-song EP called Like I Do, which he will release independently this October.
"Love Isn't Waiting" is an appealing, acoustic pop/rock song which has a hooky chorus which feels good to listen to. The song's lyric theme was inspired by Afolabi's joyful anticipation with his wife Elizabeth of the birth of their first child (Reuben, a son). Afolabi wrote this song by himself, and he impressively played all the instruments and sang all the vocals on this recording. Notably, he also produced this cut at his home, with his full production studio.
Afolabi was born in Nigeria, and then he moved with his family to Canada, growing up in Windsor, Ontario. The first instrument he learned to play (at age 11) was drums, and he eventually began to play guitar, bass and some keyboards. He was inspired by listening to such favorite yet diverse artists as Rage Against The Machine, Buddy Rich, Keith Green and the Temptations. During high school, he formed a band with his fellow schoolmates called Starchild. The group was offered a record deal with EMI Music Canada, but the band dissolved a few months later.
For college, Afolabi attended the University of Windsor, and he subsequently graduated with a Bachelor's Degree in Philosophy. He then attended The Recording Institute of Detroit, where he studied audio engineering, production and mastering. Afolabi also formed a band called Running For Life, and later his band Firelife, where he developed his skills as a lead singer and principal songwriter.
In addition to his artist & performing skills, Afolabi has become a professional songwriter who writes for other artists, and a producer who develops new artists. He co-wrote a song called "Save Your Life" which became a #1 Christian hit in 2010 for the popular group, Newsboys. Earlier this year (2014), Afolabi won an international songwriting award in the Christian Songwriting Competition for his song, "Whose Somebody."
For his song "Love Isn't Waiting," Afolabi is featured in a music video which was skillfully directed by David Ross, whose company is called Focus And Shadow. Ross will also be filming a video for "Like I Do," the title cut of Afolabi's upcoming EP release.
Currently, Afolabi is building his music career in several ways. "I have three goals—I want to continue to release music and grow as an artist," he said. "I also want to perform more live, and continue to develop my production career. Eventually, I'd like to look for a music publishing deal, co-write with artists. and place songs in film & TV.
Top Five Songs Of The Month
Here are the Top Five Songs which were submitted for this month's contest, with the songwriter credits, plus their e-mail and website links. You can listen to the winning songs by clicking the music players below.
"Best Song Of The Month" Winner
Song Title:
Love Isn't Waiting.
Written by:
Bori Afolabi of Greater Toronto Area, Ontario, Canada. Performed by Bori Afolabi.
More Best Songs Of The Month
To enter the next "Best Song Of The Month" Contest (the deadline is the last day of each month), please
Click Here