Pop Songwriter Bonnie McKee Talks About Writing Hit Songs For Katy Perry and Taio Cruz, And Releases Her Own Album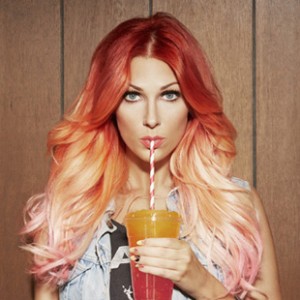 During the past few years, Bonnie McKee has become one of the hottest pop songwriters in the music business. She has co-written a phenomenal six hits which went to #1 on the Billboard Hot 100 chart, plus two more singles which reached #2. McKee has collaborated with Katy Perry on six of her biggest hits, including the new single "Roar," "California Gurls," "Teenage Dream," "Last Friday Night (T.G.I.F.)," "Wide Awake" and "Part Of Me". She also co-wrote the hits "Dynamite " with Taio Cruz and "Hold It Against Me" for Britney Spears.
McKee is also a talented artist & performer, who is writing & recording songs for her upcoming album on Epic Records. She has just released her first Epic single, "American Girl," and a video. Previously in 2004, she released her debut album Trouble, which was on Reprise Records (via Warner Bros.).
As a songwriter, McKee has co-written singles or key cuts with many additional artists, including Kesha ("C'Mon" & "Supernatural"), Rita Ora ("How We Do (Party)", which was a #1 UK hit and U.S. #1 Dance hit), Cher, Ellie Goulding, girl group G.R.L. (their debut single, "Vacation"), Adam Lambert, Leona Lewis, Christina Aguilera, Carly Rae Jepsen, Cody Simpson, Melanie Amaro, Nicole Scherzinger and Miranda Cosgrove.
McKee frequently collaborates with superstar writer/producers Dr. Luke and Max Martin, who are co-writing songs with McKee for her upcoming album. Her main collaborators on her Epic album are Oliver Goldstein & Josh Abraham, successful writer/producers who also run Pulse Music Publishing & Management, which McKee is signed to.
Born in Vacaville, CA but raised in Seattle, WA, McKee fell in love with music at a young age. She studied classical piano and toured North America & Europe with the Seattle Girls Choir. When she was 12, she started writing songs, and by age 16 she had written & recorded an impressive demo EP which was heard by music industry execs in Los Angeles.
"I recorded a demo for a high school project," recalled Mckee. "It got in the hands of Nic Harcourt, who hosted the influential Morning Becomes Electric radio program (in Los Angeles). He played it on the air and a lot of (industry) people heard it. So I came out to L.A. and got an attorney. Many labels got in touch, and I looked at everybody. I decided to sign with Tom Whalley (who had become CEO of Warner Bros./Reprise Records), and I became his first signing for Reprise."
In 2004, at age 19, she released her debut album Trouble on Reprise, with her song "Somebody" as the single. However, despite good reviews, the album had disappointing sales and McKee was subsequently dropped from the label. "It was devastating when the album didn't happen," she said. "I realized there are so many steps from getting a deal to having a hit…and I didn't get there. It was a huge letdown."
One of the good things about being at Reprise, was that McKee met Oliver Goldstein, who became her collaborator and her boyfriend (they're still together). "Oliver and Josh Abraham formed Pulse Music, and they took me under their wing," said McKee. "Josh and Scott Cutler (hit songwriter who is a partner at Pulse) connected me with a lot of people'they put me in the right rooms and taught me how to co-write. It was a new experience learning how to work and write with other artists. I learned that co-writing is a whole different skill."
McKee began getting cuts with several artists, but a key moment was when she started to co-write with Katy Perry. "I knew Katy socially (for years)," said McKee. "Early on, we were both broke and we'd eat at Taco Bell for dinner. Then one day I bumped into her'we were both shopping at a thrift clothing store. We decided to start writing together."
This eventually led to a great collaboration, with McKee & Perry co-writing three of the biggest hits on the Teenage Dream album: "California Gurls," "Teenage Dream" and "Last Friday Night (T.G.I.F.). Notably, all three of these hits were written with producers Dr. Luke and Max Martin. "We call ourselves the Dream Team, and we push each other a lot in the studio," said McKee.
Dr. Luke, Martin and McKee also teamed up for another big hit, "Dynamite" for Taio Cruz. "Max and Dr. Luke already had the track and most of the melody," she said. "I wrote the title and the hook."
Throughout her success as a songwriter, McKee was still interested in resuming her artist career. "It's always been my secret plan to be an artist again," she said. In a meeting with Epic Records CEO L.A. Reid at his office, she impressed him with her strong, vocal performance and secured a label deal with Epic.
"I'm really looking forward to putting out my own record," she said. "I've learned so much over the last nine years and I'm grateful to have the experience of writing for other artists. I'm also excited to show people what I can do as a performer, singing my own songs."
For her upcoming album, McKee has been collaborating with Oliver Goldstein, Josh Abraham, Dr. Luke & Max Martin, plus Jackknife Lee, Klas Ahlund from the Swedish band Teddybears, Greg Kurstin and Benny Blanco.
When asked if she's more focused now on her artist career instead of writing songs for other artists, she said yes. "I'm concentrating on my artist career and performing, but if a great songwriting opportunity presents itself, I will definitely do it. When Katy (Perry) called me to write for her new album, I knew I couldn't turn that down. It was great working with Katy again and co-writing four songs for her new album."
Dale Kawashima is on Google+