Rising R&B/Pop Singer/Songwriter Blessing Offor Talks About His Excellent Debut Album, My Tribe, His Song "Brighter Days," And His Songwriting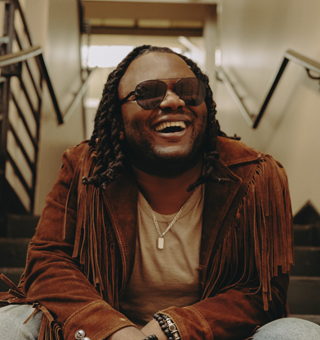 Update: Congratulations to Blessing Offor, who has received two nominations for the 2024 Grammy Awards, for Best Contemporary Christian Music Album and Best Contemporary Christian Music Performance/Song. Here's the interview we did with him earlier this year.
Over the past year, Blessing Offor has emerged as a talented, special new artist to watch. Displaying a strong, soulful voice and writing heartfelt, thoughtful songs, he has the opportunity to become a leading singer/songwriter in the pop, R&B and Christian music genres. He has just released his excellent debut album, My Tribe, on Chris Tomlin's label Bowyer & Bow, in partnership with Universal/Capitol Christian Music Group.
Offor has a unique background and personal story to tell. He was born in Nigeria, but he moved to the U.S. with his uncle when he was six, to seek treatment for his severe glaucoma. Unfortunately, he completely lost his sight by age 10, but this did not deter him from pursuing his love of music. Growing up in Connecticut, he learned to play piano & keyboards, and he developed his singing and songwriting.
After high school, he moved to Nashville to attend Belmont University, and then he lived in New York for four years, before permanently settling in Nashville in 2015. It was then that he started collaborating with top songwriters and producers in Nashville, which eventually led to his signing a label deal with CCM star Chris Tomlin and with Capitol Records.
SPECIAL FEATURE: STREAMING AUDIO

Here's an excerpt of our interview with Blessing Offor, who tells how he wrote his song "My Tribe," which is the title track of his new album.
It was in 2021 that Offor released his debut EP, called Brighter Days. This 6-song EP is an impressive work, that showcases his high level of singing, songwriting and keyboard playing. The EP contains his most popular song "Brighter Days," and five other notable songs including "Tin Roof," "Little Bird" and "Believe."
Now in 2023, Offor has released his full album, My Tribe, which fulfills or exceeds the expectations created by his debut EP. The album mainly consists of 13 songs that display a wide range, from funky, joyful cuts such as "My Tribe" and "Feel Good," to the powerful ballads "Won't Be Long Now" and "Brighter Days." Most of these songs are positive, hopeful, and about having faith. The album also includes three, brief songs that pay tribute to his Nigerian roots.
For the album, Offor co-wrote or wrote all the songs, and he teamed up with several songwriters, artists and producers in Nashville. His main co-writers for the album are Sam Ellis (who's had hits with Ingrid Andress and Lady A), Jess Cates (Backstreet Boys, LeAnn Rimes), Dan Muckala, Maxwell Stark and Hank Bentley. He has also collaborated on other songs with Chris Tomlin, Natalie Hemby, Tyler Hubbard and Breland.

Here's the video of Blessing Offor's song, "Brighter Days."
Currently, Offor is performing live at events to launch his album, and then he'll begin a nationwide tour, opening for CCM star Zach Williams. He has previously opened for Lauren Daigle and other artists.
Blessing Offor Interview
We are pleased to do this new Q&A interview with Blessing Offor. He tells how he got started as a singer & songwriter, and discusses his new album, My Tribe, and his EP, Brighter Days.
DK: I read that you were born in Nigeria and then you moved to Connecticut. What was it like to make the transition from Nigeria to the U.S.?
Blessing Offor: I came to the States when I was six, so I've mostly grown up in the U.S. I am thoroughly and happily American in what I do and think. But there's fundamentally a Nigerian part of me that I think is foundational in a lot of ways. There's a part of me that's from a third world country that I resonate with.
DK: On your new album, you have three short songs, where you're singing partly in Nigerian.
Offor: Yes, and the language is called Igbo. When the record was done, I had 13 songs and we were feeling good. But I said, "Guys—something is missing. I haven't put my fingerprint (on the record) yet. Like I haven't signed my work." And I think that little bit of Nigeria—my childhood, my culture—made me feel that was the signature the project needed. So we did these recordings ("Intro," "What A World (Akwa Uwa) Pt. 1" and "What A World (Akwa Uwa) Pt. 2)") a week before we turned it in. It was the last thing we did for the project, and I think it made it more signature and unique.
DK: When you were growing up, where did you learn to play piano? Was it in Nigeria or in the U.S.?
Offor: I started playing piano here in the States, in third grade. I started because a bunch of my friends were playing piano, and I wanted to do what they were doing. I had a knack for it pretty early, but it wasn't until we got the piano at the house a little later, that I focused on piano and fell in love with it.
DK: After growing up in Connecticut, you moved to Nashville. How did you decide that Nashville was the place you wanted to be?

Here's the lyric video of Blessing Offor's song, "My Tribe."
Offor: I went to Belmont University around 2010. First, I had auditioned for Berklee (School of Music in Boston), but I felt Berklee was too close to Connecticut. And like any kid, I didn't want to be near where I was from. And L.A. seemed a little too far, so the happy medium was Nashville. So it felt right. I've always been a little different in any community I was in…I was the Nigerian guy. I was the kid that speaks a different language and was blind. But I've always been comfortable being different, and being in Nashville felt natural to me.
DK: In 2021, you released your debut EP, Brighter Days. Can you talk about creating that EP?
Offor: Right around then, I met Samantha Jervey who's my A&R (at Capitol CMG Records) and a good friend. We talked and she asked, "What do you want to do? What do you want to make?" And I said, "I want to make the kind of music that is hard to categorize." So the mindset was always making music that defies categorization, but is still approachable and appealing and gives you something and makes you want to listen. So we started with an EP that was the beginning of that sound, with a lot of piano, that introduced me to a wider set of people. We wanted it to say…Hey, this is the heart of what Blessing does—write songs, is probably a thinker, with a nuanced set of thoughts in these songs. And I think the album, My Tribe, is a fuller painting of that EP.
DK: Your song "Brighter Days" is your most popular so far. What inspired you to write this song?
Offor: It's funny. The inspiration behind that song—as anybody in Nashville will tell you—was sitting in a room and needing to write a song (laughs). Not that it didn't come from something. I wrote it with Sam Ellis, and one of us had that title in our books. And I remember when we started writing it, I said, "Sam, we can't make this too cheesy." You have to inject some reality here, so that when you sing that chorus, it doesn't make you feel like somebody is selling you something that's not real. So with "Brighter Days," we tried to make it feel mature, realistic and honest. And when we finished it, I felt really good about it.
DK: Your EP mostly contained ballads and midtempo songs. But your new album has some strong uptempo songs like "My Tribe," "Feel Good" and "Rollin'." Can you talk about writing these uptempo songs?

Here's a video of Blessing Offor performing his song, "Believe."
Offor: Man, my favorite records have a good ability to make you dance and think at the same time. And you gotta dance (laughs). So nothing makes me feel better than being onstage when a band's really going. It just feels good. So with My Tribe, we wanted to make sure that you didn't lack for tempo, and that the listener wasn't stuck in ballad or midtempo mode. That was a focus for us—we want people to put this on and dance.
DK: Your song "My Tribe" is one of my favorites. "My Tribe" is a unique idea—it's not your typical song title. How did you come up with that title and write this song?
Offor: I want every interview to start with, "This is not your typical idea." You know, people have said to me, "You can be the new John Legend." And John is great. But I think in being who I am, it allows for a song like "My Tribe" and "Little Bird," and on the new record there's "Looking For God" and "Grace" and these songs that have different thoughts. So in choosing to embrace the aspects of me that are unique, and putting them into songs that are universal, I think it allows for a title like "My Tribe" because literally I was born into a tribe. I'm from a tribe of people called the Igbo tribe (in Nigeria), and there was a village we all went to. These are just personal things from my life. However, the trick for any good songwriter is to take a personal detail and give it the macro perspective and make it more universal. So there's the literal tribe that I come from, and the metaphorical tribe that we all belong to one way or another.
When we started writing the song, I had the lines (he sings) "My people, my tribe, my village, my vibe…my Beatles, my Jackson Five," because who doesn't want to be in a great band (laughs). So I came into a writing room with that, and I said, "Guys, this is gonna be a super fun song about celebrating the people you do life with." That was the beginning of that song, of wanting to celebrate the people you do life with, and we went from there.
DK: How would you describe your music and sound? You have obviously have a pop and R&B style, but there's also a Christian music influence.

Here's the lyric video of Blessing Offor's song, "Feel Good."
Offor: I describe it as…I'm a Christian who's an artist. I'm a Nigerian who's an artist. I don't know if I could ever make a song that doesn't have that element in it, because that's who I am. I think when you hear the word Christian artist, you conjure up a thing in your head, and I'm not that thing (laughs). But the Christian aspect is not something that I shy away from. I grew up in church and I go to church, and I'm thoroughly a Christian. But I make music to be in and outside the Christian music ecosystem.
DK: Can you talk about your live shows and upcoming tour? When I saw you perform in Las Vegas opening for Lauren Daigle, you performed with two other musicians.
Offor: It's funny—the iteration of the band kind of changes. You might see a more stripped-down set depending on how we play the opening spot. I have a wonderful guitar player who's a phenom, so he and I will do shows with just the two of us, and it's killer. Or sometimes it's me, him, my drummer and bass player who will go out. It varies and it can always get bigger. And sometimes I just go out on my own. What I'm learning, is to always be aware of what the moment calls for, and bring that to the situation.
DK: Thank you Blessing for doing this interview. Is there anything that we haven't talked about yet, that you'd like to mention for this article?
Offor: Honestly…just gratitude. I'm grateful for your interest and for your readers. And if they want to follow along, all the socials are there—Instagram, Twitter, TikTok and Facebook. We're feeling good, and the journey is just beginning.
Here's the link to Blessing Offor's site: https://www.blessingoffor.com/