Country Singer Billy Currington Talks About His Hits "It Don't Hurt Like It Used To" And "That's How Country Boys Roll," And Writing His Songs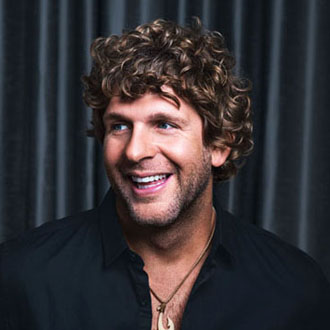 Over the course of his career, Billy Currington has released six albums on his record label home, Mercury Nashville, that have produced 17 singles on the Billboard country charts. Nine of those tunes were number one hits for the Georgia native including "Must Be Doin' Something Right," "That's How Country Boys Roll," "Pretty Good At Drinkin' Beer," "Let Me Down Easy," "Hey Girl" and "Don't It." His latest album is Summer Forever, which was released in June 2015.
Currington's career-defining, chart-topper "People Are Crazy" earned Currington Grammy nominations for Male Country Vocal Performance and Best Country Song. The tune also garnered ACM and CMA nods for Single and Song of the Year as well as a CMA Video of the Year nomination. He also joined Shania Twain for the duet, "Party for Two."
Although Currington is well known as a strong singer & performer, he also knows his way around a songwriting session. Currington co-wrote his current hit, the Top 5 single, "It Don't Hurt Like It Used To." The last time Currington co-wrote one of his hits was in 2009 with "That's How Country Boys Roll." He also helped pen his debut hit single "Walk a Little Straighter," and the Top hit "I Got a Feelin' from his first album in 2003. In addition, he's co-written songs which have been recorded by George Strait, Tracy Byrd, and Marty Raybon of Shenandoah.
In this new interview, we focus on the songwriting side of the country star. Currington talks about the stories behind some of his hits, knowing that he had a special gift for songwriting at an early age, and why being a team player prevents him from leaving potential hits unfinished.
BC: Congratulations on your latest hit single, "It Don't Hurt Like It Used To," which you co-wrote.
Billy Currington: I'm so very proud of this song. It's a song that kind of came out of nowhere. Sometimes you've got to sit around and think about things to write about. This was a song that fell out of the sky, so to speak. I'm blessed to have been a writer on this song and to see what it's done so far.
BC: When I was listening to the lyrics, I thought this song really sounds like it comes from the heart. How did this song develop for you?
Currington: I was on my way to the bus. When I'm in Nashville, that's where I basically live for the few days that I'm there. I just happened to be leaving a session with (producer) Dan Huff. Actually, that day we recorded "Don't It," which was the first single off this project. Later about 6:00 pm, when I finished up and I was headed back to the bus, I called (hit songwriter) Shy Carter, who I heard was in Nashville—he's a good friend of mine who I just started writing and hanging out with. He told me he was at my old publishing company, Major Bob Music, which is the first place I ever got signed to a publishing deal. I stopped by to say hello, and there was a [songwriter] by the name of Cary Barlow in there with him, who I was getting to know. We hung out for a few minutes just talking, and then, I picked up a guitar and strummed a chord. Then, Cary strummed the same chord on his guitar, and we started a little groove and out fell all of these words. They were like, "What are you over there singing, man." I said, "I don't know…I better write it down." It really took only about two hours to complete the whole song. We got up on the microphone, created a groove, laid our guitars down, and basically what you hear on the record is what we made that afternoon.

Here's the video of Billy Currington's hit single, "It Don't Hurt Like
It Used To."
BC: Is there a difference for you, when you record or sing a song that you helped write, versus recording some other songwriters' work?
Currington: You definitely feel more connected to a song that you sing that was written from your own heart and soul versus someone else's. I [also] love performing other people's songs, and I definitely feel that passion that they felt when they wrote the song every time I sing it.
BC: How important is the songwriting to your music? Would you be satisfied being an artist only, or does the songwriting mean a lot as well?
Currington: Ever since I first got my deal, I've been recording songs that I've written and had some really good success that way. I've also had lots of success recording other people's songs. I would just like to continue the same pattern for the rest of my recording career. There are so many great songwriters in Nashville, L.A., New York…all over the world. I couldn't imagine not recording their songs. There are some beautiful melodies out there.
BC: When did you realize you had a special knack for songwriting?
Currington: I was real young, like 6 or 7. I remember one time leaving the beach when my mom was driving the car. My brother and sister were in there with us also. I came up with this whole song. I don't know what it was—some of the sayings that I had heard. I wrote probably a two-minute song. By the time I got home, I had sung it to my whole family. They were like, Wow, that's pretty cool man.
BC: Do you prefer to write by yourself or with other people?
Currington: I really enjoy being off in a zone by myself where a melody comes to me and I have something to record it on. I love going through them nights where I kind of write about half of the song. A lot of times I seem to never finish it by myself. But I definitely love writing with other people because it seems that's where I've been the most successful at completing a song. You're part of a team, and you want to see it through. When you're writing by yourself, it's easy to do something else after a couple of hours, put it to the side and maybe never come back to it. I do love doing both. Writing with other people and sharing all that is special. It's boring to be at a Number One party by yourself (laughs). I love sharing music with others.
BC: Do you usually invite writers out on the road with you, or do you wait until you're back in Nashville?
Currington: I've written songs all kinds of places—not just the road, not just at home, not just in Nashville. I've written on trips to Key West (FL) where I didn't even plan on writing songs, in the Bahamas, lots in Hawaii. Days that I had no plans to write a song, they just kind of came.

Here's the video of Billy Currington's hit single, "Don't It," which is
also from his Summer Forever album.
BC: What is your strength as a songwriter—lyrics or melodies?
Currington: I think it's a combination. There have been songs I've written that I only had a few lines in the songs that came from me but maybe the whole melody came from me or either the opposite. I think I've been blessed to be able to play a guitar, some piano and drums, different instruments to where it's something you can create melody over the years. Also, I've read enough books and listened to enough great songs since the time I was born that I've also been blessed with the ability to come up with my own lyrics.
BC: One song that you co-wrote, "That's How Country Boys Roll," went to number one. How did that song come together?
Currington: That was one of the trips to Key West. I was going to be down there at the same time as a couple of buddies (hit songwriters) Dallas Davidson and Brett Jones, so we ended up getting together. Our plans were to go fishing, but the night before we were going fishing, we all piled up in one of the hotel rooms together. One of the boys had a guitar, and I said, "Give me that thing, man!" I started pumping on a chord. He was like, "I've got some lyrics started" for that song, and it was "That's How Country Boys Roll." It just all fit together, and within a couple of hours we were done with that song. Then we went off to have a beer, to celebrate getting together like that with no plans, [yet] coming up with a song that we felt would be worthy to make it on the next album (Little Bit of Everything). It was a fun ride to be part of that as a songwriter.
BC: What advice do you have for aspiring songwriters?
Currington: My advice would be to maybe decide what type of music you really want to focus on, and then you've got to think where that music exists. If you say country music, you're thinking Nashville, TN, and really that's where all the songwriters, all the producers, and all the record labels call home. When it comes to pop, I think most of them are out in L.A. and New York. So, I say go where it's at. That's always been my thinking. Whatever you want to write, find out where it is and go where it's at and get all up in the mix of it. Your chances of success go up higher. It worked for most people that are on the charts these days. I'd say go with that route.
Bill Conger is a freelance writer for various publications including Bluegrass Unlimited, ParentLife, Homecoming, and Singing News and is currently writing a biography on The Osborne Brothers with Bobby Osborne. He can be reached at [email protected]. He is also on Google+