Country Duo Big and Rich Talk About Their Recall Classic Hit Songs Including "Last Dollar (Fly away)"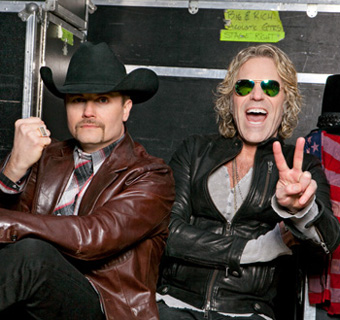 The country duo Big & Rich (Big Kenny Alphin & John Rich) has been widely known during the past 12 years for being hit artists, prolific songwriters and strong live performers. They've released five albums (two which are certified platinum) and they've had an impressive 13 Top 40 country hit singles as a duo. In addition, they've collectively written numerous songs for other artists, including hits for Jason Aldean, Tim McGraw, Gretchen Wilson and Faith Hill.
Currently, Big & Rich continue to tour nationwide, and they've released the single "Lovin' Lately," which features country icon Tim McGraw. "Lovin' Lately" is included on their latest album Gravity, which they released on their own label, Big & Rich Records, in September 2014.
We are pleased to interview Big & Rich, to discuss their latest projects, and ask them how they wrote some of their classic hit songs. But before we get into the interview, here's a rundown of Big & Rich excellent credits, both as artists and songwriters.
SPECIAL FEATURE: STREAMING AUDIO

Here's an excerpt of our interview with Big and Rich, who tell two of their favorite songwriter stories. First, John Rich tells how they met and wrote hits with Gretchen Wilson. Second, Big Kenny tells the emotional story of how he wrote "Last Dollar (Fly Away), which became a hit for Tim McGraw.
Big & Rich's best-selling album is Horse of a Different Color, which was released in 2004 and is certified triple platinum. The following year, they released the album Comin' To Your City, which went platinum, and in 2007 they released Between Raising Hell and Amazing Grace, which went gold. Notably, they wrote almost all the songs for these albums, and produced their own albums (with top producer Paul Worley).
The duo's biggest hits are "Lost in This Moment," "Save A Horse (Ride A Cowboy)," "Look At You," "Run Away with You," "That's Why I Pray," "Holy Water," "Big Time," "8th of November," "Wild West Show" and "Comin' To Your City."
Just as impressive as their hit output as artists, Big Kenny Alphin and John Rich have also written or co-written hit songs for other artists. Here's a list of Top 10 country hits that they've written, either together or separately: "Last Dollar (Fly Away)" for Tim McGraw; "Why," "Amarillo Sky" and "Hicktown" for Jason Aldean; "Redneck Woman," "Here For The Party," "When I Think About Cheatin'" and "All Jacked Up" for Gretchen Wilson; and "Mississippi Girl" for Faith Hill.
In our new interview, Big & Rich first talked about their current single "Lovin' Lately" with Tim McGraw, and how they've been friends and worked with McGraw for over a decade. Said Big Kenny: "To have this collaboration with Tim on the new Gravity album, and to be our single out right now…this is 10 years after our introduction to Tim. He took us out on tour with him to over 80 cities. He really helped break us to his entire audience out there—he helped break Big & Rich to the world."
John Rich added, "If you look at Tim McGraw—I don't think there's anyone more iconic than Tim McGraw when it comes to a career. He's Hall of Fame bound. He's such a big star, but on top of that he's actually our friend. Big Kenny wrote a #1 song for him a few years back, and I've written a couple of big songs for (his wife) Faith Hill. And with that friendship and touring with Tim over the years, to come full circle and record a song like "Lovin' Lately" with Tim and get it on the radio and see the fans react to it so strongly, the whole thing is just a high five everytime we get around Tim. Hopefully later this year, we'll get to perform it with him somewhere."

Here's the video of Big & Rich's single "Lovin' Lately,"
featuring Tim McGraw.
Big & Rich then discussed how they love touring and playing live shows, including big festival gigs. John Rich said, "Honestly, when it comes to touring, when we get a call for a show…we're pumped! Like Right On! They want to hear us in Spokane, or in Nebraska (or in other places). You get that email and it says…Hey, these guys want to book us for a show. You're always pumped to go there because you know, like Kenny says, it's a Big & Rich time, and you work your whole career to build that audience up. And Man, when you get the call and they want you to show up, it's always an honor to be there."
Big Kenny talked about playing festivals. "I'd have to say that one of my favorite things to do, when it comes to touring, is to play the festivals. Outdoor festivals and Big & Rich have just seemed like they go together like sunshine and blue sky. There's nothing better than to be heading up on that stage and to see tens of thousands…sometimes 30 or 40 or 50 thousand or more people in front of us, all of them up on their feet and ready to rock to the music and have themselves a big ol' time. It doesn't get any better than that. So the whole festival scene is something that's worked great for us. We've headlined alongside some of the greatest acts out there and we continue to do that."
We asked Big & Rich about the songwriting success they've had, writing for other artists. John Rich said, "[We've been fortunate] to have a lot of artists gravitate towards songs we've written. I guess Kenny and I write so many songs, if you think about it, we've written between the two us, several thousand songs, and you can only put 11 or 12 songs on a record. So what do you do with all these other songs?
Rich then recalled his great story, about how he and Big Kenny met and wrote songs with country star Gretchen Wilson, which then became big hits. "Over the years, artists have come asking, 'Hey do you have any songs that would fit my sound?' Probably one of the coolest things that ever happened to me was this girl (Gretchen Wilson) was my bartender downtown in Nashville, and one night she got up to sing. I went, Holy Cow—listen to that girl sing! And Kenny was there and we're like, Can you believe this girl's voice? And we got to be friends with her, then we sat down and wrote a song with her one day. Gretchen and I wrote "Redneck Woman," and not long after that we sat down with large Kenneth as I call him, and "Here For The Party" starts coming out. Man…these stories—you can't make 'em up! It happens because you're out there livin' it. You know, that's always been our advice to young singers and writers, that you've got to go walk right out in the middle of it and see what's happening and let it happen to you."
Big Kenny then told his classic story, about how in 2002 he was broke and hit rock bottom, but from this dire situation he was inspired to write "Last Dollar (Fly Away), which was later recorded by Tim McGraw and became a number one hit.

Here's the video of Big & Rich's #1 hit single "Lost in This Moment,"
from 2007.
"My greatest song story is about my song "Last Dollar (Fly Away)," which Tim McGraw cut and had a hit with," explained Big Kenny. "It goes back to 2002—New Year's Eve. John and I were invited out to Las Vegas to see the opening show of the first Alabama farewell tour. At that point in time in 2002, I think both us were between record deals. To me, being between record deals meant that I was broke. So I went out to Vegas with a couple hundred bucks in my pocket, and I was lucky I had a friend get me a hotel room to stay in. That last night (in Vegas), we're (thinking about) coming back home, and I realized that it would be the first of the month, and I had blown through the little bit (of money) I had, just getting something to eat. I had about 100 bucks left and it's 2 am in the morning, and I'm thinking…I'll be heading back (to Nashville) and I need to figure out how to pay my bills. I guess I'll just do what anybody would do—I'll take what I got and go play Blackjack!
"So I went down and sat at a Blackjack table, and in two or three hours I had the $100 up to about $800 bucks. I had won 10 hands in a row. And I'm going…I feel so good, that if I just push [the chips] out just one more time. I'll double this thing—One more time, and I've got this month covered…no more worries whatsoever. We're gonna have the cable bill paid and everything. So I did what any of us would do and I pushed (the chips) out there. Then this dealer starts going around and she pushes me some pretty good cards. But then the next thing you know…she flips her card over and lo and behold, she had a Blackjack!"
Big Kenny continues with this story: "Well…talkin' about having that sinking feeling. Well, I had two chips left —a one dollar chip and a $20 chip. I gave her (the dealer) the $20 chip and said, 'Thank you M'am, that was a great time, but I'll keep this $1 chip because I might need something to start over with.' I went to the hotel room and I sat down at the edge of the bed. It's now like 6 am in the morning and I was just laying down for a moment before I get on that plane. I sat down at the edge of the bed and I went to pull my boots off, and the heel came off the bottom of my boot. So then I laid back on the bed and just looked up and said…What next, Lord?
"Within about 30 minutes, it just hit me…I'm down to my last dollar. I've walked right though my shoes. It's a friendly, small reminder of the hell that I've been through. But look at me still smiling, because I'm wondering what I'll do—since I ain't got nothin', I got nothin' to lose! And 1-2-3 like a bird I sing, 'cause you're giving me such a beautiful set of wings. And I'm so glad you're all here today, because tomorrow I might have to go and fly away.
"So in 2002 I write this song "Last Dollar (Fly Away)". Now I'm playing this song at [our group] Muzik Mafia every week, just putting in a new collection of songs. Then in 2003 John and I get signed to a record deal on Warner Bros. In 2004 Tim (McGraw) brings us out on tour with him. By the end of that year I'd paid off enough of my debts—I could actually go into the studio again.

Here's the video of Gretchen Wilson's hit "Redneck Woman,"
which was co-written by John Rich of Big & Rich.
"It just so happens that the studio I had gone in to record was John McBride's place, Blackbird (Studio), and lo and behold that fall, Tim was in Blackbird recording his new album also. He comes by the studio that we're in, and he hears this song we're working on. So we go out to his truck—he wants to listen to it. He hears it through one time and looks at me, and says, 'You gonna let me cut that?' And I just looked at him in disbelief—I couldn't believe that this was happening like that. I said, 'Well Tim, I can't stop you from cutting this song if you want it.' He cuts this song and then his label held him up for three years before they allowed him to put the song out. But it came out in 2007 and it was the lead single off of that album, and it went to number one. And for something like that to happen, even just one time in any songwriter or artist's career, was an amazing thing. And that story…I will never get tired of telling it. It's been an absolute blessing. But as John said earlier, you just gotta get out there in the middle of it and live it, believe it, write it, and keep on believing it and keep on playing it everywhere you go. [It can] change lives in a beautiful way—the power of music."