Interview with Ben Hayslip, Hit Songwriter For Luke Bryan, Blake Shelton, Dustin Lynch And Other Artists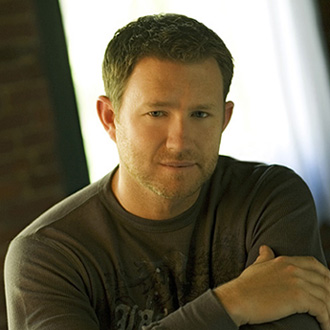 Hot country songwriter Ben Hayslip is at the top of his game. A former high school and college baseball standout, the Georgia native stepped up to the plate in Nashville in 1994 to write songs. For a long time, he struck out with his efforts until he hooked up with his friend, Rhett Akins and another Peach State tunesmith, Dallas Davidson. Every Wednesday the trio, now known as the Peach Pickers, put their minds together to pen songs, and it wasn't long before they began a long winning streak.
With that successful collaboration and other co-writes, Hayslip has seen more than a dozen of his songs reach the top rung of the charts. His latest is Dustin Lynch's "Mind Reader" that is number one on Billboard's Country Airplay chart. He's also currently in the Top 10 of the Hot Country Songs chart with Luke Bryan's "Huntin', Fishin', & Lovin' Every Day." Hayslip has scored chart-toppers with Brooks & Dunn ("Put a Girl In It"), Joe Nichols ("Gimme That Girl"), Josh Turner ("All Over Me"), Martina McBride ("I'm Gonna Love You Through It"), Luke Bryan ("I Don't Want This Night To End"), Jason Aldean ("The Only Way I Know"), and Blake Shelton ("I'll Just Hold On," "All About Tonight," and "Honey Bee") and has a slew of other Top 40 chart singles.
Hayslip was named the 2011 and 2012 ASCAP Songwriter of the Year. He has won 20 ASCAP awards and picked up three CMA Triple Play trophies for having three #1 songs within a year. He is currently a staff writer for Warner/Chappell Music in Nashville.
We are pleased to present this new Q & A interview with Ben Hayslip, who sat down with us in the balcony of the Ryman Auditorium in Nashville. He had just finished a sound check for the third Annual Night of Georgia Music that the Peach Pickers hosted. Hayslip talks about why he doesn't want to be an artist, the stories behind two of his big hits, the turning point in his songwriting career, and his stint as a sports reporter.
BC: What is it about the Peach Pickers collaboration that works so well?
Hayslip: We all grew up not too far from each other in Georgia, and we all kind of all speak the same language. We grew up the same way…hunting, fishing, and sitting on the back of tailgates. We really don't have to explain anything to each other. When we're in a writing room, I could say something that maybe a lot of people wouldn't get and Dallas and Rhett understand where I'm coming from.
BC: Speaking of fishing, you co-wrote Luke Bryan's latest hit, "Huntin', Fishin', & Lovin' Every Day." How did that develop?
Hayslip: Every year we go on Luke Bryan's annual farm tour for two weeks, and we usually carve out a little time to get together and write. We get on Luke's bus and start throwing ideas around. I'll be honest. We were writing "Huntin' and Fishin', and my brain was saying…Man, I'm not sure this is a radio hit or not, until I heard the cut, and then, I knew this could be a really big song. I think it's one of his fastest- rising singles he's ever had. It was just four good buddies from Georgia, having fun doing what we love, writing country music.
BC: Do you write with a particular person in mind, or do you think after you've written a song, that it might fit for a particular artist?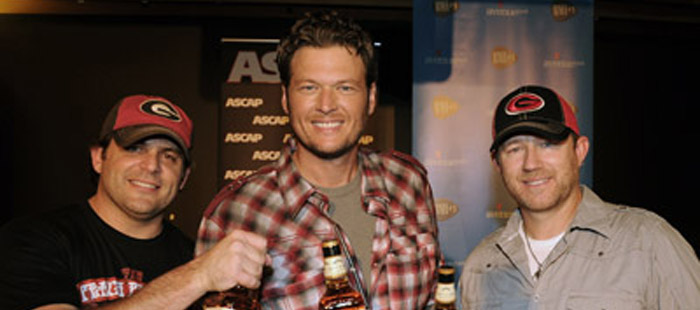 Hayslip: We do it both ways. There's a couple of artists in town like Blake Shelton and Jason Aldean who we kind of feel like we can aim towards. Rhett and I actually wrote "Honey Bee" for Blake Shelton. He was the only guy to ever hear it and he recorded it, and it ended up being a 4-week number one. We wrote "When She Says Baby" for Jason Aldean. We have a catalog full of songs that we've written for Jason and Blake that they didn't record. Even though you're aiming for them, a lot of times you've got to write a bunch of them before you get one they love.
BC: You have a truckload of hit songs. Is there any particular story that stands out?
Hayslip: "Honey Bee" is a pretty cool story. Rhett and I write together a good bit outside of the Peach Pickers. Rhett and I show up at 11 am, and usually go eat lunch before we do anything. Nobody has an idea. It's usually us sitting around the room with really no direction, and we start playing around on guitars and hope we find an idea. That day, Rhett was thumbing through a magazine trying to find something to spark an idea, and he came across an article about Mike Huckabee. I think he was Governor of Arkansas at the time. Rhett starts mumbling Huckabee, huckleberry. How about I'll be your huckleberry? I was like, I don't really like that—that's kind of corny. He stayed on it and started playing around on his guitar, and he spit out, 'You be my honeysuckle; I'll be your honeybee'. I still wasn't knocked out by it, but we took off on it. After two lines in, we said if anybody is going to record this, it'll be Blake Shelton. If he doesn't do it, probably nobody will. Let's write it directly for Blake Shelton.
BC: Do you have any interest in also being an artist?
Hayslip: I enjoy going on the farm tour with Luke a couple of weeks and doing this show, and a couple of other shows during the year. I've got three kids that I coach in sports. Songwriting has allowed me to not miss hardly anything in my kids' growing up, although I am missing a regional championship baseball camp as we speak, which is tough. I have no desire to be an artist. I enjoy being a daddy too much to be an artist. Not to say that you can't be a great daddy and be an artist, but the kind of daddy I enjoy being, I have to be home to do that.
BC: When did you know you had what it took to pursue a songwriting career?

Here's the video of Dustin Lynch's hit single "Mind Reader," which was
co-written by Ben Hayslip.
Hayslip: I still haven't (he laughs). I don't know that I do. I tell people all the time when I speak at things. I went 15 years with zero number ones, and then I went five years with 15 number ones. I'm still trying to figure it out. I've been in town for 20 years, but I've been successful at this for probably 7 or 8 years now. I feel like I'm still a new guy. A part of me feels like I've still got a lot of hit songs left in me, and I'm still learning every day. There's a new songwriter in town named Chase McGill, who's in his 20s, who never had a hit song, but I feel like when I write with him, I'm learning. Hopefully, he would say the same about me, and I think he would. I try to continue to learn to be a better songwriter on a daily basis.
BC: What was the turning point for you?
Hayslip: I think the turning point for me—and I think Rhett and Dallas would say the same—was us as a team. When we first started writing together, I had one hit song, Dallas had one hit song, and Rhett had his stuff as an artist. At the time, I'm not sure it wasn't a negative thing to be writing with Rhett. He was a has-been '90s artist, who I don't think a lot of people took seriously as a songwriter. We got into a room one Wednesday, and we had such a good time. People started liking our songs. We decided to start doing it every Wednesday. Our success started together, and it kind of branched out. I've had hits without those guys, and they could say the same thing. I don't know where we'd be if we hadn't found each other. It was that big a deal for us to start writing together.
BC: How have you seen your songwriting grow?
Hayslip: Obviously, with the success, the pressure—of having that hit and proving yourself to people that you're not crazy for moving 400 miles away from home—that pressure's gone. I think in everybody's eyes, they say he's a professional songwriter; he can do this. With that pressure being gone, I feel free to write whatever I want to write. If we want to write a country song today, which pretty much everything we write no matter if it's the right song or not, our voices and lyrics are on it, it's going to be a country song. We feel the freedom to do whatever we want to do, just to write stuff that we love, and not try to chase a whole lot of things other than a couple of artists that we feel like we have a good handle on. If we want to write with T-Pain, the rap artist, that's fun, we'll do it. So, we just have a lot of freedom right now to do whatever we want to do.
BC: What's the strongest asset that you bring to a writing session?
Hayslip: No doubt my strongest asset is lyrics. I do play guitar. I do write melodies. I write some by myself. I'm more of a picture painter as far as the lyric goes. I try to treat it like if you listen to a high school football game on the radio, you can't be there, and somebody's got to paint a picture for you. It's the same way with songs. I try to treat it that way. Try to paint the best picture. Take that listener to where I want them to be.

Here's the video of Luke Bryan's hit single "Huntin', Fishin' And
Lovin' Every Day," which was co-written by Ben Hayslip.
BC: I know you were a baseball standout. Did you ever try being a color commentator?
Hayslip: I did…I did. I interned at a TV station in Augusta, GA. I was a reporter. I was supposed to be a guy helping out, but they ended up putting me on TV. I announced Friday night football games in college for a high school. I paint pictures no matter what I'm doing. That kind of went together with songwriting for me.
BC: Would you like to write in another genre besides country?
Hayslip: Yeah. I grew up on pretty much everything. I grew up on Percy Sledge, Run-D.M.C. I like all forms of music. We have written with a guy named T-Pain, who's in the R & B world. I love all kinds of music. I'm up for anything.
BC: What advice would you have for a new songwriter arriving in Nashville?
Hayslip: The best advice I can give is to not expect to write with Rhett Akins or Dallas Davidson when you get here. You've got to do it the way we did it, and write with a no name Dallas Davidson and a no name Rhett Akins. You've got to feel your way through this and develop your craft before you're able to walk into a Warner Bros. (Records) or a Warner/Chappell. Some guys come to town more ready than others. Most of the time, it's just hard work. It's learning your craft and working hard at it every day and outworking the next guy. That's been my motto since I've been here. I may not be the best writer, but I'm going to outwork everybody, and that's the way I've gone about my whole career.
Bill Conger is a freelance writer for various publications including Bluegrass Unlimited, GACTV.com, Bluegrass Music Profiles and ParentLife. He can be reached at [email protected].He is also on Google+