Hit Writer/Composer Barry DeVorzon Discusses Songwriting, And His New MasterWriter 2.0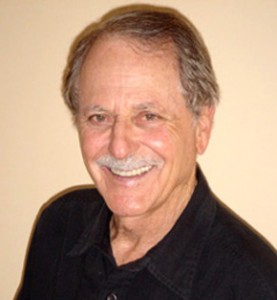 When it comes to songwriting, there are very few people with the knowledge and experience of veteran songwriter/composer Barry DeVorzon. With a career spanning 50 years in the music industry, he has written many hit songs, won Grammy and Emmy Awards, and composed music scores for many top movies and TV shows. DeVorzon also created a highly successful record label,Valiant and publishing company, Tamerlane, both of which he ultimately sold to Warner Music.
As a songwriter DeVorzon is best known for writing the classic, instrumental hits 'Nadia's Theme' (from The Young And The Restless TV series) and 'Theme From S.W.A.T' (which was a #1 pop hit). Early in his career, he formed the group Barry & The Tamerlanes and wrote their hit, 'I Wonder What She's Doing Tonight.' In addition, DeVorzon wrote the hits 'Bless The Beasts And The Children' for the Carpenters, and 'In The City' for the Eagles.
As a composer, DeVorzon wrote the scores for such notable films as The Warriors, Hard Times, Dillinger, Xanadu, Bless The Beasts And The Children, Tattoo, Ninth Configuration, Looker and Exorcist III. For television, he has composed the scores for S.W.A.T., Simon And Simon, Renegades, Private Benjamin, V, The New Twilight Zone, Intimate Strangers and The Belarus File.
For the past eight years, DeVorzon has devoted his time and energy to create MasterWriter, a software program for songwriters. MasterWriter (which was first released in 2003) is a comprehensive program, that provides a broad array of tools to help songwriters be the best that they can be. MasterWriter is particularly useful for lyricists, because it provides a massive dictionary of Rhymes, Close rhymes, Phrases, Alliterations, Pop Culture, and a Dictionary and Thesaurus. In addition, MasterWriter includes many other tools, such as Songuard (an online date-of-creation song registration service), a stereo hard-disk recorder for recording melodic ideas, and over 250 tempo adjustible MIDI drum loops.
Earlier this year, DeVorzon introduced the newest version: MasterWriter 2.0, which includes Word Families and Parts Of Speech, two new reference dictionaries that open up a new world of possibilities for descriptive words and ideas. Other new features include a complete searchable Bible Old and New testaments, plus Updates and improvements to all existing features including a greatly expanded and enhanced Sound-a-likes (close rhymes) and a completely redesigned interface which is resizable with enhanced functionality and a faster load time. Pop Culture has been upgraded to link to information on any entry selected. The new program is quite amazing.
Impressively, many top songwriters and artists use MasterWriter, to mention a few, Gwen Stefani, David Foster, Kenneth 'Babyface' Edmonds, Trent Reznor, Jeffrey Steele, Rob Thomas, Jimmy Webb, Linda Perry, Clint Black, Carole Bayer Sager, Kenny Loggins, Graham Nash, Nikki Sixx, Harvey Mason Jr,. Leon Russell, Steve Kipner, Lamont Dozier, Paul Anka, Jeff Barry, Paul Williams, LeAnn Rimes, Amy Grant, Ashford & Simpson, Randy Bachman, Steve Vai, Jamie Foxx and Andrae Crouch.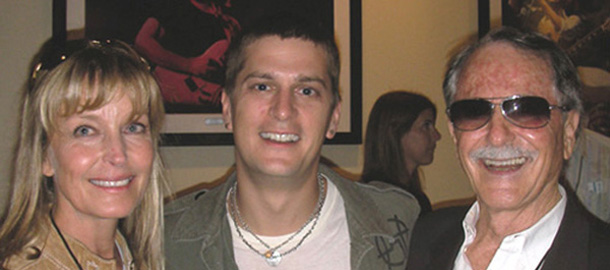 IDK: How do you stay focused on creating and perfecting a song?
DeVorzon: The greatest enemy of creativity is distraction. It's easy to be distracted by any number of things. I used to go away to a place I had in the mountains for an entire week with no distractions. If I couldn't get away, I would set aside a portion of the day or night where I would remove myself from any distractions. I would sit at the piano and play, and wait for inspiration to come, sometimes it came and sometimes it didn't, but I would never force it.
Sometimes I would listen closely to great songs and records and try to analyze what made them exceptional. I think it's important to see what your contemporaries are doing, you can learn a great deal and it can have a very positive effect on your writing. You don't want to copy it because they have already done it, but you can learn from it.
These are some of the things that have worked for me.
DK: You've recently released MasterWriter 2.0. How does this help songwriters in their creative process?
DeVorzon: MasterWriter is an amazing collection of tools, and the new 2.0 has evolved into a program not only for songwriters, but for creative writers of all types. There's nothing like it on the market. In any endeavor, you have to look at where you shine and where you don't. The brain is an amazing instrument, it's where we create and where we solve problems, the brain is an awesome thing but it's a lousy memory bank. When you use the Rolodex in your mind to try to remember things, you're going to find a very limited source. There's another consequence ' when you try to remember a rhyme or another way to say something you shift from the creative side of the brain to the analytical side. You will never create anything from that side of the brain and if you get stuck there for too long, inspiration can evaporate right before your eyes. So the role that MasterWriter plays in songwriting is that it very easily and instinctively presents the songwriter with all the options and possibilities regarding rhymes, ideas, and descriptive word choices, and all the songwriter has to do is choose. This keeps the songwriter in the creative while MasterWriter does the remembering.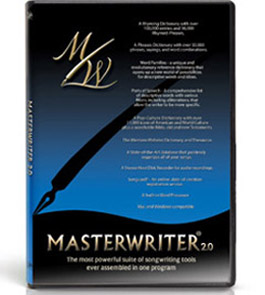 MasterWriter is there to jump start the creative process. It's there during the creative process, to keep you in the creative, and perhaps most importantly, it's there for you, post-inspiration, to help you get from good to great.
DK: What are the new features of MasterWriter 2.0?
DeVorzon: There are a number of major upgrades in 2.0. We took the original MasterWriter and improved it in a number of ways. 2.0 is a completely new program with all the features that were contained in the first MasterWriter, plus so much more. Two new reference dictionaries are Word Families and Parts Of Speech.
Here's how Word Families works. If the writer is looking for a more creative way to describe a 'hot sun,' he searches on the word 'hot' and he will see a wide array of words that could replace 'hot' like 'blistering,' 'blazing,' 'fiery,' or 'torrid.' But if the writer wants to take it to another level, he can click on the Extended button and he will get a 'punishing sun,' 'a glaring sun,' 'a merciless sun,' Another great example is the word 'beautiful.' Beautiful is one of the most overused words in our language. The reason is that there are very few synonyms for 'beautiful.' Beautiful is at the top of the heap. But Word Families will give you a lot of ways to replace beautiful, 'breathtaking,' 'flawless,' 'unforgettable,' 'dazzling,' and 'a perfect ten'. You can replace 'beautiful' with these words or you can intensify the word, 'she was breathtakingly beautiful,' 'a flawless beauty.'etc. Search on the word fast and wait until you see the descriptive words that are waiting for you in Verbs. There is no reference dictionary like it in existence.
DK: How does Parts Of Speech work?
DeVorzon: Parts Of Speech is the perfect companion to Word Families. Parts Of Speech presents all four parts of speech, and provides a group of filters that allow the writer to be more specific in his searches. For example, you can search for positive, intense adjectives that begin with the letter 'M,' such as 'magnificent,' 'mesmerizing,' 'monumental,' 'miraculous,' or 'memorable.' By changing the search to negative intense adjectives, it will give you words such as 'malevolent,' 'malignant,' 'mean-spirited,' or 'malicious.' Needless to say, you can alliterate to any letter of the alphabet. If you search for positive, intense adjectives that begin with the letter 'D,' you will get 'divine,' 'delightful,' 'delicious' etc., you could take a word like 'delicious' and use it in an unlikely way. You could say it was a 'delicious moment' between two people. That's another way to say an 'important moment.' but you're expressing it in a more unique way.
DK: What are the other new features of 2.0?
DeVorzon: In addition to these two features, there is a searchable Bible – both Old and New Testaments – that will allow the writer to search on multiple words and instantly give him the verse they appear in, the book that the verse is from, and then show you the verse in context, what proceeded it and what followed it. In addition to this, 2.0 has greatly expanded and enhanced 'close rhymes' which we refer to as sound-a-likes. We are convinced that 'close rhymes' more important and useful than 'perfect rhymes.' Plus it gives you so many more choices to express yourself and say what you want to say.
We also made a major upgrade in Pop Culture. You can now highlight any entry in Pop Culture, and it will link you to everything about that entry including pictures.
MasterWriter 2.0 is an amazing collection of writing tools that will help the songwriter and the creative writer to consistently create the exceptional, and that's what it's all about.
SPECIAL FEATURE: STREAMING AUDIO

Listen to a sampler of Barry DeVorzon's hit songs, including "Nadia's Theme" and "Theme From S.W.A.T."
Dale Kawashima is on Google+