Rising Pop Songwriter Asia Whiteacre Co-Writes Hit For Hailee Steinfeld, Plus Songs For Hey Violet And Other Artists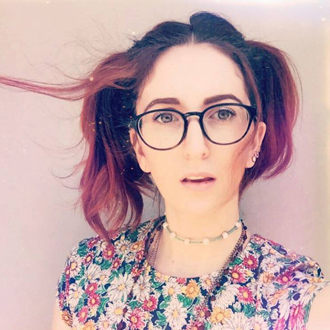 Asia Whiteacre is a rising pop songwriter & lyricist who is collaborating with a number of top artists and producers. Based in Los Angeles, she co-wrote the pop hit "Starving" for Hailee Steinfeld & Grey (featuring Zedd). She also co-wrote Steinfeld's new single "Most Girls," which is a female empowerment anthem that will be included on Steinfeld's upcoming debut album.
Whiteacre has also co-written songs for pop/rock group Hey Violet's new album, From the Outside, which has just been released. In addition, she has been co-writing songs with hit artist Rachel Platten for her next album. Whiteacre has also had cuts with Gareth Emery, Laura Marano, Augustana, the Mystery Skulls (feat. Brandy & Nile Rodgers) and Morgan Page. She is signed to a music publishing deal with Warner/Chappell Music.
Whiteacre is the daughter of Billy White Acre, a prominent singer/songwriter and film & TV composer. She plays piano, and she started out as a solo artist who released an EP called Something Silly, followed by the single, "California." She also fronted the indie power-pop band, Mr. Downstairs, which released the EP, Superhero Heart. More recently, she has focused on collaborating and writing songs for other artists.
We are pleased to do this new Q&A interview with Asia Whiteacre. She tells how she got started, and talks about her collaborations with Hailee Steinfeld, Hey Violet and Rachel Platten.
DK: How did you get started with music? Were you inspired by your father, Billy White Acre, who's a composer and artist?
Asia Whiteacre: 100%. I was singing before I could talk. When I was 3, my dad put a mic in front of me and asked me to sing a song. He said he thought I would sing for maybe 10 seconds, lose interest, and walk away. We now have a 10-minute recording of a song called "The Stars Gave My Love To You" about a kitten who gets to go to space for her birthday and be a star. It's quite exciting; you follow her adventures in "palace land" with her friend "basketball star" and there's even a magical toothpaste container! Anyways I was clearly light years ahead of my time haha. I guess what I'm trying to say is, there was never really any question about whether or not I'd be musical in some way or another. My dad, as well as always being 500% emotionally supportive of my dream, is one of the best musicians I'll ever know, and if I can be a quarter as talented as him I'll be more than happy.
DK: Do you mainly write topline (melody and lyrics)?
Whiteacre: Yes. And provide jokes.
DK: How would you describe your songwriting style? When you start a new writing session, what do you try to bring to the session, to create a terrific song?

Here's the video of Hailee Steinfeld & Grey's hit, "Starving," which was
co-written by Asia Whiteacre.
Whiteacre: I always feel like its easier for an outside ear to describe another writer's style, for some reason. Like, I've had a ton of people tell me that the first time they heard "Starving," before they knew that I wrote it, that they thought "this sounds like something that Asia would write," and thats always so interesting to me! But I'll do my best…I guess I could describe my style as quirky & honest. I think I'm good at putting myself in shoes other than my own, and connecting to the feelings people probably have in situations/experiences that I might not have personally experienced myself, and I think that's a really important quality to have as a writer/creative in general. I get most of my concepts, that I bring to sessions, from simple everyday conversations. I don't think most people realize it, but we're all constantly speaking in lyrics.
DK: I like your hit song "Starving" for Hailee Steinfeld & Grey (feat. Zedd).. How did you get together with Grey and Zedd to write this song?
Whiteacre: I wrote the song last February with two (at the time) brand new friends, Rob McCurdy & Chris Petrosino—a production duo that goes by Noise Club. It was actually our first time ever writing together and the song played hard to get, for sure. I remember we almost didn't record it at the end of the session because it had been a rough day; we only had 15 minutes left in the studio, and I think we were too tired to realize what we had written. We ended up cutting it though—I jumped in the booth and sang the demo through 3 times and we called it a day. About a month later they sent me a very clean, good sounding, simple vocal guitar demo saying "we tried going in on production with this, but it felt best acoustic." This was great because Katie Vinten (Co-Head of A&R at Warner/Chappell Music) was able to send it out to a few DJs and the next day Grey asked for the stems. Three days later they sent back an almost finished demo saying they wanted it for their first single and we we're like "uh yeah this is fucking rad." Grey is signed to Zedd, so he got involved and Katie got the song to Charlie Walk (President of Republic Records) and Hailee, and it all happened very fast. The song was out a month later and my life hasn't been the same since. In the best way.
DK: You also have a new single with Hailee, "Most Girls." How did you co-write this song?
Whiteacre: I'd been holding on to that concept for about a year, and I think that's because I knew it needed to be executed very delicately and in the most specific way. I love girl power and songs about it, but sometimes they can come off as preachy or attacking. I wanted something that would help empower women, but also help change minds and people don't tend to react well when being attacked. Anyways I'm rambling. We wrote this song the day after (President) Trump was elected. I just really needed to write it and the guys I was working with were totally on board. And once I explained the way it feels to be compared to the rest of your gender as if its a good thing you're not like them, I kinda saw the shock and acknowledgment in their faces like, "Oh wow I never thought about that, thats fucked up." Which is why I wanted the song to not be angry. It sucks that men compliment us by putting down our entire gender, but I don't think that that's the intent; that they realize what their words actually mean when they say that. I'm really proud of the song. I think it was very important for it to come out with the way the world is and everything thats happening right now, and I think its a great message and I'm super lucky and feel honored to get to be one of the people to help deliver it.

Here's the video of Hailee Steinfeld's new single, "Most Girls," which was
co-written by Asia Whiteacre.
DK. You started out as an artist, and you've been a featured artist on songs. Are you still interested in being an artist?
Whiteacre: The itch is definitely there! When I was younger I wanted to be a solo artist, but after spending this time in the industry/just being alive, I've realized that's not the life that I want. I like attention, but I don't like THAT much attention. I also say way too much stupid shit to have a microscope that big on me at all times. I have an idea in mind of what kind of project I'd like to be apart of, though, and I'm slowly working on making that a reality.
DK: Can you tell me about other cuts you're working on? I read that you've collaborated with Rachel Platten for her next album.
Whiteacre: I have a few songs on the new Hey Violet album that I'm SO excited about! "O.D.D." is about being kinda the weird kid that people don't get, but sticking to your guns and remaining true to yourself. "Like Lovers Do" is a cool dark waltz about how crazy/impossible the concept of true forever love can seem sometimes. Wrote both of these with some crazy talented friends and can't wait to set them free and watch them fly with all my pals.
I've written a few really cool self-empowering songs with Rachel (Platten) recently! All I can tell you about that right now though, is she's one of the most positive, kind, genuine, & enjoyable people to be around. I've found that every time I see her all I do is smile.