Special Interview With Top Nashville Songwriter Ashley Gorley, Co-Writer Of 30 Number One Country Hits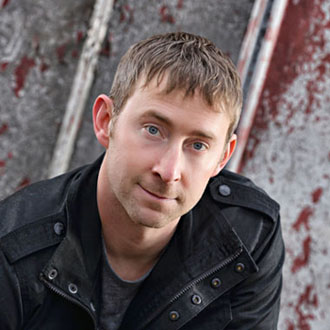 Ashley Gorley has probably been the most successful hit songwriter in country music during the past decade. During the recent ASCAP "I Create Music" EXPO In Los Angeles, ASCAP presented Gorley with a special award, for co-writing a remarkable 30 number one country hits in the past 10 years. This includes hit songs that he's co-written for Luke Bryan, Jason Aldean, Carrie Underwood, Brad Paisley, Tim McGraw, Darius Rucker, Trace Adkins and other artists.
In just the past few months, Gorley has co-written several hit singles: "Dirt On My Boots" for Jon Pardi, "Black" for Dierks Bentley, "Today" for Brad Paisley, "A Guy with a Girl" for Blake Shelton, plus "Middle of a Memory" and "Flatliner" for Cole Swindell.
Gorley, who is originally from Danville, Kentucky, had his first hit in 2006, when he co-wrote "Don't Forget To Remember Me" for Carrie Underwood. It wasn't long before Gorley would have a steady flow of songs on the charts. He has been named ASCAP Country Songwriter of the Year four times, in 2009, 2014, 2015 and 2016. He was also named NSAI Songwriter of the Year in 2013 and 2016, and he's been nominated multiple times for Grammy and CMA awards.
SPECIAL FEATURE: STREAMING AUDIO

Here's an excerpt of our interview with Ashley Gorley, about how he wrote with Brad Paisley (and Chris DuBois) the hit, "Today." He also discusses pitching songs and trying to stay relevant as a hit Nashville songwriter.
In addition to his songwriting success, in 2011 Gorley launched a music publishing company called Tape Room Music, which is a joint venture with Combustion Music and Warner/Chappell Music. Tape Room Music has six songwriters currently signed, including hit songwriters Zach Crowell, Matt Jenkins and Jerry Flowers.
We are pleased to do this new interview with Ashley Gorley. But before we get started, here's a rundown of the country hits that he has co-written: "Don't Forget To Remember Me," "All American Girl," "Good Girl," "Dirty Laundry and "Heartbeat" (Carrie Underwood): "That's My Kind of Night," "I See You," "Crash My Party," "Play It Again" and "Kick The Dust Up" (Luke Bryan); "You Should Be Here" and "Middle of a Memory" (Cole Swindell): "Then," "Start A Band," "American Saturday Night" and "Today" (Brad Paisley); "Just Gettin' Started," "Laughed Until We Cried" and "Tonight Looks Good On You" (Jason Aldean); "You're Gonna Miss This" (Trace Adkins); "It Won't Be Like This for Long" (Darius Rucker); "Better Than I Used to Be" (Tim McGraw); "All Over the Road" (Easton Corbin); "Why Ya Wanna" (Jana Kramer); "Hey Girl" (Billy Currington); "Don't Ya" (Brett Eldredge); "Runnin' Outta Midnight" (Randy Houser); "See You Tonight" (Scotty McCreery); "Yeah" (Joe Nichols); "Radio" (Darius Rucker); "Aw Naw" (Chris Young); "Young & Crazy" (Frankie Ballard); "Nothin' Like You" (Dan + Shay); "Rewind" (Rascal Flatts); "Don't It" (Billy Currington); "T-Shirt" (Thomas Rhett); "American Country Love Song" (Jake Owen); "Dirt On My Boots" (Jon Pardi); "A Guy with a Girl" (Blake Shelton); and "Black" (Dierks Bentley).
Here is our Q&A interview with Gorley, which took place at the Loews Hollywood Hotel in Los Angeles, during ASCAP EXPO. He discusses the EXPO, how he wrote some of his hit songs, and his music publishing company, Tape Room Music.
DK: Congratulations on receiving a special ASCAP Award for co-writing 30 #1 hits. How do you stay so prolific as a songwriter?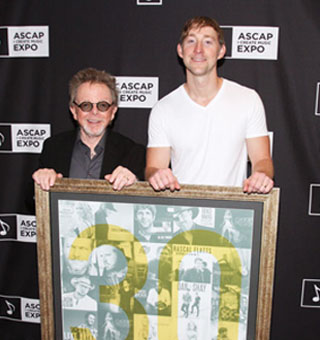 Ashley Gorley: I was asked that question on the EXPO panel I was on. All the songs are different—they're like [my] kids. So it's not like figuring out a formula, and just continuing to do it. It's a different challenge every time. It's even more of a challenge once you've had hits, to try to maintain it. [Fortunately], I've been afforded the opportunity to work with a ton of different people, so it always stay fresh. I also get to sign writers (to his company, Tape Room Music) and be in on that, and I get to juggle enough plates to never get bored or satisfied with anything (laughs).
DK: You've spoken at ASCAP EXPO several times. What do you like about attending EXPO, and being a speaker there?
Gorley: Well, I always want to give back.  I sign writers, so I enjoy the mentoring and coaching aspect. And I publish people, so there's even panels that I might want to sit it on or listen to. Because I do several different things, there are different topics I can talk about on panels. So there are enough things that I've been fortunate enough to do, where I can speak to different issues and hopefully not bore anybody or regurgitate information. Hopefully, I can tell writers things, to help cut the time it takes for them to succeed.
DK: I looked at your credits, and you co-wrote four big hits on Luke Bryan's 2013 album, Crash My Party. How did things come together for this album?
Gorley: I'd had album cuts with Luke before, that weren't singles. [For this album], those were all outside songs except for one ("I See You," co-written by Bryan), so it wasn't a matter of writing all the songs with the artist. It's just what I was [writing] at the time, happened to be what he wanted to sing at the time. All the songs were pretty different, but we just kind of spoke the same language, I know Luke now—we're friends, and over the years I've written more with him, and he still listens to songs if I pitch it to him. But [for the Crash My Party album], there's just a little bit of magic in what I was doing and what he wanted to do, that happened to connect.
DK: I looked at your credits, and it seems that a third of the time, you write a song with one other writer, and two-thirds of the time you write with two other writers in the room. So when you're planning a new writing session, how do you decide whether you want to write with one or two people?
Gorley: There are just so many people to write with. A lot of times, it's more fun, especially in the Nashville community, if you have three people in there—it's a little bigger party. It depends on the song. There's a song called "You Should Be Here" that I wrote with Cole Swindell, that just needed to be two people. It's more of a personal song. On the Luke Bryan (Crash My Party) album—two of those hits had three people and the other two hits had two people. There's no real rhyme or reason, except sometimes you want to add one more person in the session, and sometimes you don't want to.
DK: When you're starting a new writing session, do you usually know in advance that you're writing for a specific artist like Luke Bryan, or do you just try to write a great song and worry about pitching it later?

Here's the video of Jon Pardi performing his hit "Dirt On My Boots,"
which was co-written by Ashley Gorley.
Gorley: It's about half and half. Or maybe a third, third and third. (1/3 writing with the artist, 1/3 writing for a specific artist, and 1/3 not writing for a specific artist). Sometimes I'll work directly with an artist maybe a third of the time. So it's very targeted. A lot of times, it's mid-song—somebody in the room will say, "Oh, you know who would be really good on this song?" Then maybe, the last 20% of the song, we'll kind of curve toward that artist.
DK: One of the current hits you co-wrote is "Dirt On My Boots" for Jon Pardi. How did you co-write this song?
Gorley: That song would fall into the category of [a song] that wasn't for anybody in particular at all. And Jon (Pardi) is great—he doesn't even need outside songs. I didn't even realize that he was taking outside songs. We turned this song into our publishers, and one of our publishers just thought it would be a great fit for Jon for his new record, and [we pitched it]. We just had a song that we thought was fresh, that was still really country. We felt really good about that song—we just kind of wrote it to write it. We tried to do something that somebody would want.
DK: "Dirt On My Boots" has such a unique concept. How did you come up with this title?
Gorley: There are songs with boots in it. The song Jon Pardi had out before had boots in it ("Head Over Boots"). It's more of the way that the whole song comes together. It's not like, "Oh, this title is life-changing." But the thought of it really captured what a lot of people are going through—just trying to get done with their work day and to take their love of their life out for a great evening. You know what I mean? On this song, I wrote it with Rhett Akins & Jesse Frasure, and we tried to do a little more progressive melody with a very country and real-life working lyrics. So we just kind of aimed at that, and that's what came out.
DK: I also like your hit ballad "Today" for Brad Paisley, which has a positive, uplifting spirit. How did you co-write this song?
Gorley: We wrote that song about nine years ago. At the time, Brad wanted to lead his album (American Saturday Night) with a heartfelt ballad. We wrote "Today," and we wrote another song called "I Love You Then." That song ended up being called "Then" and it was the single, and it was like a wedding song/anthem back about seven or eight years ago. And so the other song, "Today," as it happens a lot of times when you're writing, just kind of went away, because you have to pick one or the other.
Then, when Brad was working on his latest album (Love and War), something spurred him to go back and look in the drawer of older songs that he didn't need at the time, to see if any of those came back around, and that one really did. So we rewrote some of it, and shortened some things. This song kind of came out of nowhere—that usually doesn't happen, for it to sit that long. But it was like a freah breath of air (for it to be recorded and released years later).

Here's the video of Brad Paisley's hit "Today," which was co-written
by Ashley Gorley.
DK: I would think that a hit writer of your stature, wouldn't have too many buried gems still lying around.
Gorley: Oh yes there are. There's a whole bucket of them (laughs).
DK: You'd think that artists would want to hear all your songs.
Gorley: You'd think that, but it's not like that. You might get the benefit of the doubt…maybe now and then, but not really. If Luke Bryan is recording an album right now, you're not getting one on there just because you got one [on the last album]. In fact, it's a fight for writers like me to stay relevant, to change and adapt. Because the first instinct is, to go find somebody new that's doing something different or whatever. So I have to keep changing what I'm doing, to keep fresh in order to stay relevant. So yeah, I wish it was that easy.
DK: You have a music publishing company called Tape Room Music. How has this company grown, and how big do you want to make it?
Gorley: I don't know how big it will be eventually. I like that it's a team effort and kind of a venture company. I am trying to be a publisher that has one foot in the creative world and one in the business world, so I can mentor and coach these guys, and actually get in there and [offer creative feedback]. They can come to me and say, "What about this idea for this person?" I may have some more viable connections than other publishers. They get the benefit of hearing stuff I've got that's getting recorded, and maybe we can all get on stuff together and use those connections. So I just love that aspect of everything. I wouldn't want to just write—I like to publish as well.
DK: How many writers do you have signed?
Gorley: We've got six writers right now. We've got Zach Crowell, Matt Jenkins and Jerry Flowers—they're the first three we signed, and they've had multiple number one hits in the last year. They're becoming some of the top writers in town.
DK: Zach Crowell is really hot right now (co-writing hits for Sam Hunt, Cole Swindell and Carrie Underwood).
Gorley: Yeah, I wrote his first song with him ever. And so I love watching that. For me, that's even more satisfying sometimes than me having a hit…getting our writers to the point where they can have the hits they're having. I just want to take them to whatever their next level is, whether it's from the ground up to get in the game, or from being pretty good to great.

Here's a video of Blake Shelton performing his hit "A Guy With A Girl,"
which was co-written by Ashley Gorley.
DK: Let's say there's a very talented new writer in Nashville, who would love to sign with your company. What do they have to do, to make a good impression at Tape Room Music?
Gorley: Well, they have to be great. If they're just good…I think that's what most people are…they're pretty good and know what they're doing. They're better than the majority of people, which is not really enough. So for me to think about signing somebody—if you think about it, they need to be able to do things that I can't do. I need them to step in and do things that are a different take on songs, or something that's just brilliant. If I put them in a writing session, it's because I really think they can bring something to the table.
And that has happened—ASCAP has referred people to me that I've signed as writers. They referred an artist/writer named Hunter Phelps, who we signed. He has a song on satellite radio XM right now. So I'm always open to referrals like that.
I really still think that Nashville's a town where if you're great, and you are trying, then I, or whoever needs to, will hear it. If they're out playing and if they're really raising the bar and doing stuff that nobody else is doing, then I will have heard about it.