Anna Paddock (of the duo The Lay Awakes) Wins April Best Song Of The Month Contest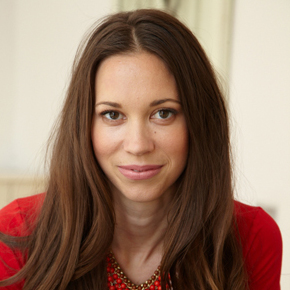 Anna Paddock, a pop singer/songwriter & pianist based in New York City, has won the SongwriterUniverse "Best Song Of The Month" Contest for April, for her song "The Great Divide," which was recorded by the duo The Lay Awakes (featuring Paddock and her husband Patrick Anderson). This song will be included on their upcoming EP, which is set for an independent release this June (2015).
"The Great Divide" is a graceful, duet ballad which provides an excellent showcase for Paddock's songwriting ability, and the lead vocals of both Paddock and Anderson. The song starts softly with Paddock singing and playing piano, and then builds to a full production in the chorus which features expressive harmony vocals, and a live string arrangement. The lyric story is thoughtful and articulate, about the emotional divide between two people struggling in a relationship. The recording of "The Great Divide" was expertly produced in New York by Jeremy McDonald, who also played bass.
Paddock was born in Maine, and her family is from Manitoba, Canada. She started to play piano when she was five, and she was inspired by listening to such favorite artists as Joni Mitchell, Loreena McKennitt and Paul Simon.  Paddock studied classical piano in high school and at Trinity Western University in Langley, British Columbia, where she majored in Music and Piano Performance. Notably, she went on to earn a Master's degree in Composition at New York University (NYU).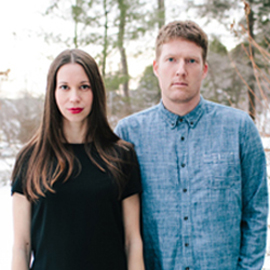 After completing her studies, Paddock decided to stay in New York to pursue her music career, which not only included her songwriting & performing, but also composing for films and teaching piano. In 2013, she recorded and released her debut solo album called Feel Better, which contained 12 songs that she wrote. Paddock then toured Canada to promote the album, and last year (2014), she played a special gig in New York City, opening for Paul Simon at the Beacon Theatre.
It was just two months ago (February 2015) that Paddock and her husband Patrick decided to form the duo, The Lay Awakes. "Patrick had been touring with me, playing guitar and singing," she explained. "We decided to form The Lay Awakes, and in February we played our first shows (as a duo), playing in the state of Washington, and in British Columbia." The Lay Awakes have also performed in New York City, at such venues as The Bitter End, The Living Room and Caffe Vivaldi. Onstage, Paddock plays piano, and Anderson plays guitar and bass.
Paddock & Anderson are preparing for an upcoming video shoot, which will feature a live performance of three of their songs. They are also completing a debut EP, and will promote the EP with an east coast tour this fall. "We'll be looking for a booking agent and management when the EP is done," said Paddock. The duo are also composing music for a new film documentary.
Top Five Songs Of The Month
Here are the Top Five Songs which were submitted for this month's contest, with the songwriter credits, plus their e-mail and website links. You can listen to the winning songs by clicking the music players below.
"Best Song Of The Month" Winner
Song Title:
"The Great Divide"
Written by:
Anna Paddock of New York City. Performed by The Lay Awakes (Anna Paddock & Patrick Anderson).
More Best Songs Of The Month
To enter the next "Best Song Of The Month" Contest (the deadline is the last day of each month), please
Click Here