Andy Grammer Talks About His Hit Songs "Honey, I'm Good" And "Good To Be Alive (Hallelujah)" And His Album, The Good Parts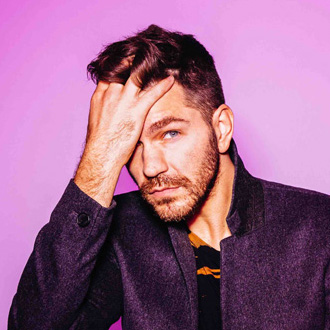 Since releasing his debut album in 2011, singer/songwriter Andy Grammer has steadily built a large following with his string of hit singles, which have mostly been positive and upbeat songs. His Top 10 pop hit "Honey, I'm Good" is a super-catchy song that millions of music fans were humming along to in 2015.
Now in 2018, Grammer has just released his third album, The Good Parts (on S-Curve Records). This album contains a wide range of songs, some that are fun and happy, and other songs that are more reflective and personal. The Good Parts features the hit single "Fresh Eyes" and Grammer's new single, "Smoke Clears."
Grammer was born in Los Angeles, and then he grew up in the town of Chester, New York. He learned to play guitar, piano and trumpet, and he began writing songs when he was 15. When he was 20, he moved back to Los Angeles. Interestingly, Grammer became a street performer for several years, playing cover songs and his original songs, busking at the Third Street Promenade in Santa Monica.
It was in 2011 that Grammer signed with S-Curve Records, and his self-titled debut album (Andy Grammer) contained the chart singles "Keep Your Head Up" and "Fine By Me." His follow-up album (called Magazines or Novels) was his major breakthrough and included the hits "Honey, I'm Good" and "Good to Be Alive (Hallelujah)."
With the release of his new album The Good Parts, Grammer is about to embark on a concert tour of North America. The tour starts in San Francisco on March 14, and continues with 24 shows throughout the U.S. and Canada.
We are pleased to do this new Q&A interview with Andy Grammer. He discusses his new album The Good Parts, and he also tells how he wrote his hits "Honey I'm Good" and "Fresh Eyes."
DK: How did you get your start in the music business? I read that early on, you were a street performer for a few years.
Andy Grammer: Yeah, I started as a street performer at the Third Street Promenade (in Santa Monica, CA), which I think is a really great way to study songwriting. This is because you're playing cover songs, playing the best songs in the world for 10 hours a day. [Early on] my own songs weren't good enough to grab anyone's attention. So you're just playing other people's songs, figuring out how your voice sounds on these songs.
By singing cover hits over and over again, you can't help but pick up what's working and what's not working and why, and you learn more about songwriting through this process. And then, you write your own songs and start playing them in front of people on the street, and most of them don't make people stop. Every once in a while you have a song where you have a verse where people stop and listen. But then when I get to the hook, they leave. So it was really good to do this for four years, playing tons of music—my songs and other's people's songs—and having direct market research, where you see what's working.
DK: How did you go from being a street performer to signing a label deal?

Here's the video of Andy Grammer's hit single, "Fresh Eyes."
Grammer: While I was street performing, I wrote a song called "Keep Your Head Up" (that became a hit single). Having a song that actually has some heat on it is what takes you from the street to being able to go out on tour and go bigger than that.
DK: Some of your hit songs have a very positive outlook. So do you try to stay positive when you're writing songs?
Grammer: It's not intentional…you try to write what you know, and I seem to be inherently happy. So I spend a lot of time trying to figure out how to get that to sound correct, because it's hard to make happy sound cool. Or it's not even the word cool…it's making it sound believable. A lot of times when you write something happy, you come across as insincere. So that's one of my life's work—sometimes I do it well and other times I fail at it.
DK: Two of your most popular songs are the hits "Honey I'm Good" and "Good To Be Alive (Hallelujah)." How did you write these songs?
Grammer: "Honey I'm Good" was song 101 for my second album. I co-wrote it with Nolan Sipe. We hit it off—we wrote a topic that was super honest, and found a way to make it real catchy.
"Good To Be Alive" was after "Honey I'm Good" was hitting, and having struggled for so long. I had some success at that point, but I'd never had a triple platinum song. So I was just coming into the studio after realizing I'd been trying so hard to have some success, and then we finally had some.
DK: You've just released your third album, The Good Parts. Can you talk about making this album?
Grammer: Yeah, I wrote a lot of the songs on the road. I had brought a second bus for my tour while I was writing this album. And this album is my personal favorite…it's super vulnerable and honest. With this one, the idea is that we all have a story to tell, but the things that are the most vulnerable, we don't share very much. We wait a really long time to share it with our closest friends. And sometimes, if there's a little kid getting a story told from someone older, he'll just say, "Just get to the good stuff! Just tell me the best part of the story." So this album is my attempt to tell you the good parts of my personal story.
DK: One of the songs on your new album has already been a hit: "Fresh Eyes." What was your inspiration for this song?
Grammer: "Fresh Eyes" was an attempt at going minimalist for me, which is really fun. Some of the songs that I've written have been in your face, with big bouncy hooks. And on this one we decided to almost whisper it, and it seemed to really work.

Here's the video of Andy Grammer's hit single, "Honey, I'm Good."
DK: Your latest single is called "Smoke Clears." What's the story behind this song?
Grammer: "Smoke Clears" is kind of an autobiographical track about how me and my wife have gone through some tough times, and we're able to be there for each other. Sometimes, I think you need really terrible things to happen to see who has your back.
DK: There's a song on the album that has a unique title, "Spaceship." How did you come up with this song?
Grammer: A favorite thing in my life so far, is that I just had a little daughter; her name's Louisiana. And while she was coming to us in my wife's womb, I wrote a song directed at her, because I would sing to her every night. So this song is basically an ode to her traveling to get to us on this earth.
DK: Are there other songs on your new album that are your favorites?
Grammer: There's a song called "85" which is all about my relationship with money. There's a song called "Always" that's about the relationship between a father and a daughter which I think is really special. And there's a song called "Grown Ass Man Child," which is like where my life is at right now. It was fun to write—it's one of the more experimental tracks on the album. The whole album is such a labor of love.
DK: I also read that you're about to start a new tour.
Grammer: Yeah it's really exciting. With this being my third album, it means you have way more songs to choose from to make the best possible setlist. So we've been having a lot of fun taking a lot of older songs that people like, and then mixing in and figuring out transitions. It's going to have backup singers and lights—it's going be a whole thing. I'm really excited about it.