Dewey Bunnell & Gerry Beckley of America Tell How They Wrote Their Classic Hit Songs "A Horse With No Name," "Sister Golden Hair" And Other Hits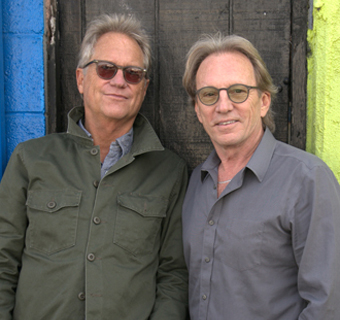 Dewey Bunnell and Gerry Beckley are the two main members of the folk/rock band, America, which formed in 1970. The duo has written the majority of the group's classic hit songs, which include "A Horse With No Name," "Sister Golden Hair," "I Need You," "Ventura Highway" and "Tin Man." (The third founding member was Dan Peek, who left the band in 1977 and died in 2011).
America has been a prominent music group since the early 1970s, when they immediately had hit success with their debut album America, and they won the Grammy Award for Best New Artist. It was during the '70s and early '80s that the band enjoyed steady chart success. Two of America's albums have been certified platinum (America and Homecoming) and three more albums have gone gold (Holiday, Hearts and Hideaway).
Each of the three, original band members wrote songs and sang lead vocals. Bunnell wrote the hits "A Horse With No Name," "Ventura Highway" and "Tin Man," and co-wrote the Top 40 single "The Border" (with Russ Ballard). Beckley wrote the hits "Sister Golden Hair," "I Need You" and "Daisy Jane." And Peek wrote the hits "Lonely People," "Today's the Day," and "Don't Cross the River." In addition, the band had a Top 10 hit in 1982 with "You Can Do Magic" (written by Russ Ballard).
SPECIAL FEATURE: STREAMING AUDIO

Here's an excerpt of our interview with Dewey Bunnell of America, who recalls how he wrote their classic hit song, "A Horse With No Name."
Notably, in the mid to late '70s, the band was produced by legendary, Beatles record producer, George Martin. Martin produced seven, consecutive recording projects with them, including five studio albums and a live album.
Over the years, Bunnell and Beckley have remained very active with the band. They've continued to write and record, and they tour worldwide, playing 90-100 shows per year. Their touring band includes Rich Campbell (bass & vocals), Ryland Steen (drums) and Andy Barr (guitars, keyboards, banjo). In addition to their Grammy recognition, the group has been inducted into the Vocal Group Hall of Fame, and they received a star on the Hollywood Walk of Fame.
We are pleased to do this new Q&A interview with Dewey Bunnell and Gerry Beckley of America. They tell how the band started, and how they wrote their classic songs "A Horse With No Name," "Sister Golden Hair," "Ventura Highway," "I Need You" and "Tin Man."
DK: How did America form as a band?
Dewey Bunnell: Gerry, Dan and I were American teenagers going to school in England, and I graduated from an American high school there in 1969. Our fathers were stationed at the U.S. Air Force Base near London. As with most Air Force kids or military families, we moved around a lot. Anyway, we all played guitars, and we had a band there in high school in '68 and '69. We played Top 40 stuff, but we quickly got into changing the arrangements a little to suit our voices and do some little tricky things. And that led us into writing original music. We all sort of did it organically by ourselves, because after we graduated from high school, we worked together for a while to make a living at the base facility. Then Dan went off to college in Virginia, and Gerry started to make inroads at a small studio in London. But within six months, Dan came back. He'd written some songs, I'd written a couple songs, and Gerry wrote a couple songs…all of which were ultimately used for the first America album.

Here is America's video of their #1 hit, "A Horse With No Name."
We would write our own songs, and bring the songs or the seed of the song, to the other two, and then we'd hash them out. So it really just happened without a whole lot of planning or foresight—we were channeling the music we loved. We also started to perform at a couple of pubs at a college, and some places in London and around England, and it just snowballed from there. A key moment was meeting a guy named Jeff Dexter who was the MC at a place called The Roundhouse, which put on big, multi-act shows. Jeff introduced the bands onstage—he was a real savvy, plugged-in London trendsetter. And he lived with a guy named Ian Samwell who was a Warner Bros. executive & producer, and the two of them took us under their wing. Consequently, we ended up with a record deal at Warner Bros. and we did more shows. And before we knew it, Jeff was able to get us on the bill with some pretty heavyweight artists, including The Who and Elton John.
We also worked very hard producing those records, especially the first album which was the key to everything. We recorded the 10 or 12 songs for the first album, and Warners was keying in on "I Need You" as the first single. And then at the last minute, they said, "Have you guys got any more songs?" So we went back in the studio and we recorded four songs, one of which was "A Horse With No Name." It was released as a single, and it took off—we were on Top of The Pops (TV show) and we were suddenly on the map.
DK: "A Horse With No Name" is such a distinctive song title. How did you come up with this title and the idea for the song?
Bunnell: At first, I called it "Desert Song." I had spent time in the States with my family traveling in the desert, in New Mexico and in Southern California. I had always been drawn to the desert. My brother and I had spent a lot of our time with the family, exploring the wilderness of whatever state we lived in. We lived in Mississippi, Florida, Nebraska, Massachusetts and California, and we loved animals and fishing. We were always outdoors.
When I got to England in 1967 with my family, you know, it was a rainy place. And there wasn't a lot of wild wilderness like there is in the U.S. So I wanted to write a song about the desert, and I called it "Desert Song." In the chorus were the words, "a horse with no name." And I had used that as sort of a vehicle to get out into the desert.
With songwriting, you're channeling something…you're trying to get something out there. You have three minutes to create, in my mind, some imagery. My songs tend to be more visual and with a lot of imagery. You know, "the heat was hot and the ground was dry," and "there were plants and birds and rocks and things." That's what I like to write about. And the aspect of the horse with no name was just a way to get out there in the desert.

Here's a video of America performing their #1 hit, "Sister Golden Hair."
Then it was our manager Ian Samwell, who co-produced the album…he was the one who suggested, "Oh, you must use the line 'horse with no name' as the title. It's a much more gripping title." And I said, "Sure." I didn't even flinch on that one. He also pointed out that there was an opera called Desert Song and it [might be] confusing. So that's how that worked out.
DK: Gerry, after "A Horse With No Name" was a hit, your song "I Need You" became the next hit. Can you talk about how you wrote that song?
Gerry Beckley: It was one of the first songs that I had written. It wasn't the first song, but it was very early on. One of the things I like to mention about "I Need You," was that early on we met (hit artist) Harry Nilsson in London. Harry was a dear friend of Derek Taylor (publicist for the Beatles) who was a mentor to us. And Harry was going to record "I Need You" as his follow-up single to his (worldwide) hit, "Without You." At the time, we had no plans for it—our single was "Horse" and everybody was excited about promoting it. Then of course, we ended up using "I Need You" as the follow-up single. Many years later, Harry did record the song.
DK: "Ventura Highway" was a hit from your second album. Dewey, can you discuss how your wrote this song?
Bunnell: Well, as a family we were stationed at Vandenberg Air Force Base in Central California. There were a lot of beaches near there, and our family would drive down to L.A. a lot. One time when we were driving on the highway, my dad had a flat tire. We were right there by the beach, and we hung out while my dad changed the tire. And we were under the freeway sign that said "Ventura."
Later on when I was back in England, I remembered how much I loved that California coastline, and basically the sun and surf. In my mind, I could see that sign Ventura, and I put together some chords. Then I hummed a melody line over the top. And so that's the way "Ventura Highway" worked. The writing process was the same formula that I still use today—first, the chord progression, then the melody, and then I start working hard on lyrics.
DK: Gerry, you wrote one of America's biggest hits, "Sister Golden Hair." Is there a story behind how you wrote that song?
Beckley: One of the things about "Sister Golden Hair," apart from the nod to George Harrison—the 12-string acoustic and the slide guitar—is that I had that song written and demoed before the Holiday album, which was our fourth album. But we didn't use it on Holiday…I'm not sure I even submitted it. I was very happy with the songs I contributed to Holiday, and Holiday went on to be a big hit record for us, with "Tin Man" and "Lonely People" on it. But it does show that sometimes songs can kind of sit in a holding pattern, and "Sister Golden Hair" was recorded for the next album, Hearts, and was a number one record for us. So it all worked out fine.

Here's a video of America performing their hit, "Ventura Highway."
DK: Dewey, another hit song you wrote was "Tin Man." Was this song partially inspired by the character from The Wizard of Oz?
Bunnell: Absolutely, that's still my favorite movie of all time. It embedded itself in my psyche as a young kid, and I just can't ever shake that. It was an inspiring film, and of course it had all the messages…that we all have our brain and our heart and our courage if we look inside. It was a beautifully made film, and I loved the film's fantastic transition from black & white to color. Life can be that way; it's either black & white, and you can turn it into color if you work in that direction.
"Tin Man" was really the first song we did with (legendary Beatles producer) George Martin. So it has a special place in our history. Also, George played the key piano [hook] on that song.
DK: How many of your albums did George Martin produce?
Bunnell: He's credited for seven albums, five which were studio albums of original material, and he remixed our greatest hits project and then we did a live album. We had a long, beautiful relationship with George, and all of the projects were great. He liked to record in different places, so we made an album at the Caribou Ranch in Colorado, in Hawaii, in London, in San Francisco & Los Angeles, and in the Caribbean in Montserrat. It was a wonderful time; we really look back at the George Martin years as very special.
DK: As a producer, what did George Martin bring to the band that you really liked?
Beckley: Well, he brought focus back to the process. There's so much that's been said and written about George, and his incredible body of work. His work with the Beatles was a wonderful inspiration to us.
We had been producing ourselves for the first three albums, and it was becoming a bigger and bigger job. We were starting to use arrangements and outside arrangers for strings and things. So we had a discussion, and we thought it was probably best to turn this over to somebody that we all agree would be the right guy, which of course was George. He was really great at keeping us focused and moving forward.
Bunnell: He had a steady hand. He and his engineer, Geoff Emerick (who also worked on many Beatles albums), had a lot of stored experience and knowledge about the studio and drum sounds, and how to get them. And then in the arrangement process, George became another element in that. And above all, he had the orchestrations that we began using a lot more of. He would write beautiful pieces for specific songs. George made the process really fun—we had a great history with him.

Here's a video of America performing their hit, "I Need You."
DK: I looked at your band's songwriting credits, and it looks like most of the songs were written individually by you, Dewey or Dan Peek. Did each of you prefer to write songs separately?
Beckley: Yeah, we were all writing independently. Fortunately, we were all writing pretty good material. Very early on, we kind of established that [our band] was going to be this combination of different writers and different singers. You can hear how different "I Need You" is from "A Horse With No Name." And then Dan on the second album wrote "Don't Cross The River," which was a very country-flavored song. It doesn't always work out that way, but in this case, we were all prolific at the time and contributing.
DK: Moving to the current time, you and Dewey have been leading America for several decades now. Can you talk about the band now, and your live shows?
Beckley: This is our 47th year; we still do between 90 and 100 shows a year. That takes is all over the world. It's been a fascinating life. The travel aspect becomes more fatiguing, but ironically, the shows seem to be more and more rewarding. If you sell out and you see these people up on their feet, you know, you'd be missing something if it didn't really hit you where it counts.
It's a wonderful thing to do this. I always say that it's our part of the bargain. These people [at our shows] are the people who bought our records, who made them the hits that they are. These people are responsible for getting our kids through colleges and stuff, if you want to look at it that way. And I think our part of the bargain is, we go around and we present this music in the best possible light, and I think that's a pretty cool arrangement.