Country Singer Alan Jackson Talks About His Album Project,The Bluegrass Album, And Writing His Songs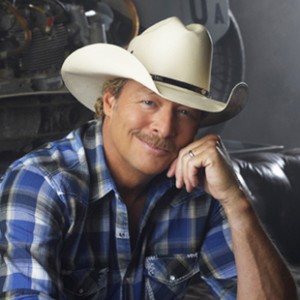 With nearly 60 million-selling albums to his credit, country star Alan Jackson can pretty much call the shots in his career. So, when the two-time Grammy winning performer wanted to record his recently released project, simply titled The Bluegrass Album, he didn't worry whether country radio would play it.
"I don't really care," Jackson said with a chuckle. "I didn't make it for country radio or anybody. I just made it because I wanted to make it."
"I wanted to make something that I'd be proud of that hopefully the bluegrass world wouldn't be embarrassed about," the singer/songwriter adds. "If bluegrass fans like it, that's just wonderful. If my fans like it, that's fine. Anybody who wants to play it they're welcome to it."
Music lovers and peers in the industry certainly have welcomed Jackson in the country music world. Over the years, he has amassed 17 Country Music Association awards and 18 Academy of Country Music Awards, topped the country singles charts 35 times and scored more than 50 Top 10 hits. In 2011 Jackson was inducted into the Nashville Songwriters Hall of Fame, and he has earned the prestigious ASCAP Founders Award. In fact, Jackson is on the elite list with Paul McCartney, John Lennon, and a few other songwriters who have taken more than 20 self-penned compositions to the number one spot. "Livin' on Love," "Midnight in Montgomery," "Gone Country," "I Don't Even Know Your Name," "Little Bitty," "Right on the Money," "Where Were You (When the World Stopped Turning)," "Where I Come From," "Drive (For Daddy Gene)," and "It's Five O'Clock Somewhere" are just a few of the gems in his treasure chest of top tunes.
Jackson says he has a strong respect for bluegrass and feels it's not a far cry from his traditional sound. "I think you could take a lot of the songs I wrote and recorded on my albums and convert it over to bluegrass, and you wouldn't know the difference," Jackson said. "I've always had mandolin, banjo, dobro and other things on my records as well."
"I think bluegrass is one of the last true American music's that's lasted, and it's still pretty original to the way it started. It's more pure'it's musicians music. It's songwriters. It's real pickers playing. It's people that can sing and have real harmonies. The songs have melodies. The country music that's on the radio today has really gotten away from that."
His bluegrass project features a few covers like bluegrass legend Bill Monroe's classic "Blue Moon of Kentucky," along with eight songs that he wrote.
"I don't know that it's that much different how I write them [for bluegrass]. Some of the little chord progressions in the melodies might have been a hair different. Lyric-wise, I don't think they stray too much from what I write with my country music."
Jackson writes by himself for the most part these days, but that's not how it started.
"It evolved into that," Jackson explained. "When I moved to Nashville, I had written songs by myself. When I got down on Music Row, everybody co-wrote. It was good to get connected with other established writers, singing demos and all that kind of stuff. I ended up co-writing a lot the first three or four years I was in Nashville. I had some great co-writers and wrote some hit songs together."
Among those are "She's Got the Rhythm (and I Got the Blues)" with another country music icon, Randy Travis, "Here in the Real World" that he wrote with Mark Irwin, "Wanted" with Charlie Craig, "Don't Rock the Jukebox" that Roger Murrah and Keith Stegall helped pen, and several collaborations with Jim McBride including the CMA Song of the Year, "Chattahoochee."
"After things took off so big, I was gone all the time," Jackson said. "I never was in Nashville any more. I started writing by myself out on the road. It ended up being that way. I'm not opposed to writing with somebody."
Jackson calls himself "pretty lazy" and can procrastinate on his songwriting. "I'm kind of like the guy that waits until the last night to read the book for the book report," Jackson admits. "If I have an album coming up or something, I know I need to be writing. I'm always keeping notes. If I hear something that sounds like a song, I'll write it down. If I get a melody in my head, I'll try to at least record it on my telephone now where I can remember it. If I don't I'll forget it. I always have a bunch of tidbits started unless something really inspires me to sit down and write a song at that moment. Then, when it comes time to get ready for an album, I'll start trying to finish all the stuff up and write as much as I can."
While the Newnan, GA native has frequently turned to his life for inspiration, he says the muse strikes him in different ways. "Sometimes I'll have a melody and don't know what in the world the words are going to be," Jackson said. "Sometimes I'll have a really cool line or two with no melody. Sometimes it all comes at the same time. I never have understood where it comes from. It just shows up. Middle of the night, I can wake up and there's a song. It's pretty weird, but I've been really blessed with it."
Jackson passes his blessings along to up-and-coming songwriters with this advice. "A lot of times you just write from your heart, especially if you can write things from your life that you witnessed or experienced," Jackson said. "Sometimes songs have a little more realness to them because they are real when it comes from something like that. I think some of the best songs I've ever written have been something that I've gone through or seen someone close to me go through, whether it's something sad, inspirational, fun or whatever. All the songs come from different ways. I like writing simple lyrics, but it says something. It's not just a bunch of clichés strung together. That's the way I like to write. Something you say but not in the typical way that you might hear it.
Bill Conger is a freelance writer for various publications including Bluegrass Unlimited, GACTV.com, Bluegrass Music Profiles and ParentLife. He can be reached at [email protected].He is also on >Google+