Rising Country Artist Warren Zeiders Talks About His Hit "Pretty Little Poison," His Debut Album, And Writing His Songs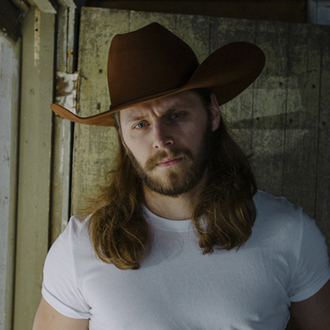 In the past three years, singer/songwriter Warren Zeiders has gone from being an unknown artist, to becoming a rising star in country music. His single, "Pretty Little Poison," has moved into the Top 20 on the Billboard country chart, and he recently released his debut album, Pretty Little Poison (on Warner Records). In addition, Zeiders has built a large online fanbase, with 2.3 million followers on TikTok and a million followers on Instagram.
Zeiders has a powerful, soulful voice, and his Pretty Little Poison album is a strong collection of songs that combine country and rock. Zeiders co-wrote 13 of the 14 songs on his album, collaborating with such top writers and producers as Ross Copperman, Ryan Beaver, Randy Montana and Eric Paslay. The album also includes Zeiders' rendition of 'Inside Your Head" (written by Chris Stapleton & Lee Thomas Miller).
SPECIAL FEATURE: STREAMING AUDIO

Here's an excerpt of our interview with Warren Zeiders, who tells how he wrote his hit song "Pretty Little Poison" (with Ryan Beaver & Jared Kein).
Highlights on the album include the title cut, "Pretty Little Poison," the uptempo feel-good song "Some Whiskey," and the heartfelt ballad "Weeping Willow," which has an excellent, unique lyric idea. Other key cuts are "Love's A Leavin" and "Tell Me Like It Is."
Zeiders, who is 24, grew up in Hershey, Pennsylvania, and he loved listening to country, rock and Christian music. Early on, he sang gospel hymns at church, and learned to play guitar. However, for many years his biggest passion was his love of sports, particularly playing Lacrosse. He played Lacrosse for 12 years and was a college athlete, but he eventually had to give it up due to several concussions he experienced.
Along with his sports career, Zeiders loved music, and he began focusing on his singing, songwriter and performing. He started to write songs and record demos in his bedroom, and posted the songs online. To his surprise, he quickly got a strong, positive reaction. When he was 21, he posted his song "Ride The Lightning" on TikTok and it went viral. This breakthrough success eventually led to "Ride The Lightning" being certified platinum.

Here's the video of Warren Zeiders' hit, "Pretty Little Poison."
Zeiders then released the first of two EPs: 717 Tapes (in 2021) and 717 Tapes Vol. II (in 2022). Around this time, he signed a label deal with Warner Records, and they released an EP that combined the songs from the two volumes.
During the past year, Zeiders wrote & recorded the songs for his Pretty Little Poison album, and he toured steadily. He and his band have built a strong live following, headlining at larger venues.
Warren Zeiders Interview
We are pleased to do this new Q&A interview with Warren Zeiders. He talks about his early success with his song "Ride The Lightning" and going viral on TikTok. He also discusses his hit "Pretty Poison" and other songs from his album.
DK: I read that you're from Hershey, Pennsylvania. How did you get started with music and writing songs?
Warren Zeiders: Yes I was born and raised in Hershey, and athletics were my focus through a majority of my life. But I had to hang that up during my sophomore year of college. I had played Lacrosse for 12 years, and that was my heart and soul and passion. With music, it was something that I had grown fond of over the years, starting in church. Then I took some guitar lessons, and learned how to play songs through YouTube. I was the kid that played guitar and sang around the bonfire, but I hadn't been in a band yet. Things only started when I posted videos of myself on social media during the pandemic to pass the time. At first, I was posting covers…I wasn't trying to be an artist or a songwriter. I was just enjoying posting videos and seeing how people would react.
It wasn't until after a year of being on social media, that I started to pay attention to people asking me for original music, which I didn't have at that time. From that point forward, I started writing songs and I put my first original song out from my childhood bedroom, which is where I sang and recorded. And moving forward, I got in contact with my manager (Charly Salvatore) who is still my manager to this day. He brought me under his wing and invited me to Nashville. Then when I came to Nashville, I started writing music and I wrote my first hit song, "Ride the Lightning."

Here's the video of Warren Zeiders' song, "Some Whiskey."
DK: I read that you grew up loving country music, rock and Christian music. Who were some of your favorite artists that inspired you?
Zeiders: With Christian music, I like to talk about a memorable moment for me. My first CD was a Jeremy Camp CD. My first concert was with my father who I consider to be my best friend, and that was a Jeremy Camp & Toby Mac concert at Hershey Park Arena. And I'm still a huge Jeremy Camp fan. I love Christian music…I love the message. And that was the way I best connected with my faith growing up.
On the country music side of things, that was my mom's doing. Everything from Shania Twain to Garth Brooks, George Strait and Hank Williams Jr. I love Johnny Cash.
On the rock & roll side, it was through my father. From Guns N' Roses to Motley Crue to AC/DC and Quiet Riot. And I loved playing Guitar Hero growing up. So I'm all across the board on music.
DK: You mentioned that you moved to Nashville with the help of your manager. Did you record "Ride the Lightning" and your 717 Tapes EPs in Nashville?
Zeiders: The fun thing about my 717 Tapes is, we wanted to release music like a rapper, with a lot of demos & worktapes. It was unpolished, unrefined and there's a beauty in that. With "Ride The Lightning," I went into a studio with my guitar; it was a place that had this tiny booth. I sang that song all the way through, and then we went ahead and spent $10 on a mastering program. Then we put that song out to the universe.
With my song "Never Look Back," I recorded the demo with the guys I wrote it with, and we ended up putting that demo out. So a lot of this music is from the early part of my music journey. We called it 717 Tapes because we wanted to put my area code, 717, which is the area code up in Pennsylvania.
DK: Did you put the EPs out when you were an independent artist?

Here's the lyric video of Warren Zeiders' song, "Weeping Willow."
Zeiders: Yes, I released the first 717 Tapes EP as an independent. Then as time progressed, we had conversations with Warner Records and I signed with them, and we put out (the second) 717 Tapes EP. Then we put out the (compilation) album, 717 Tapes.
What I like to say about that period of time, was I was quickly going from not being an artist to being an artist. We were releasing music, and I was finding my voice and finding myself as an artist through that process. This was so exciting, because my fans were able to grow with me as I was growing simultaneously and seeing the evolution of it all. Then that brings things to my new album, Pretty Little Poison, which is a cohesive piece of work.
DK: You're currently on the charts with your song, "Pretty Little Poison." Can you tell the story behind writing this song?
Zeiders: With that song, I can remember being in the writers' room that day and sitting down with the two writers—shout out to Ryan Beaver and Jared Kein. I remember being together that day, and we were beating around ideas and I was like, "I want to write a love song." But a lot of my songs leans toward minor keys. There are darker keys and chords that make you feel a certain way. And putting that twist (with the title) Pretty Little Poison…she's this beauty but you know temptation. She's just so good that you can't say no to her. And whatever that is for you in life, that's the broader spectrum of interpreting the song. We've all got that one thing in life we know is probably not that good for us, but we just can't say no to it.
DK: On your new album, I also like your song "Weeping Willow," which has a very good lyric. How did you write that song?
Zeiders: I absolutely love that song. I was on a writing retreat with a couple dudes who have been so good to me in town, and it was springtime and a beautiful day outside. I was looking across the lake and seeing all these trees and a weeping willow. And I think…I love Weeping Willow…it's such a cool title. So I (tell the writers), "I've got a title, Weeping Willow. Let's think on it for a second." Then my boy Erik Dylan, shout out to him. He was like, "What if we wrote it from the perspective of all the beauties that a girl can do…she can put a smile on a weeping willow." So that's where we started with the hook. Then we talked about all the amazing things that a woman can do in your life. And I think it's great because that song is about finding that one person…finding that one girl who can light your world up.

Here's the video of Warren Zeiders' first hit, "Ride the Lightning."
DK: Besides "Pretty Little Poison" and "Weeping Willow," what are your other favorite songs on your album?
Zeiders: One of my go-to's would be "Love's a Leavin," because that song is close to home for me. It really tugs on my heart strings. To this day, it's one of the only songs I've written that I've cried while writing it. So it's a very emotional and vulnerable song for me. Another personal favorite would be "Some Whiskey," which is such an upbeat, uptempo, feel-good song. It definitely works well in a live setting and it's cool to see the fans interacting with that song. I also love "Tell Me Like It Is," and the message behind that song.
DK: You've had great success on TikTok with over two million followers. How have you used TikTok to connect with fans and build a large following?
Zeiders: In this industry and with building a fanbase, the big thing is being authentic to what you're doing, and being the artist that you want to be. And I've been able to grow a great following on TikTok. The another thing is having an Instagram following, and what that's been able to build for me. And I'm thrilled now to be on country radio. It's truly been a blessing.
DK: Thank you Warren for doing this interview. Is there anything that we haven't talked about yet, that you'd like to mention for this article?
Zeiders: I would say Buckle up, because I'm already starting to work on some new stuff, and I'm thankful for all the love that's been shown on country radio and all the love that's been shown on this album. I would say, keep your eyes peeled and be ready for the next stuff.
Here's the link to Warren Zeiders' site: https://www.warrenzeiders.com/