Vanessa Carlton Talks About Her Album Heroes & Thieves, And Her Single, "Nolita Fairytale"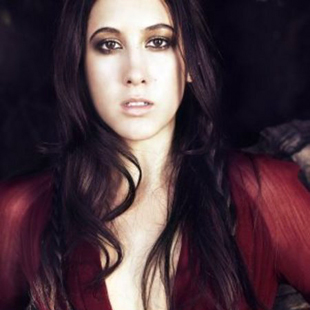 Vanessa Carlton's biggest and most iconic hit to date is her Grammy-nominated 'A Thousand Miles,' but she didn't have to travel beyond her own neighborhood to find inspiration for her latest album, Heroes & Thieves. 'Nolita Fairytale,' the first single from the 27-year-old singer/songwriter's debut on The Inc. Records, pays direct homage to the area of Manhattan (North Of Little Italy) where she wrote most of the album's songs. Looking out her window and taking long walks down its streets, she began reflecting on the highs and lows she has experienced in the music industry since releasing her platinum-selling debut Be Not Nobody in 2002. The result is her most personal album to date.
The global success of her first single 'A Thousand Miles' in 2002 created an exceedingly high bar that most young and still developing artists would find challenging to live up to. One of the biggest hits of the year, it reached #5 on the Billboard Hot 100 and #1 on the AC chart. It also hit #1 in Australia and reached the Top 10 in many European countries. Notable for its infectious opening piano riff – currently being heard on holiday TV commercials for Zales Jewelers – the song was nominated for three Grammy Awards, including Record of the Year and Song of the Year. Its themes of distance and longing also hit home with U.S. troops serving abroad; in 2003, the track became one of the most requested songs on the Middle East radio station BFBS.
For Carlton, all of this has proven a tough act to follow. While Be Not Nobody's second single 'Ordinary Day,' was a Top 40 pop hit, her 2004 follow-up album Harmonium – while receiving some positive critical notices – failed to score a hit or approach the big sales figures of her debut. This disappointment, which Carlton blamed on poor promotion by her then label A&M Records, led her to leave the company in 2005. Carlton had a crisis of faith in continuing as a pop artist until she started touring with Stevie Nicks, whose positive mentorship the singer credits for changing her life. Carlton has toured with the former Fleetwood Mac singer for three years now, and Nicks contributes her inimitable background vocals to Carlton's song 'The One' on Heroes & Thieves.
'Stevie came into my life and totally changed so many things,' Carlton says. 'When I was at a crossroads about whether I should start writing songs for another record, she had complete confidence in me at a time when I didn't. She told me how appalled she was by the system that put me in this position, but then assured me I was up for the fight. She wrote me little notes of encouragement all the time, and they really invigorated me. Almost like a fairy godmother! She said, 'why not just do what makes you happy?' and that's writing, recording and performing.
'People wonder how I could be so down on myself when I had achieved so much,' she adds. 'But back when 'A Thousand Miles' was becoming this huge hit, I just felt like this little girl who didn't have my feet under me. It was all like an out-of-body experience. Even when I was recording Be Not Nobody, I was not in control of the process. I was being told what to do. I was also going through a lot of negativity in my personal life, and when that's going on, you can perform for thousands of fans on a big arena stage and still walk off in a bad mood.'
Another major factor in Carlton's renewed sense of purpose and return to creative form on Heroes & Thieves is the excitement and support of hip-hop producer/entrepreneur Irv Gotti. As unlikely as the pairing may seem considering his track record with strictly urban artists – Ashanti, Ja Rule, DMX, Jay Z, et al – Carlton became Gotti's first artist signing since his company The Inc. Records completed its deal with Universal Motown Records. As Carlton tells the tale, Gotti flipped out when she played 'Home' and 'Hands On Me' on an acoustic piano in the office of Universal Music Group Chairman Doug Morris.
'Because he works so much in hip-hop, he hasn't been around too many musical situations where a singer could get the power of a song across with just voice and piano, without a board,' she says. 'But I think I opened his mind, which is a good thing. And he was moved by what I played him. I hit his musical buzzer and he was so positive and spontaneous. I began to realize we were alike in a lot of ways. Along with his rare passion and vision, he has a finely tuned ear which made me believe he could guide any type of musical project.'
Reflecting Carlton's renewed confidence as a songwriter and performer as well as a continuation of her uncompromising approach to recording, Heroes & Thieves was co-produced by Gotti, top songwriter/producer Linda Perry (who has collaborated with Gwen Stefani, Pink, Christina Aguilera) and Third Eye Blind founder Stephan Jenkins, who also produced Harmonium. The album, which finds her exploring universal and existential questions about what is supposed to make people happy, was recorded in Jenkins' San Francisco studio and Perry's facility in L.A. Carlton had a hand in choosing the A-list session players who brought her musical vision to life, including drummer Matt Chamberlain, bassists Abe Laboriel and Sebastian Steinberg, and percussionist Luis Conte.
I was surrounded by a beautiful team of musicians that allowed these songs to breathe and grow organically,' says Carlton, who is credited as Co-Executive Producer. 'All of my favorite albums had a way of bringing you into the music, where you're listening in on a performance that is genuine. I think we achieved that because we were all loving the music and not just going through the motions. On my first record, I felt like a passenger on this train that was all going by so fast, and I was unhappy that while I was the singer and songwriter, everything else about the project was not really a reflection of who I am as a person and artist. Working with these amazing musicians and producers, I was able to create a sound that will be a template for all my future recordings. I now have the freedom to arrange my own strings, and we recorded on vintage gear so everything sounds warm and timeless. I feel like I'm finally being so much more honest.'
Whether she's topping the charts or simply sitting at her piano in her Manhattan apartment working out the next verse to a future hit, that sense of being true to what she believes runs through all of Carlton's work. Songwriting, she says, is really about keying in on two elements: 'Lyrically, you have to say something interesting that collectively rings with everyone who listens. We're all human beings and that's the common denominator, finding a way to tap into those universal emotions. Musically, there has to be that set of notes that come together in such a way that every time people hear it, they go into that meditative musical state. It's about hooks, but also can be how the B-section goes into the bridge. As a songwriter, you're painting a musical landscape that you have to put together in an eloquent way. A great song is like a beautiful quilt that's stitched so perfectly that it all makes sense and inspires people to want to look at it all the time.'
Jonathan Widran is a free-lance music/entertainment journalist who contributes regularly to Music Connection, Jazziz and All Music Guide. He can be reached at [email protected]. He is also on Google+