Rising Songwriter Tiffany Vartanyan Co-Writes Demi Lovato Hit, Has Success In Several Genres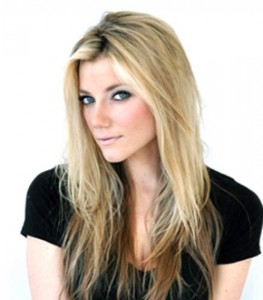 After years of near successes and disappointments while pursuing a career as an artist in Nashville, Tiffany Vartanyan began focusing on her songwriting with the ongoing mentorship of her old high school friend, mega-producer and OneRepublic frontman Ryan Tedder. Now emerging as an in-demand songwriter in several genres, the Colorado-raised, Los Angeles-based songwriter is basking in the glow of "Neon Lights," the hit single from Demi Lovato that the singer named her recent tour after. Vartanyan is credited as a co-writer of the song along with Tedder, Mario Marchetti, Noel Zancanella and Lovato; Tedder and Zancanella are the producers.
The third single from the singer's 2013 album Demi, the dance electro-pop tune is a global hit, selling platinum in the U.S. while hitting the charts in many countries including New Zealand, Belgium, Brazil, Mexico, Luxembourg, Lebanon and Israel. A top 40 hit on the Billboard Hot 100, "Neon Lights" reached #1 on the Hot Dance Club Songs chart. In June, it was released for the first time in the U.K.
When Vartanyan was an artist, she was passionate about making music in several genres and not quite sure of what specific direction she should focus on. While eclecticism is often a drawback for an aspiring artist, it's paying off handsomely (and globally) for her as a songwriter. She has co-written the country chart single "Us Again" by Chuck Wicks. She also wrote "Look Inside" on operatic pop singer Mark Vincent's The Quartet Sessions, a hit album in Australia.
In Japan, the duo Donghae & Eunhyuk's album containing Vartanyan's song "Teenage Queen" reached was a chart success there. She also had four cuts on rapper Jake Miller's album Us Against Them, which hit #5 on the Billboard Rap Albums chart; Vartanyan was also the featured vocalist on the cut, "Suitcase." Notably, she has recently co-written with Kes (Epic), Dakota Bradley (Streamsound Records), Olivia Holt (Hollywood Records), Los 5 (Virgin), Maggie Chapman, Jay Sean (Cash Money), Highdive Heart (Virgin) and Greyson Chance.
The Demi Lovato hit "Neon Lights" originated from a quick burst of inspiration when Vartanayan was in the middle of a conversation at the popular breakfast eatery Snooze in Denver. She picked up the subtle basslines of a song that was playing over the loudspeaker and suddenly began singing a chorus melody in  her head. Some time later, she brought it to a writing session with producer Mario Marchetti. With Vartanyan as the main lyricist, the two fleshed it out into a straight-ahead pop tune they called "Broken Lights." Later, Tedder heard it and felt the chorus melody was undeniable. He thought it was almost perfect for Lovato, but thought it could use a "global" makeover and a bigger sound than it had in its original pop incarnation.
"Ryan watched me struggle throughout my early career and was the one who told me to consider focusing on songwriting in 2009," says Vartanyan. "He became my mentor and told me to write 70-80 songs and he would take the ones he liked best and re-introduce me around Nashville as a songwriter. Because I wasn't specifically a country writer, things didn't work out the way I had hoped in Nashville. But his mentorship ultimately led to me becoming a versatile songwriter—so when he told me to re-write verses on 'Broken Lights,' I knew something great was bound to happen. Ryan also changed the vibe of the track, which he built with Noel (Zancanella). He could have easily just taken the track as his own, but he wanted to keep me involved in the rewriting process because he knew it was my baby at the start.

Here's the video of the Demi Lovato hit "Neon Lights",
which was co-written by Tiffany Vartanyan.

"Ryan said, 'This is you, all you,' which was really exciting, and Demi was already interested, so I just did whatever would make it right for the new sound she was trying to develop," she adds. "Demi loved the new version, but liked the idea of calling it 'Neon Lights' so asked me to rework the lyrics to fit that concept. This was my big chance for a Demi Lovato cut, so my attitude was I was just excited to be part of it. I think some hit songs can be written very quickly, but others have stories develop around them and just take time. For a long time we didn't know it would become a single, but its global impact has just been amazing and we're all excited about it being (recently) released in the U.K."
Ironically, the success of 'Neon Lights' has started opening new doors for Vartanyan in Nashville, and she is "working in better rooms with top writers" now even as she has diversified and gotten cuts in many other genres. She attributes her growing resume to her wide range of musical interests and the hard work she puts into understanding the genres of each set of writers and artists who invite her to songwriting sessions.
"If I'm going to have a long career in this business, I have to understand the 'language' so to speak that is spoken in each genre, because an urban music session is different from country, which is different from pop," she says. "To me, the most important parts of a song are the chord structure, melody and lyrics, and you have to make sure they're all telling the same story. It needs to be honest and real and not overly complicated so people can relate to it. You always have to ask yourself, 'Is the lyric bringing the story that the music is conveying to life?'
"On the practical business end," Vartanyan adds, "I think becoming a successful songwriter is a matter of hard work and not quitting when you're frustrated or things aren't popping the way you want creatively or career-wise. It's my experience that most people let go of their dream just as they were on the cusp of making it. Ryan told me one thing I will always remember: 'Tiff, if you hold on longer than everyone else, they'll get tired and let go and it will be yours.' To write a great song, I know I have to live a lot of life experience so I have amazing stories to share. I love what I do and will continue to plug away, work hard, stay humble and not be afraid of the grind."
Jonathan Widran is a free-lance music/entertainment journalist who contributes regularly to Music Connection, Jazziz and All Music Guide. He can be reached at [email protected]. He is also on Google+