Jon Foreman Of Switchfoot Talks About The Band's Album Hello Hurricane, And Writing His Songs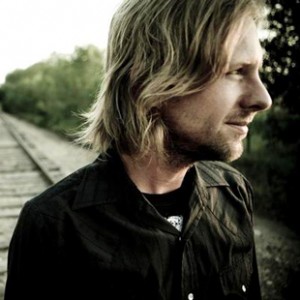 Switchfoot counts a total of eight Dove Awards among their 13 years of accolades, but the San Diego based rock band successfully transcended their early format trappings as a Contemporary Christian Music (CCM) band to become a multi-platinum mainstream force. Building on the longtime foundation of spirituality and transcendence that has driven their hits like the 'Only Hope' (from the soundtrack of A Walk To Remember) and 'Meant To Live' (from their 2003 breakthrough album The Beautiful Letdown), Switchfoot's seventh album Hello Hurricane is their realistic but hopeful musical response to, as lead singer & songwriter Jon Foreman says, 'the storms that tear through our lives.' In September, they released the video for the lead single 'Mess of Me' to YouTube as the track shipped to rock radio.
Hello Hurricane is the band's first release on their indie label, people records, and it will be distributed internationally by Atlantic Records. The album marks a sense of newfound independence for the band–and an embrace of the kind of artistic freedom that they hadn't had since recording The Beautiful Letdown independently. That album, which was subsequently released on Columbia Records, became a hit on the strength of the gold singles 'Meant To Live' and 'Dare You To Move.'
Their next release, 2005's Nothing Is Sound debuted at #3 on the Billboard 200 and spawned the hit single 'Stars.' In 2007, after scoring again with their album Oh! Gravity, Switchfoot announced they were leaving Columbia. The label's 2008 swan song to the band, The Best Yet, was a greatest hits collection with an original track 'This Is Home,' which appeared in the Disney film The Chronicles Of Narnia: Prince Caspian.
After 10 non-stop years of working, the quintet'which includes Jon's brother, bassist Tim Foreman, drummer Chad Butler, keyboardist Jerome Fontamillas and guitarist Drew Shirley–saw the extensive sessions for Hello Hurricane as an opportunity to reassess their priorities, affirm their post-major label identity and rededicate to the creative process which brought them to the forefront of the their hometown's music scene in the '90s. They began work on tracks in 2007 with producer & artist Charlie Peacock, who founded the band's first indie label, Re:Think Records.
After building their own state of the art studio"so we wouldn't be playing and paying by the hour,' Foreman says'they scrapped those original sessions and ultimately hooked up with Grammy- winning engineer Darrell Thorp (Radiohead, Outkast) and renowned writer/producer Mike Elizondo, whose credits include Maroon 5, Pink, Dr. Dre, Eminem, and 50 Cent. Ultimately, the band recorded more than 80 songs before choosing the 12 that would ultimately become Hello Hurricane.
'It's very easy to go through the motions and just write and record whatever hits you at a certain time,' says Foreman, who complemented his work with Switchfoot in 2007-2008 with a series of four independently released solo projects titled Fall, Winter, Spring and Summer. 'But that can be detrimental to evolving and creating something truly new and interesting. Ultimately, the process came down to deciding that the songs we wanted to lay were ones that reflected a sense of community. Our driving catch phrase became one that has been attributed to Dolly Parton: 'If you ain't crying, why are you singing it?' To me that means, if this isn't a song you want to die singing, maybe you should skip to the next one. Sure, there are tunes that are just great fun to play and are challenging skill-wise or bubblegum that fans would enjoy, but the things that stick with us are the songs that feel more timeless and transcendent.
'If you think of life as a breathing motion,' he says, 'we spent many years of our career breathing out, and this time of transition was one where we could stop pushing out and breathe in a breath of fresh air. For me personally, the songwriting on this project was less about chasing something down like a hunted animal, and more simply waiting for great inspiration to come to me. Sometimes the best tunes are the ones that hit you when you are not expecting them.'
The singer adds that while they were grateful during the shift from major to indie for the original guidance by Peacock, a father-figure who has been championing Switchfoot from the beginning, they felt that Elizondo was the perfect choice to be, to use a phrase from baseball, 'the closer at the end of the game.' Foreman says, 'Mike really understands what we do very well, yet he's also a new face that brought a fresh perspective to the mix because he wasn't emotionally attached to the material like we were. He provided a great counterpoint and a great sense of objectivity. A good producer is one who listens, and Mike has incredible ears. He didn't start working with us to make his own project, but to make what we were doing a little better. It's sort of like having someone with a birds' eye view in the room while the rest of us are focused on the minutiae. We already have enough material to release a new album after Hello Hurricane next year, and there's this feeling of creative stability that wasn't there a few years ago. A successful record is one where you leave a lot of material on the cutting room floor, throwing the good away to get to the great.'
One of the reasons that it took Switchfoot so long to finish Hello Hurricane is the band's busy touring schedule, which recently included co-headlining the Crazy Making Summer Tour with Universal Motown group Blue October, with special guests Ours and Longwave. They also did two Southern California dates in September opening for the Dave Matthews Band. Switchfoot is also heavily involved in numerous charitable activities in the San Diego area. They have hosted the annual BRO-AM, a surf contest, charity auction and concert, for the past  five years.
As powerful as the sound of the band is, Switchfoot's connection with their fans is rooted in Foreman's emotional, spiritually-infused songwriting. 'A great song feels like something you didn't write yourself,' he says. 'I equate the process of composing with archaeology, because every day you're digging into yourself, the newspapers and your relationships past and present to discover new ideas. To use a metaphor I like, one day you may come across a lost city that's been there thousands of years. You didn't create it from scratch, but it's transcendent. You're digging every day, working tirelessly to find that one thing.'
He adds: 'My advice to young songwriters is to always have great joy and love for what you're doing. If you determine your success by external factors, like reviews or sales, you're allowing other people to have a piece of the reason your play music. But your driving force should be the same as the innocence and beauty of a four year old picking up the guitar for the first time. And nothing can take that away from you. So whether you're playing for a crowd of four or 40,000, your joy is uninhibited. First fall in love with what you do, and then good things will follow.'
Jonathan Widran is a free-lance music/entertainment journalist who contributes regularly to Music Connection, Jazziz and All Music Guide. He can be reached at [email protected]. He is also on Google+