Songwriter Tamara Savage Write Hit Songs For Monica, Whitney Houston And Shanice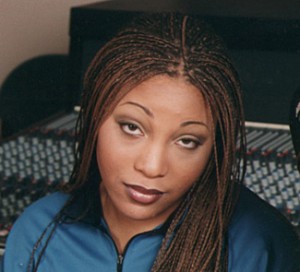 In the typically male-dominated industry of professional songwriting and producing, it is refreshing to come across a female songwriter such as Tamara Savage, who is not only one of the most successful R&B/Pop songwriters at present, but also one of the youngest. She co-wrote her first hit single, "The First Night" by Monica (which reached #1 Pop & R&B), when she was only 19. She has also co-written such hits as "Heartbreak Hotel" for Whitney Houston, and "When I Close My Eyes" for Shanice.
Born in California and raised in a musical family filled with songwriters, singers and musicians, Savage had aspirations at a young age of a career as a recording artist. "My family is very musically inclined," she explained. "We've got music professors, musicians, songwriters and vocalists. Being able to write has always been part of our background, and we all do it in different ways."
In order to express herself, she enrolled in a light opera program, studied theatre at USC and even performed in musicals. She won the lead role in the musical Once On This Island by singing over the phone to the producers of the play. While she was in college, she started writing and demoing more songs, and was introduced to her manager through a few friends.
"I was introduced to a man named Ray Brown, who became my manager," said Savage. "He believed in what I was trying to do at the time, and helped me out by putting me with some producers who were looking for singers to demo their songs. I started going to the studio and demoing my voice onto their tracks, and later on I started writing with some of those producers."
Soon, fate intervened when another mutual friend introduced Savage to Big Jon Platt, Senior Vice President of Creative at EMI Music Publishing. "There aren't many music publishers who are willing to take a chance on new writing talent, but Big Jon does," said Savage. "He's one of the few publishers I know that signs writers and really develops them."
When he first met Savage, Platt was looking for a new writing talent, and recognized that even in her rough demos, she had strong potential as a writer. He signed her to a development deal with EMI while she was still in college, and immediately began working with her.
"It wasn't easy for me in the beginning," recalled Savage. "Big Jon would sit down with me and go through my songs. He'd tell me that certain parts of the songs needed more work, such as the hook or parts of the verses. However, he wouldn't completely shoot me down, and his criticism really helped take my writing to the next level. I knew then that what I'd been writing previously wasn't what I was truly capable of."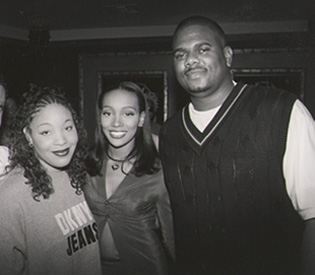 As soon as Platt felt Savage was ready, he started setting up collaborations between her and such hit EMI writers as Soulshock & Karlin, and Jermaine Dupri. "I went from working with [unknown] writers to working with Jermaine Dupri," she said with a laugh. "I was so nervous."
Nevertheless, EMI flew Savage to Atlanta to co-write a song with Jermaine Dupri for the South Park soundtrack, which would potentially be sung by Janet Jackson. But when Savage began working with Dupri, they decided to focus first on writing a song for Monica. "Jermaine and I went into the studio and wrote 'The First Night,' which was the first song we wrote together," recalled Savage. This song was selected as the second single from Monica's album, The Boy Is Mine. In mid-1998, the song become a #1 hit on both Billboard's "Hot 100" singles chart and the R&B chart.
"When the song went #1 R&B, I didn't know what to say," said Savage. "Before 'The First Night,' the only single that I had out was 'Take Me There' from the Rugrats soundtrack. That was one of my first crossovers, but it didn't reach the Top 10. So when 'The First Night' became a #1 pop hit, I nearly died from shock. I was excited, but I really didn't know how to express myself. I don't think it had hit me yet."
Since achieving this breakthrough hit, Savage has been working literally non-stop. She has had cuts with Deborah Cox, Destiny's Child, Shiro, TLC, Tatyana Ali, Tracie Spencer, Juice, Mya, Mary Mary, LaTocha Scott & Chante Moore, DJ Quik, Toni Estes and Tamar Braxton (Toni's sister).
In 1999, one of the first songs she had written with Soulshock & Karlin, "Heartbreak Hotel," was released as a single by Whitney Houston. This song became a worldwide hit, reaching the Top 5 on the Billboard "Hot 100" and staying atop the Billboard R&B chart for seven weeks. "I was so grateful for the exposure that I received from the Whitney cut," said Savage. "When the song was recorded for the album, I really didn't know if it would be released as a single. I don't take anything for granted, and it really felt great to work so hard and see the rewards start coming."
The success of the "Heartbreak Hotel" was soon followed by her song, "When I Close My Eyes" (co-written by Warryn Campbell), which was recorded and released as a single by Shanice. "When I Close My Eyes" subsequently became Savage's second hit single that year. Her list of collaborators has also grown. Along with Soulshock & Karlin, Jermaine Dupri, Warryn Campbell and Teddy Riley, she has also written with Anthony Nance (who collaborates with Babyface), Guy Roche (Christina Aguilera), Cutfather & Joe, K.G., Rodney Jerkins and new writers such as Joey Elias, Damon Crawford and Jazz Nixon.
"It's just really weird how all this worked out," said Savage. "I was writing and demoing songs to get myself a recording deal, I got a publishing deal first, and it all kind of went backwards. But I wouldn't have it any other way. Since I started writing songs and giving them to other artists to record, I've started enjoying what I do even more. I can't wait to hear different artist versions of my songs, even though most of the time they sing it like I've done on the demo anyway," she said with a laugh.
Savage is also looking to take a more hands-on approach in the studio with artists, in terms of producing the overall track and arranging vocals. "A lot of times I write and I run; I write the song and then I have to dash off," explained Savage. "But now I'm working at being more one-on-one with the artists. Also, I don't really place any importance on writing specifically for artists. I really don't want to focus on, 'Oh, I'm going to write a Toni Braxton type song or a Whitney Houston type of song.' I just want to focus on writing good lyrics and melodies, and then [the songs] get placed with the artists," she said.
Although Savage admits that sometimes she feels like taking a break from her busy schedule, she currently has songs set for release on new albums by Faith Evans (Bad Boy/Arista), Mary Mary (Columbia), Monica (J Records), Nicole Wray (Elektra), So Plush (Columbia), H.E.A.T. (Columbia), Kenny Lattimore (Arista), and TLC (Arista). She is also writing songs for O-Town (J Records) and the new Whitney Houston album.
"My advice for any young person who wants to be a professional writer, is to truly work hard at it," said Savage. "Don't be lazy. You've really got to give it everything you've got, and when you've had some success, then work even harder to stay there. It's a really fickle industry; I may have a few hot songs now but no one knows what could happen tomorrow. Don't take anything for granted, or quit when things get too hard. You will also need to find that one person who sees some hope in your writing, who is willing to help you out. Stay humble, get good people around you, and don't ever doubt your talent."
Alain Vendargon can be reached at his e-mail address: [email protected]