Sara Bareilles Talks About Her Hit "Love Song," Her Album Little Voice, And Writing Her Songs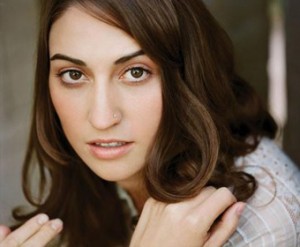 The success of Sara Bareilles' irresistible, piano pounding 'Love Song' is proof that sometimes, the most compelling songs break through after a singer-songwriter's worst dry spell. Late in the process of recording Little Voice, the artist's debut album for Epic, the label was still looking for a hit single to launch the project and she was having a difficult time trying to enter a creative space. She caught herself critiquing her own ideas as she imagined the A&R folks might do and literally freaked out.
'I got mad at myself for letting those doubts creep into my brain and swore I would write something totally honest, whatever it may be, good or bad,' she says. 'And I did. 'Love Song' was my response to all that, my little 'stick it to 'em."
Based on its impressive run as iTunes' Single Of The Week on the U.S. site from June 19-26, the song's hook has been sticking in the minds of a lot of people. It also prompted thousands of listeners to check out the rest of Little Voice, and the album spent July 8-17 as the iTunes #1 selling album. It also debuted on the Billboard album chart at #45, selling over 15,000 copies its first week – strong opening numbers for a breaking new artist. Bareilles, who performed on the Late Late Show with Craig Ferguson on July 11, says that sales stood at almost 30,000 units after two weeks. 'Love Song' has also had a huge presence on her MySpace page, where it currently has over 200,000 spins. Another of her songs, 'Bottle It Up,' was featured in Lifetime's new show Army Wives in June.
'It's a really cool thing to have this new movement for unknown artists to get all this love from the iTunes crowd,' she says. 'I feel this is where the industry is headed. A lot of established artists and record company people get frustrated that things aren't old school anymore, but I think using the internet as a resource adds a new kind of feeding ground for new music to be exposed. There's so many great artists emerging all the time, that it's easy to get lost in the shuffle. Honestly, I don't know what it is about 'Love Song' that's catching on with everyone. I think it's just a cool and sassy uptempo tune and people are ready for a female artist in that range.'
Even before the release of Little Voice, Bareilles' label and management were hooking her up as an opening act on some of this year's highest profile tours. Fresh off early and mid-2007 dates with British singer/songwriter Aqualung and London-based pop singer Mika, Bareilles hit the road in July and August with alt-rocker Rocco DeLuca. After that, she'll be hooking up with Grammy winners Maroon 5 for a string of fall dates starting in Detroit.
Although she signed with Epic in the spring of 2005, Bareilles didn't get rolling in the studio until early 2006, when she started working with producer Eric Rosse, who is well known for his work with several, notable female singer/songwriters, including Tori Amos, Lisa Marie Presley and, most recently, Anna Nalick. At first, Bareilles loved the fact that he was soft-spoken, not overbearing and made her feel comfortable sharing what she was writing. But along the way, she reports countless hours of deliberation, fighting and seeking compromise on what would make the music the best it could be. In the end, she says, they both walked away with some 'gnarly battle scars,' but an album they could be very proud of.
The singer, who considers songwriting to be 'the most sacred thing in my life,' tried to hook up with numerous co-writers, but in the end, co-wrote only tune, 'Love On The Rocks,' with her guitarist Javier Dunne. 'Little Voice is a collection of songs that pretty much mean the world to me,' Bareilles says. 'They chronicle my life, my relationships, my basket-caseness, and my utter devotion to trying to write honest stuff down and share it. This record was really about me learning to trust my own instincts and more importantly, recognize how desperately I needed to learn to listen to myself.'
Elaborating on her songwriting process, she adds, 'The songs came in all different ways to me, either by sitting at the piano with hours of nothing to do or choosing to forget everything else to sit there and see what might happen. Every song starts with doodling, finding different chord progressions on the keys. I have hundreds of cassette tapes with little snippets of songs I collected, and generally the ones that stay in my head the longest develop into songs more quickly than the others. Usually it's music first, lyrics later. I usually don't sit down with a specific agenda. Songwriting for me is a mostly cathartic process.'
Bareilles grew up on several acres of Redwood Forest in the small Northern California city of Eureka, where she sang in high school choirs and appeared in local community theatre productions. Moving down to Los Angeles to attend UCLA as a communications major, she spent her spare time working on her songwriting and also joined a campus a capella group called Awaken. She also spent one year abroad studying in Italy, and as much fun as she had there, a whole year without doing anything musical took its emotional toll. She came back and started performing at as many open mics and small clubs as possible.
While building a loyal, local following, she released several indie demo albums over the past few years; six of the tracks on Little Voice, in fact, are re-recorded studio versions of songs from her 2004 CD Careful Confessions. She met her current manager, Jordan Feldstein, through a mutual friend, and he facilitated discussions with various labels, including Epic. Pete Giberga, the A&R rep who eventually signed Bareilles, first saw her perform one of her small gigs at the Temple Bar in Santa Monica.
'Everyone at the label has been really cool about respecting what's unique to me as an artist, and not trying to change me into something else,' she says. 'A lot of singer/songwriters have mixed feelings about signing with major labels these days, and that's the first thing Pete asked me, whether I was willing to go that route. For me, being with Epic has been a great experience because they have provided a strong network of marketing resources that would not have been available to me with an indie. I've gotten a lot of exposure in a relatively short amount of time. But I try not to focus on the pressure of following up the success of Little Voice. I'm focused instead on what's happening right now and hopefully when it's time to develop new material, I will be in a good creative space.'
Asked what advice she would share with up and coming singer/songwriters currently traveling the long road she had to stardom, Bareilles says, 'The best advice I could give anyone is to trust your gut. Follow your instincts about moving forward. A lot of things happened to me early on, some opportunities presented themselves that just didn't feel right'certain management offers, some people who wanted to record with me'and I turned them down. Somehow I just knew I was making the best instinctive decision for myself. So just trust that voice and you'll know when something is right. And always be sure to make decisions based on what's best for the music, because that's the centerpiece of everything you're doing.'
Jonathan Widran is a free-lance music/entertainment journalist who contributes regularly to Music Connection, Jazziz and All Music Guide. He can be reached at [email protected]. He is also on Google+