Sam Harris Of X Ambassadors Talks About The Band's Hit "Renegades," Their Album VHS, And Their Other Songs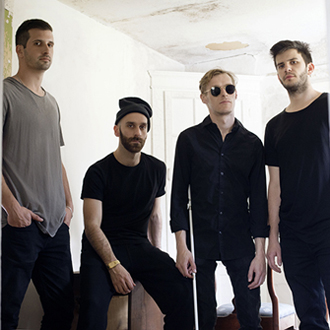 Standing out as an anomaly in an era where emerging artists are more likely to build momentum via a stream of singles and EPs, X Ambassadors' VHS – the Ithaca, NY-bred alt-rock band's first full-length album on hit producer Alex Da Kid's KIDinaKORNER's Interscope imprint—is an ambitious CD-length concept album.
VHS's 20 tracks include four spoken word interludes of conversations of band founders Sam Harris (vocals) and his brother Casey (keyboards) at different stages of their lives. For those who haven't heard their previous EPs Love Songs Drug Songs and The Reason—or seen them play such festivals as Lollapalooza, or on tour with Imagine Dragons and Panic! At The Disco—the band includes their previous singles "Unsteady" and "Jungle" (featuring Jamie N Commons), the latter which sold half a million units. "Jungle" also became an unofficial anthem of the 2014 World Cup when it was included in the Beats by Dre "The Game Before The Game" commercial.
VHS's lead single "Renegades," X Ambassadors' first entry on the Billboard Alternative Songs chart, hit the Top 5 in only four weeks. Only a couple of acts have hit the upper echelon of the list so quickly with their first single: the Jack White-led Raconteurs with "Steady As She Goes" in 2006, and Zwan (featuring Billy Corgan) with "Honestly" in 2002.
While Sam Harris is grateful for the single's success, he and his band mates—including guitarist Noah Feldshuh, a friend of the Harris Brothers since grade school, and L.A.-raised drummer Adam Levin—hope more fans will choose to experience VHS as a whole. Growing up in small-town upstate New York, the Harris Brothers and childhood friend Feldshuh bonded over an obsessive love for punk, rock & roll, soul, and hip-hop that defied the conventions of their peer group.
"The album basically tells our story, with real sound clips from our childhood, teen years and early years as a band," Sam says. "It shows our journey as a group of friends who grew up loving music and became a band. I was in love with the film Boyhood, the way it chronicled how things change as kids grow up, and we wanted to reflect a feeling of friends and brothers growing up in a small town.
"The title VHS," he adds, "came from watching the home movies we went through during the time we were doing the album. It was that nostalgic feeling of seeing the VHS tapes from our parents' camcorder piled up, along with other films of us when we first hit the road together. We were actually going to call the album Home Movies. The song 'Naked,' which we put at the end, is pretty poppy, but on a deeper level, it's about us showing every bit of who we are, not being afraid to show us at our most raw, honest, soft and beautiful."
X Ambassadors' major label debut EP Love Songs Drug Songs (in 2013) was produced in collaboration with Grammy-winning producer Alex Da Kid (known for his work with Dr. Dre, Nicki Minaj, Christina Aguilera and Eminem), Imagine Dragons frontman Dan Reynolds and friend Dan Stringer, At the time, Da Kid said, "They're bringing together alternative and R&B in a way I've never heard before, and at the core of that are these great songs with so much authenticity. The music comes from a very real place, and it's made even more powerful by the deep connection that they have as a band."

Here's the video of X Ambassador's single "Renegades".
That creative chemistry extends to their long hours on tour busses, where Sam says the band wrote both EPs and the new songs for VHS. "The laptops are our studio," he says. "We would work on the songs and email tracks to Alex in his L.A. studio. We wish we could have shared some of them during our shows, but we really have to practice a lot before we take them to the stage. The good part is that we're always creatively active, vibing off each other, riffing on licks, coming up with melodies and grooves and guitar and keyboard parts. We feel like we're accomplishing things and have the freedom to be spontaneous, rather than formally booking studio time and getting in there, only to wait for inspiration to strike and something big to happen. The other cool aspect is that when we write and record while driving, we can hear other people talking in the background. We love capturing those ambiences on our recordings. There's a scrappy nature to what we do that's very unique."
"Renegades" began differently than most of X Ambassadors' songs, with Da Kid coming to Sam with the title and essentially assigning him to write a tune around it. Sam came back with four or five different chorus options—and the producer shot down all of them. When the singer finally hit paydirt, Da Kid used that chorus as the centerpiece for verses while also laying out the foundation of the track musically. Sam brought it to Casey, Noah and Adam and the band collectively added guitar, keyboard and drum textures.
Whether Da Kid is co-writing with X Ambassadors or not, Sam credits him as being an essential part of their sound. When he signed them, they were in need of the kind of filter he could provide – and in addition to his great ear, they were grateful that he was immediately cool with their ambitious concept album for their first full length project. The band is currently working with Da Kid on their follow-up.
"That's how we work with Alex, but when we're doing our own thing, the song ideas emerge from different places," Sam says. "Sometimes, I'll bring a chord progression to the guys and we'll build up from there, with them helping me pick out melodies. Or sometimes it starts with a melody in my head. We started out as a typical rock band and then wanted to incorporate more hip-hop and R&B and ultimately delved into electronic territory. We love creating dynamic songs that build and fall a few times and take the listener on a journey. It's fun stretching our muscles and seeing where we can go. We never stay in one mode too long. If we've just written a ballad, then it's time to get aggressive."
Thinking back on his own successes and disappointments as a songwriter, Sam concludes with some solid, practical advice to those aspiring to master the craft: "Just write a lot and be aware that 99% of what you write will be terrible, but that great one percent will make it all worth the effort. Don't be afraid to make yourself uncomfortable. Our song 'Unsteady' about our parents' divorce was a little scary. Casey and I wanted them to hear it but we didn't want to hurt them. But it's a song about our childhood and we wanted people to know where we came from. So while it made us uncomfortable, that's become the tune people tell us means the most to them. It's beautiful to have the opportunity to do that—go outside our comfort zone, embrace that fear, be honest, and really impact people's lives."
Jonathan Widran is a free-lance music/entertainment journalist who contributes regularly to Music Connection, Jazziz and All Music Guide. He can be reached at [email protected]. He is also on Google+