Robin Thicke Talks About His Album, Something Else, And Writing His Songs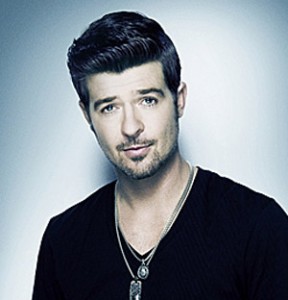 While traveling and touring over the past two years, Robin Thicke witnessed poverty, people in mental and physical anguish, and shattered dreams. These all served as a catalyst for the thematic album Something Else, his new follow-up album to his 2006 platinum release The Evolution of Robin Thicke, on Star Trak/Interscope Records.
Standing on the shoulders of the musical giants who influenced him such as Marvin Gaye, John Lennon, Stevie Wonder, and Bob Marley, Thicke incorporated his newfound perspective into his writing of Something Else. 'I think this album was so different than my last album,' said Thicke. 'The last album I did, I spoke about my personal life and the things that I was going through at that time. However, since I've been on the road, you just see how many people are either in poverty, or are not able to live the life they want to live, have just given up on their dreams, or have had it taken away from them. What I thought were problems are not problems at all, and I think when I made this record a little perspective kicked in."
Thicke's new found global awareness in people's lives and issues is evident in his new song titled "Dream World," which is a song about some of his own personal ideals and how the world should be reflecting his own personal growth and reflection.
There is racism and sexism in the world. You can't walk down the street and not see it," he said. "Because I know it's true, I wanted to make a change through my music, like the musicians whom I looked up to from the past did.'
By his own admission, Thicke wanted to showcase a lot of his talents in previously released records such as A Beautiful World (2003) but he now wants to raise more of a global awareness. "I think back when I first started, I was doing a lot of behind-the-back passes through the legs dribbling. I always wanted to impress and gain respect instead of connecting. When I made the this album, I was reaching out to people more instead of trying to show off for them."
Thicke not only utilized a multitude of experiences on the road to trigger inspiration, but also used his friends and family personal issues. His song titled "Miss Harmony" is about a friend of his who transformed her life from the depths of despair into something positive.
Thicke, who self-produced his new album, said he hopes he uses the stage and gifts that he was given to make everything people are going through, politically and socially, to release themselves from the everyday struggle of living. This is evident in his new single "Magic," which is reminiscent of an older soulful sound of the 1970s with a new school hip-hop and R&B flavor.
"It's a release from all the pains and from the gas prices,' said Thicke. 'It would nice to be able to get away from it. I feel that hope, love, and righteousness can be used as the true undercurrent. I've been spending a lot of time [thinking about] the bigger problems and bigger issues than me and my music. My music is a reflection of the anti-recession, and even though I have acknowledged some of these issues, I want to deal with issues such as love and making the night a little bit sweeter."
While some of his music is a reflection of older '70s soul, he doesn't consider his music 'retro.' Thicke has collaborated with many contemporary hip-hop artists such as Lil' Wayne and Jay-Z. He considers himself part of today's music even though his music is very much influenced by those who came before him such as Stevie Wonder and Marvin Gaye.
"I don't think about it before I do it," said Thicke. "I do [my music] and I just look back and hope the common theme was change. I hope I find some different conversation and different vibe than any negativity or bullsh*t. I don't see my music as being from the '70s, I do enjoy that live, [organic] feel of the music during that time. In the '80s the style changed to more keyboards and drum machines, whereas the '70s had more of that live element. I always consider my music hip-hop, and just like with every type of music, you put things together and put different styles together. I like mixing it up with hip-hop drum sounds and hip-hop lyrics. The second album was more soulful and I was a little depressed when I wrote it. This record is a combination of the songs of the first album and the soul of the second one."
Thicke is hoping that if Barack Obama gets elected in office, it will spark a change in political logistics. Thicke is encouraging everyone to vote for Obama, as he did while participating in this year's Democratic National Convention. "We have to do anything we can to get him in the White House," Thicke said. "I hope he gets elected, because if he doesn't there is going to be tons of people marching the streets in protest."
Thicke hopes to further entrench and establish himself as one of the rising upcoming hip-hop R&B acts of the time armed with more mature voice. He hopes to do what those who can before him where able to do: spark change and awareness.
Jonathan Widran is a free-lance music/entertainment journalist who contributes regularly to Music Connection, Jazziz and All Music Guide. He can be reached at [email protected]. He is also on Google+