Interview with Rhett Akins, Hit Songwriter & Artist Who's Written 18 Number One Country Hit Songs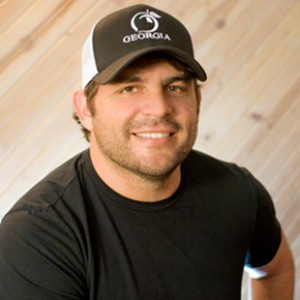 Like father, like son. In the 1990s, singer/songwriter Rhett Akins landed a deal with Decca Records where he enjoyed chart-topping success with the singles "That's Not My Truck" and "Don't Get Me Started." Fast forward 20 years later, and the light on Akin's singing career has dimmed while the spotlight shines on a new country hit maker, his son, Thomas Rhett. But the proud father isn't just taking in his son's accomplishments—he is knocking out hit after hit as a songwriter. In fact, he has an impressive 18 number one songs to his credit including Blake Shelton's "Honey Bee," "All About Tonight," and "Boys Round Here," Jason Aldean's "When She Says Baby," and two of his son's hits, "Get Me Some of That" and "It Goes Like This."
Akins, who is signed with Sony/ATV Music, has been named the BMI Songwriter of the Year twice (in 2014 and 2011), and in 2010 was the Billboard #4 Country Songwriter. In addition, he has won two Triple Play Awards for having three number one songs in a 12-month period. The Valdosta, GA native also teams up with fellow Georgians Dallas Davidson and Ben Hayslip for their songwriting group called The Peach Pickers. He's also co-written hits for Luke Bryan, Chris Young, Joe Nichols, Josh Turner, Brooks & Dunn, Rodney Atkins and Billy Currington.
In this new interview with SongwriterUniverse, Akins talks about his early start as a tunesmith, writing on the go, joining forces with his son, and three key pieces of advice for songwriters.
BC: How did the Peach Pickers start?
Akins: Ben (Hayslip) and I grew up together—I met him when I was 14. We played on the same baseball team. From the minute we met, all we ever talked about was music. We'd be in the dugout, even in the outfield, singing songs, making up songs. We have tons of home videos of us singing everything from country songs to rock songs to rap songs. It went from Run D.M.C. to Hank Williams, Jr. to Bon Jovi. We loved everything.
We didn't meet Dallas (Davidson) until 2004, and he was from our neck of the woods, about an hour away from us. We all hit it off. We all grew up doing the same things—hunting, fishing, playing sports, and loving music. We're really comfortable with each other, and that has a lot to do with how well you write together.
We all grew up idolizing Hank Williams, Jr., Charlie Daniels, and Waylon (Jennings), all the guys that we felt were like us, at least we thought they were, through their music. Hank's songs really related to young boys, not that he didn't have love songs too, but it was "A Country Boy Can Survive," "Whiskey Bent and Hell Bound," good ol' country music. You don't put on Hank, Jr when you're with a girl really (laughs). You put on Conway Twitty. When you and the guys are drinking beer, hanging out, hunting, it was always Hank.
BC: Do you remember one of the earlier songs you wrote as a kid?
Akins: Me and my brothers wrote tons of songs when I was a kid. We even made a cassette tape that we made in my bedroom. Our songs were like Saturday Night Live skits. They were just stupid really. We didn't write anything serious. We'd write a song about concrete…it didn't matter. Whatever crossed our mind we'd write a song about. We were just being young and stupid.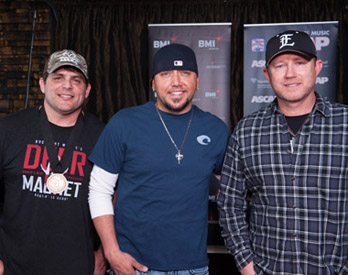 The first really serious song I wrote, I got the idea from something my dad said when I was a football player. My dad always said, "You can't win tonight's ballgame on yesterday's headline." No matter how good you played last week, you've got to do it all over again this week. My first song was kind of based on that.
BC: When you had that first serious attempt, did you think you could make a go at it as a songwriter?
Akins: I guess what really inspired me to try to do it, is all my friends begged me to play all the time. I took my guitar to football camp. Whenever we weren't practicing football, we were sitting around picking guitar. I went to the University of Georgia and played my freshman year. I was the guy everybody ran to to get together and play music. I started playing at fraternity houses and things like that. I don't know if it was because I was the only guy that really knew how to play, but I was just the guy that everybody in my hometown and in college turned to when it was time to play music.
I've always had a unique knack. I play by ear, and I can listen to a song one time and play it and pretty much know all the lyrics. Everybody's going "Man, you're just as good as Garth; you're better than Alan Jackson." But everybody says that in your hometown; everybody thinks that you're awesome. After a few years of that, it kind of sunk in that maybe I was decent at it.
BC: You had a strong run as an artist in the '90s with hits like your signature song, "That Ain't My Truck." Since then, you're focus is on the songwriting.
Akins: I don't really tour. I'm actually on tour now because I'm out on the road with my son (Thomas Rhett), playing at a place that I played a million times back in the day, Coyote Joe's at Charlotte. He sold it out tonight.
I go on tour because I write with Luke Bryan, Justin Moore, my son, Chris Young, and Lee Brice. I go on the road a lot because most artists like to write on the road. When they come home, they've got a wife and kids, and they usually can't focus as much at home. I go out on the road at least once a month with somebody to write songs during the day after sound check and stuff like that. Really, the only shows I do on my own are acoustic songwriter-type shows. There's a lot of charity events in Nashville. I go to Key West every year to the BMI Songwriters Festival. For the last four years, the Peach Pickers have opened for Luke Bryan on his farm tour, which he does every October on a farm. We go out there and write with Luke, but we bring a band and we play about an hour before he comes on.
BC: What's it like to be on the other side of the fence now?
Akins: I love it way better. I loved being an artist and I love playing, but I just watched my son today. He was up at 7:30 am doing interviews. The radio station brought winners to the club today to watch him do sound check. Then, he's got to do meet and greet. I don't miss doing all that stuff. Having to be on all day long, always having to meet somebody, always having to take a picture, always having to do an interview, you've got to do this and that. I really don't miss that part. I miss performing sometimes, but tonight I'll get up on stage and play a couple of songs with him. I'll probably play "That Ain't My Truck," and then I'll play "Boys Around Here," to give him a little break during the set. Maybe coming out on the encore and do something with him.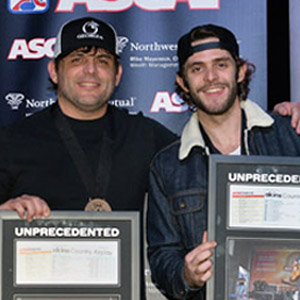 BC: What has it been like co-writing with your son?
Akins: It's incredible. We've been doing it since he was 6 or 7 years old. We have tons of home videos of him and me sitting around playing guitar. From the time he was 3, he was sitting right beside me. He was kind of like me. He could memorize songs real easily. He knew every word to every '90s country song at 3 and 4 years old.
We've been writing songs since he was 10. We just wrote whatever he wanted to write. It could have been about a soccer game or something. It was just something fun to do. We never envisioned that he was going to be a writer or a singer. Even though I was, you would think maybe that would have been in his mind to want to do that, but this was never something he ever thought he was going to do.
When he was about 19, he started writing seriously, and we've been writing ever since. We wrote "Parking Lot Party" together for Lee Brice, and I wrote "It Goes Like This" and "Give Me Some of That," his first and second number one songs. Right now, he's got the biggest song on the radio, "Make Me Wanna." Of course, he wrote "Round Here" for Florida-Georgia Line, and "1994" for Jason Aldean. You can't really make this up. It's like a dream. A father and a son might go into business together, maybe they have a plumbing company or something. It's very rare that father and son or any family members write songs together. Last year, between the two of us we had five of the Top 10 songs on the radio. Either I wrote it, he wrote it, or we wrote it together, or he sang it. It was crazy.
BC: As a songwriter, you barely stay off the charts these days.
Akins: It's been a good run. Right now, I have Jason Aldean's new single, "Just Gettin' Started." I have Reba McEntire's new single called "Going Out like That" and I also have Frankie Ballard's new song called "Young and Crazy." The Reba one tripped me out because we never intended a female to sing this song, much less Reba. (Country duo) Love and Theft actually recorded it for their last album. It never was a single. Next thing you know we get a call that says Reba loved the song. What's so crazy is that exactly 20 years ago, I was on tour with Reba, opening for her. Never in a million years would I have thought back then that 20 years later, I would write a song that Reba put out on the radio. That was mind blowing to me.
BC: Tell me a little about the story behind the Jason Aldean song, "Just Gettin' Started."
Akins: There's not an incredible story about it. Just me and Ashley Gorley and Chris DeStefano got together like we do all the time. We write a bunch of songs. We were doing "Hey Girl" for Billy Currington a few years ago. We got together. Chris DeStefano is what we call a track guy in Nashville. He builds tracks on his computer at home. He usually has something already done—a melody, guitar, drums, bass, he plays all that. He played us this track, and I thought it really sounded like Jason Aldean's musical style. It was a southern rocking-type song. Ashley had the title, and I started blurting out the first few lines of the melody of the verse…we just took it from there. We kind of had Jason in mind all along because it sounded like him. It doesn't always work out that way. We wrote five or six songs for Jason Aldean during that time period, and he only recorded one of them, but other people now have cut the songs we thought we were writing for him.
BC: I know there are many hits that you've written. Are there any particular ones that stand out with a good story behind them?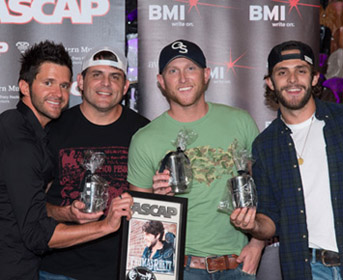 Akins: "Boys Around Here" was a huge one. That thing has sold almost4 million downloads. Blake (Shelton) even sang it on Saturday Night Live last weekend. That was (written by) me and Dallas Davidson and Craig Wiseman. We went in there and started tossing out ideas, and Dallas came up with the idea of "Boys Around Here." Craig had a Beatles clock on his wall. Dallas looked at that clock, and he said "Boys around here don't listen to the Beatles" (laughs). Of course, the next line was "They run ol' Bocephus through the jukebox." We always go back to Hank, Jr. The demo was so crazy. Craig did it in his office—we didn't have any real live band playing on it. It was so raw and rough. All the "red, red, red, red, redneck," that was just a joke. Craig just made Dallas say that in the microphone and he repeated it. It was just a vocal effect. I didn't think anybody would even cut the song anyway. All the little adlibs like "What? That's right" were just things we threw in there, being funny. We never envisioned that Blake would keep any of that for the record, but he actually recorded it exactly like the demo. I thought it was too silly. Of course, Blake has the right personality to cut those type of songs.
We write so many songs. I probably write at least 150 songs a year. I've already written 25 this month. There's no way you can come in every day with a good idea. A lot of our songs come through conversation. We will not have a song idea period, and we'll talk about anything, and somebody will say something. "What did you just say? That sounds like a cool idea for a song." That's how "Put a Girl In It" was written for Brooks and Dunn. We were actually writing another song that Blake ended up cutting called "Country Strong." The first verse was about a farmer, and second verse was about a cowboy, and Ben Hayslip made the suggestion. He goes, "I feel like we've got to say something about a girl at least. I think we need to put a girl in it." It just stuck in my head, and I said "We need to write a song called Put a Girl In It'."
BC: Do you find you're stronger with writing lyrics or melody or both?
Akins: I think I used to be better with lyrics, but I think I've written so many songs now and written with so many great piano players and guys that are good melody guys, that I've learned more. We're not great guitar players—we know how to play three chords. When you only can play a few chords, you've got to learn how to make cooler melodies over what you can play. I think over the course of time we've learned that we can come up with a great melody just with a G, C, and D chord. We've actually had about five hits with songs that only had two chords in them. "Boys Around Here" has two chords. The entire song is A and D, over and over and over. "Gimme That Girl" is two chords. "All About the Night" is two chords. "Barefoot and Crazy" is two chords. "All Over Me" by Josh Turner is two chords. The only reason that the records have three chords in them is because I think the producers cannot stand the fact that this song has two chords (laughs). So, they inserted a third chord in the solo or somewhere to change it up a little bit. We've come up with killer melodies over what little we're capable of playing a lot of times. Now, I think I'm pretty equal, (writing) melody or lyrics.
BC: What advice do you have for songwriters?
Akins:  My first advice is move to Nashville. Even though we have the internet and people do get discovered on YouTube and things like that, you've got to be in the city where it's happening or at least you've got to visit it a lot because that's where all the action is. That's where all the great songwriters are, that's where we're doing the demos, that's where the labels are, that's where the publishing companies are. If you can't move here, you at least need to know somebody here and visit it often. If you're going to be a big time stockbroker, you need to move to New York. That's where Wall Street is. You can be a stockbroker in your hometown, but if you want to be the big, big shot stockbroker, you've got to go to New York.
Besides that, I've gotten so many demo tapes and songs from people and you listen to them and you're like, "Do these people ever listen to the radio?" because this song has no semblance to a country song at all. The first verse has ten lines, and the second verse has three lines, and the songs are seven minutes long. I'm not saying you should copy. I don't think anybody should copy anything, but you've got to know how it works. Most songs don't last more than 3 minutes…at the most 3:30. You have a verse and a chorus, and the chorus doesn't happen four minutes later.
A lot of people don't know how to structurally write a song. They might have a good idea of what they want to write about, but they don't know how to say it in a concise way. Listen to the radio or your favorite records and compare. What's the common thing in these songs? How long are these songs lasting? How soon do they get to the chorus? Are they starting with the chorus? Does every song have a bridge? Deconstruct these songs and figure out a game plan of how to write structurally.
Try to be as original as possible. There's already one Luke Bryan, there's already one Jason Aldean, there's already one George Strait. Find your own style. We all copy our heroes and learn things from them. At some point you've got to separate yourself from all the other songwriters and artists in town. Why do we need another Tim McGraw? Why don't you be the best you you can be, instead of trying to be the second best Tim McGraw out there? Find out what you do best. I think that will help you get more recognized and give a record label or publishing company reason to want to spend money with you and pursue this.
Bill Conger is a freelance writer for various publications including Bluegrass Unlimited, GACTV.com, Bluegrass Music Profiles and ParentLife. He can be reached at [email protected].He is also on Google+