Phillip Phillips Talks About His Album Behind The Light, His Hit "Home," And Writing His Songs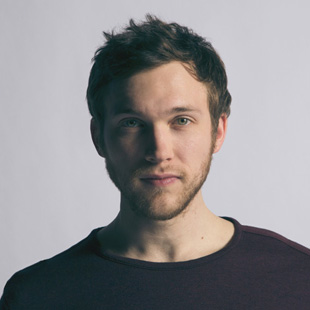 Currently in the midst of a 41-date solo fall tour after co-headlining a 25-date summer jaunt with O.A.R., Phillip Phillips is quickly distancing himself from (in his words) "that dude" that won Season 11 of American Idol in 2012 and becoming a full-fledged pop-rock singer/songwriter in his own right, with a fan base growing beyond his initial post-Idol notoriety.
Testament to his staying power as an artist, Phillips' sophomore Interscope album Behind The Light (with every track written or co-penned by Phillips) reached #7 on the Billboard 200. Its lead single "Raging Fire," co-written with Todd Clark and album co-producers Derek Fuhrman and Gregg Wattenberg, reached the Top 10 on Billboard's Adult Alternative Songs and Adult Top 40 chart. Though Phillips admits it's a bit terrifying being the center of attention at major venues now after an early college tour and opening slots on tours with Matchbox 20 and John Mayer, he says that the live setting is a much better outlet than his studio recordings for him to show fans how he's evolving as an artist.
"In the live show we like to jam and really expand the music," he says. "I may have written the songs but my band, who are the same guys that recorded with me in the studio, bring their own personalities to them. I consider myself a guitar player first. It's not all about singing for me. When we play live, we come up with all these cool musical ideas and I love to let them shine, whether it's a drum, solo guitar or horn solo. It's all about having a great time. When fans come to the live show," they'll see real musicians rocking out. No fake tracks, all real music. If we mess up, well, that's what makes it real and fun. I love my first album The World from the Side of the Moon, but we did it in three weeks. We took our time with Behind The Light, and to me it's not so produced and reflects more of the excitement and energy of our live show."
Perhaps the most ironic aspect of Phillips' success is that he initially resisted recording "Home," the song (written by Drew Pearson & Greg Holden) that became his trademark mega-hit, when it was presented to him as his Idol coronation song. A prolific songwriter, the singer didn't feel it was the kind of song he would write himself—and he actually hoped to buck tradition and use a song he wrote with his brother-in-law called "Drive Me," because as he saw it, he had his own stories to tell.
The best selling of all Idol coronation songs and the best-selling song by any alum of the show, "Home"—which has sold over five million copies in the U.S. alone—has been nothing short of a cultural phenomenon. It debuted at #10 on the Billboard Hot 100 with 278,000 downloads, on its way to a peak of #6. It also hit #1 on three Billboard charts: Adult Alternative Songs, Adult Contemporary and Adult Top 40.  In addition to becoming a worldwide hit (even reaching the Top 10 in Iceland, #1 in Czech Republic and hitting #11 in Belgium), "Home" was used during women's gymnastics coverage by NBC during the 2012 Summer Olympics, appeared in Clint Eastwood's film Trouble with the Curve and the movie Parental Guidance, and was used in a number of popular commercials by American Family Insurance, Vizio, Coldwell Banker and Mazda. Its emotional resonance with the American public led to its use in a photo montage dedicated to the first responders in the wake of the Boston Marathon bombings.
In this video, Phillip Phillips talks about his album, Behind The Light.
Phillips, who says he and his band "jam on it a little bit live so it sounds more like something I would write," has over time come to form an emotional connection to "Home" that wasn't there in the beginning. "I hear the most incredible stories from people about how the song helped them through something tough in their life or was part of a beautiful celebration," he says. "I've heard everything from the emotional aftermath of losing a loved one to being part of wedding ceremonies and parties celebrating newborn babies! 'Home' has these arms that can stretch so wide that people can relate to it in many ways, and for me it's grown to be something I am making my own as well. I don't necessarily connect it to one specific emotional moment in my life like many do, but seeing the way others have found inspiration in it has in turn inspired me to keep singing it and find my own truth in its melody and lyrics."
A discussion with Phillips about the great song he didn't write leads to a thoughtful discussion about his deep love of songwriting and those he did. He was a rarity among Idol winners in that Interscope let him write or co-write nine of 12 songs on his debut. "If I don't have any input on a song, I just find it hard to connect to it," he says. "Writing a song is a very personal thing to me, like giving someone a piece of my private journal. But with 'Home', I think playing it over and over and listening to it from the perspective of others helped—as did performing it in different ways, changing my vocals and some of the chords. What's funny is that I can say the same thing about many of my own songs because sometimes I write them so fast that I can't connect to them until I've listened or played them a bunch of times. Every song is different. Some I write in an hour, some in a few days, others take months to finish."
While the dramatic, percussive "Raging Fire" is credited to four writers (including Phillips and his producers), it began with the singer and Todd Clark in a room together playing through all of the melodic ideas they brought to the writing session. The two combined a few standout riffs to create a fluid musical line that evolved into the lead melody. Clark started humming it and the song began picking up momentum. Then, Phillips says, for some reason they switched over to another idea they also thought about developing. A short while into that other song, the singer suggested they return to the first one they were working on. As the title would indicate, the song became something of a consuming passion for both.

Here's the video of Phillip Phillips' song "Raging Fire".
"Todd and I built it up from that first riff," he says. "The basic chords are simple but lend themselves to strong musical ideas. We decided the song had to have both an artistic sound and a rock side, which is why we ultimately included cello and horns. The chorus came to us pretty easily, but my favorite part is actually the second verse, and I started coming writing ideas to come up with this other melodic part. I get excited over the little things that people don't generally notice, but those are the things that inspire me to keep pushing towards completing the song.
"When I'm working with Todd, Derek and Gregg, I know they understand how I want to portray myself—and make sure we stay away from bubblegum and keep my chest out, keep the vibe pretty manly," Phillips adds. "The most fun I have, though, is writing songs completely by myself, because those aren't going to be the singles so I don't have to please the label too much. 'Trigger,' for instance, has a lot of power, but it's also a little creepy and has a haunting chorus that makes you sad in a way. It was a blast to record and is even more fun to play live."
Phillip Phillips has launched a major headlining tour for this Fall. Here's a link for all the tour dates: www.phillipphillips.com/tour
Here's the link to purchase Phillip Phillips' album on iTunes: http://smarturl.it/BehindTheLight
Jonathan Widran is a free-lance music/entertainment journalist who contributes regularly to Music Connection, Jazziz and All Music Guide. He can be reached at [email protected]. He is also on Google+