Hot Vocal Group Pentatonix Co-Writes Most Of The Songs On Their New Album, Pentatonix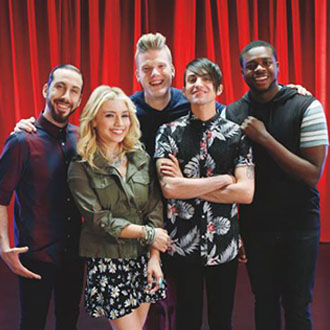 Extending the whirlwind of recording, video and touring activity that Pentatonix has experienced since winning the third season of NBC's The Singoff in 2011, the five-piece a capella group caps an extraordinarily productive year with the release of what is billed as their debut studio album called Pentatonix on RCA, featuring the lead single and video "Can't Sleep Love." Notably, this album marks the songwriting debut of the group members—they co-wrote almost all the songs.
Already an across-the-board YouTube, Billboard chart and live performance sensation via a prolific string of EPs, video covers and mashups, the group—lead vocalists Mitch Grassi, Scott Hoying and Kirstie Maldonado, vocal bassist Avi Kaplan and beatboxer Kevin "K.O." Olusola—have been racking up many impressive accolades during the past year.
Pentatonix reached the Top 5 twice on the Billboard 200—first with their compilation EP PTX, Vol. III, followed by the album That's Christmas to Me, which hit #2 and was certified platinum. Pentatonix have sold more than 2 million albums in the U.S. alone and have amassed over one billion views on their YouTube channel, with nearly 9 million subscribers. Most recently, the group received gold certifications for "Daft Punk" and a cover of Imagine Dragons' "Radioactive" ft. Lindsey Stirling.
Winning their first Grammy award for Best Arrangement, Instrumental or A Capella for "Daft Punk," they have toured the U.S., Europe and Southeast Asia, opened for Kelly Clarkson on her tour and had a cameo in the hit film Pitch Perfect 2. After wrapping their own headlining tour, the group released their first ever documentary, On My Way Home—a concert film that follows the quintet on the road and includes behind-the-scenes footage, live performances and the making of their debut album.
Though their previous compilation recordings included a smattering of original group generated songs, Pentatonix's fame to this point has been driven by their clever all-vocal arrangements of recent pop hits. Among their singles are covers of "Royals," "Happy," "Problem," "La La Latch," "Gangnam Style," "Say Something" and the Christmas classic "Mary, Did You Know?" By design, their new self-titled album reverses the ratio, with only one pure cover among 13 tracks—Shai's 1992 pop/R&B hit "If I Ever Fall In Love," featuring Jason Derulo, whom they met serendipitously in a studio hallway last year when they appeared on Dick Clark's New Year's Rockin' Eve.
The other 12 cuts were co-written and produced by various members of the group, in collaboration with a batch of top songwriter/producers, including Taylor Parks (Ariana Grande, Jennifer Lopez), Audra Mae (Kelly Clarkson, Miranda Lambert) and Martin Johnson (Taylor Swift, Gavin DeGraw). Co-producer of many of the tracks—and vocal producer of all of them—is Kuk Harrell, one of the industry's top engineers and vocal producers. His previous credits include Justin Bieber, Rihanna and Katy Perry.
Discussing Pentatonix's decision to do a 180 and write or co-write nearly every song, Scott Hoying says, "All of us always like to write music, but we built a following doing covers of songs our fans had already memorized. So the challenge was to take our established sound and create tunes that they've never heard before and make them so memorable that within a few listens, they're familiar to them. We know we've already got a lot of people on our side that are willing to listen to fresh material. I'm sure there are those who will always see us as the group that does mash-ups but aren't real artists for whatever reason. But we felt it was time to get progressive and move outside our usual comfort zone while keeping the integrity of our core sound. We really wanted to prove we have something to say and be original artists. Original material is virtually unheard of for an a capella group, and we're really excited about it."

Here's the video of Pentatonix's new single, "Can't Sleep Love."
Once they started focusing on original material, the floodgates opened and they had 30-40 songs to choose from when they went in the studio to record the album—and this was after being on the road for months! Pentatonix and their reps reached out to so many top writers and producers—most of whom jumped at the chance to work with them—that Hoying says, "every day was like a blind date." He credits Harrell with taking their sound to an exciting new mainstream level via adding top lines, harmonies and beats. Some of the writers who met Pentatonix didn't connect with certain aspects of their vibe, while others freaked out with excitement and gelled immediately. Some they couldn't get on the same page with, others flourished—making for a most unusual but fascinating experience.
"The concept is pretty cool because we all have different musical tastes," Hoying adds. "It was only natural that the result would be an eclectic mix of folky and soulful stuff, all sharing the common ground of our sound. As it evolved it became like a retro throwback album with a 90s vibe—which is why the Shai cover ("If I Ever Fall In Love"), which Jason Derulo loves as much as we do, was such a perfect complement. It was rarely all five of us writing with someone at the same time. One or two of us would go in to work with different writers and collectively they helped us hone in on stronger melodies, creative bridges, wilder harmonies…whatever we all felt would excite our fans most. We stripped things back and, with the help of our incredible co-writers, we wrote simple, fun pop melodies around really creative and interesting concepts. I think we found a balance that works for us."
Ironically, the one exception where all five Pentatonix members receive a writing credit is "Can't Sleep Love," a co-write with four other writers (making it a nine way collaboration!), including Elof Loelv, whom Hoying says, "started messing around with it and improvising on the unfinished track they brought into the studio. We loved it and wrote a bridge with the other writers, changing around the chorus a little. This was one of the first tracks we did with Kuk, and we were all inspired by the funky, throwback, soulful and vocal based sound. It's a slick way for us to enter the mainstream, the perfect single because it really showcases everything we do. We all love and are proud of the song, and felt a real sense excitement in the studio when we finished recording it. We're excited to share it with those who have supported us these past years, and thrilled with the opportunity to get out there with fresh music and make new fans."
Jonathan Widran is a free-lance music/entertainment journalist who contributes regularly to Music Connection, Jazziz and All Music Guide. He can be reached at [email protected]. He is also on Google+