Will Anderson of Parachute Talks About The Band's Debut Album, Losing Sleep, And Writing Their Songs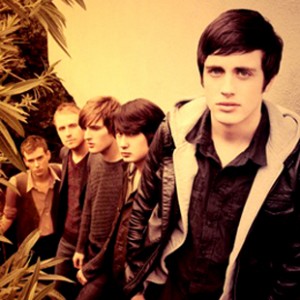 Since 2004, Parachute has showcased the unique talents of, and symbiotic musical relationship between lead singer/songwriter Will Anderson and his bandmates, drummer Johnny Stubblefield, bassist Alex Hargrave, and saxophone/keyboardist Kit French.  The Charlottesville, Virginia-based band, which was originally called Sparky's Flaw, came together as high school classmates.  Anderson later met Nate McFarland while attending the University of Virginia –  McFarland joined the band in 2007. 'I remember seeing them at Starr Hill, which is the big venue in town, and they came on to the 'Mortal Kombat' theme,' remembers McFarland. 'I never would've imagined myself playing with them, let alone becoming a member of the band.'
Five years later, Parachute is not only attracting throngs of fans from Charlottesville, but they have garnered legions of new fans from around the world as a result of the release of their debut album Losing Sleep, for Mercury/Island Def Jam Records. The album mixes rock, blues, melodic pop, and R&B in an appealing menu of songs that Parachute fans are eating up. Will Anderson wrote or co-wrote most of the songs which are truly emotional and take on very personal aspects of his life. His lead vocals have a compelling, urban style that is not only progressive, but commercial.
Losing Sleep spawned the hit single 'She Is Love,' which is featured in a national television commercial for Nivea, and whose video is in heavy rotation on VH1's Top 20 Countdown. "She is Love' is really introspective,' says Anderson. 'I wrote that for someone but I won't say who they are. It was a song that was very personal.'
The album was largely produced by the Grammy-winning producer John Shanks (Bon Jovi, Sheryl Crow, Stevie Nicks, Liz Phair). When asked how their collaboration came about, Anderson stated, 'Shanks  approached our label and asked what we were up to, and we were thrilled to work with him when everything worked out.'  Shanks and Anderson co-wrote 'She,' a song that deals with lost love. Even though a lot of bands write their music while in the studio, Parachute wrote the songs beforehand and brought the songs to the producers where they put their spin on them. 'Shanks is an incredible songwriter and his history is amazing. He's definitely one of the coolest guys we've met in the music industry,' adds Anderson.
In addition to lending his considerable talents as the band's lead singer, Will Anderson also plays guitar and piano on many of the songs.  However, he doesn't have a preference for one instrument during his songwriting process. 'I write on both the guitar and piano but I write on whatever I get inspired on. Different instruments often give me a different perspective and allow me to write different ways for different things.' When asked which songwriters had the greatest impact on his current songwriting style, Will admitted that Billy Joel, Paul Simon, Elton John, and Stevie Wonder were his top four influences.  'I tend to write about things I know, that are happening to me,' says Anderson. 'If it's not really true to us, it doesn't make sense.  We try to make music that people can relate to, that they're going to want to hear.'
And relate they do. Working out 'romantic ideals and the frustration of real life' are certainly conditions most people can relate to.  "The Mess I Made' deals with the regret and looking back on a failed relationship. Its video is currently generating a lot of good heat for the band. 'We wanted to make the video but the next single coming up for release is actually 'Under Control,' which deals with longing,' says Anderson. "For Liz (She)' is all about love lost. When asked whether he thought songwriting is a kind of poetry, Anderson admits, 'Yeah, it is. Sometimes my songs are very literal and sometimes they are very straight. Other times they are more poetic. For me it depends on the song and the situation.'
Because new technologies have increased the demand for songs and music cues, Parachute realizes that creating songs are not just for CDs anymore. They are an extension of Parachute's music library. However, the band is not losing sleep (excuse the pun) over offers to use their songs in games or commercials.  Other than trusting their instincts, when considering whether to allow their songs for use in movies, TV, games, Will says, 'We have to be really excited about the project and the project must have taste. The Nivea project for 'She Is Love' was very tasteful and was something we really enjoyed. We thought it paired the music correctly with the visuals, so we were really excited about that. It's also great source of income'that's for sure. As far as games go, 'If the Beatles can have a Rock Band video game, then we're fine. It would be great to have our songs in a video game and it's something that we all try to stay on top of.'
Paula Edelstein is an award-winning music journalist and author. She contributes to All Music.com, Sounds of Timeless Jazz.com, and Suite101.com. She can be reached at [email protected]. She is also on Google+