Norah Jones Talks About Her Album Not Too Late, Her Single "Thinking Abou You," And Writing Her Songs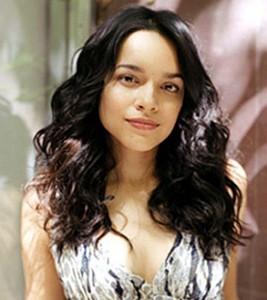 With her soothing, recognizable voice and cool, classy vibe, Norah Jones has become one of the most distinctive, leading artists in the pop, country and jazz genres. Driven by simple, direct and sparsely arranged numbers like 'Don't Know Why' and 'Sunrise,' the eight-time Grammy winner has truly come to define the 'Starbucks aesthetic' in pop culture, tapping into the hearts of adults – and even kids with open minds, whose parents have inspired an appreciation for more intimate music – who feel that the rest of today's Top 40 escapes them.
Over the past few years, Jones' Midas touch has extended even beyond her own two solo albums, Come Away With Me (2002) and Feels Like Home (2004). At the core of Ray Charles' multi-Grammy winning all-star album Genius Loves Company was his hit duet with the singer, 'Here We Go Again,' which won Grammys in 2005 for 'Best Pop Collaboration With Vocals' and 'Record of The Year' (her second in that category after 'Don't Know Why' in 2003).
Exploring her country side further, she's been featured on tribute albums to Dolly Parton and Waylon Jennings, and contributed vocals to projects by everyone from Foo Fighters, OutKast and Charlie Hunter. She also recorded a side project called The Little Willies, a country-oriented band featuring her bassist Lee Alexander, who co-produced her new album Not Too Late, which will be released in January (2007) on Blue Note Records.
Although Jones wrote or co-wrote a small handful of songs on her first two albums (most notably 'Come Away With Me' and 'What Am I To You?'), Not Too Late marks the first time that she contributed to every track ' 13 songs, starting with the warm and sweet, brass-tinged lead single 'Thinking About You.'
While riding the whirlwind of critical and commercial success these past few years, the 27-year-old NYC born and based performer was telling everyone that she wanted to further develop her songwriting skills. It's ironic, then, that Blue Note chose as the first single a tune that Jones wrote long before her rise to fame. She wrote 'Thinking About You' at age 20 in 1999 with Ilhan Ersahin of Wax Poetics, when she was playing with that band.
'That song has always been in the back of my mind,' she says. 'I always thought of it as too much of a pop song for me. I thought maybe someone else could record it, and we even tried to do a version of it for the last album, but it sounded too country-rock. It's nice to know that we've finally found a way to make it work. When seven years go by and you still like a song, that's a good thing.'
For the many fans worldwide who saw her perform live in 2004 and 2005, the image of the petite singer behind a piano and organ was an indelible part of the experience. Little did they know that she'd also brought along an acoustic guitar, which inspired a powerful  songwriting groove that captivated her every moment she wasn't onstage. She wrote most of the songs on Not Too Late on guitar, in exotic settings while on the tour. She conceived 'Until The End' on an island in the South Pacific on a rainy day during a tour break, and penned the ballad 'Rosie's Lullaby' ('It's so slow that you feel like you're underwater,' she quips) in Australia.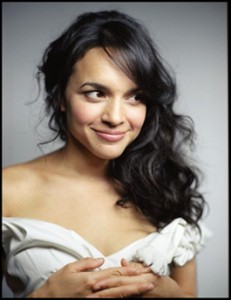 'The guitar is simple and a lot easier to carry than a piano,' she says. 'I found that I started to write more with the guitar.' After she got off the road, she was eager to get those songs down on tape. Most of the songs were 'pulled into better shape,' she admits, by Alexander, who took over the reins from the late Arif Mardin, who helmed Jones' first two projects. 'Mostly I'd write the songs and Lee would tweak the lyrics. He's wonderful at that.'
Jones played piano, organ and Wurlitzer on her other albums, and says that here, 'the piano is always loud in the mix, but I've never been into it being the main rhythm instrument unless we're playing something funky. I've always liked the guitar as the rhythmic instrument.' She even plays electric on 'Broken,' which also features Alexander's 'bass extravaganza,' as Jones calls it, where he overdubs 11 tracks of pizzicato and bowed bass. She feels right at home strumming the acoustic on 'Wake Me Up,' a slow and touching number that features Alexander's lap steel cries.
While everyone is probably expecting Jones to continue her masterful approach with love songs, she felt compelled this time to move beyond the tried and true. 'I like writing songs that are not so cut-and-dried,' she says, 'songs with a twist to them. And it's hard not to be influenced by the news.'
'Wish I Could' has a reference to a former lover sent off to war, and on the dark-clouded, dream-shrouded 'My Dear Country,' Jones grievingly sings of how there are far scarier things than Halloween. On the tender 'The Sun Doesn't Like You,' a tune Jones started while on tour in Brazil, she adds a touch of intrigue: 'We can build a fire/In the open field past the razor wire/Sneak by the dogs when they go to sleep/Bring part of yourself that you'll let me keep.'
While the pressure to live up to the top artistic and commercial standards she set on her first two albums was challenging, Jones says none of those concerns entered the picture during the creative process. 'The sessions were fun, relaxed and easy,' she says, 'with Lee and I doing most of the tracking in our home studio. This album was made so differently than the first two. For those we booked a studio for a week to record, then returned for a week a few months later.'
'That was great,' she adds, 'but there was always a deadline, so we had a limited amount of time. For this album, there was no pressure, no deadline. Blue Note didn't even know about it! We were just doing it to have some fun and to see what would come of it. Many of the sessions were done spur of the moment. It was mostly asking friends, 'Hey, are you in town tonight? Great. Come on over.' It was very loose and for the most part involved friends and people that friends recommended.'
Jonathan Widran is a free-lance music/entertainment journalist who contributes regularly to Music Connection, Jazziz and All Music Guide. He can be reached at [email protected]. He is also on Google+