Mim & Liv Nervo Talk About Their Rising Careers As Hit Songwriters, Artists, Producers and DJs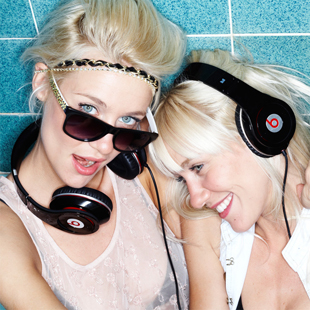 The twin sister duo of Mim Nervo and Liv Nervo are quickly becoming known for their multi-faceted skills as international hit songwriters, producers, artists and DJs. Originally from Melbourne, Australia and now based in London, U.K., they have collaborated on hits and cuts for David Guetta & Kelly Rowland ("When Love Takes Over"), Ke$ha, the Pussycat Dolls, Britney Spears, Kylie Minogue ("Put Your Hands Up"), Nicole Scherzinger, Miley Cyrus, Jennifer Hudson, Pixie Lott, Allison Iraheta and many others.
Nervo (as they are collectively known) have signed as artists with Astralwerks/EMI Records, and they have been writing & recording songs for their eventual debut album. Nervo's musical style can be described as bold, sassy electro-pop. The duo recently released their first single for Astralwerks, "We're All No One" (featuring Afrojack & Steve Aoki).
This past summer, Nervo opened for Britney Spears and Nicki Minaj on the highly successful Femme Fatale arena tour. They also performed on the Identity tour, a traveling electronic music festival which featured such electronic/dance stars as Kaskade, Afrojack, Steve Aoki, DJ Shadow, Skrillex and Chuckie.
Interestingly, Mim & Liv Nervo are also known as prominent fashion models. In Melbourne they began their careers as models for the Chadwick Agency, and this year, they signed with the prestigious Wilhelmina Agency.
We are pleased to do this interview with the Nervo twins. They discuss how they got started in Australia, their success as international songwriters, and their artist projects with Astralwerks Records.
DK: How did you get started in the music business?
Nervo: We've always been doing music and were lucky enough to have piano lessons from a young age. I would say we officially entered the music business about seven years ago. We were in Australia at the time writing songs and a few of our songs got some interest from record labels overseas.
DK: When did you start writing songs, and how did you land your first music publishing deal?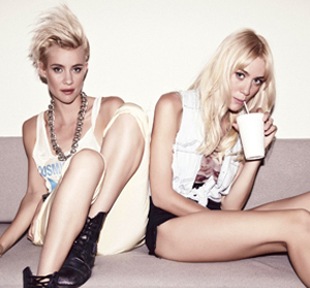 Nervo: We always wrote songs together from a young age. We used to do it as a hobby and would put together rhymes and melodies from around the age of 10. We didn't realize at the time we were 'writing', it was something we used to do for fun. We were 19 when we got our first publishing deal. We were working as session singers in a studio in Melbourne. There was one particular producer who encouraged us to work on our writing as his publisher really liked our material. His publisher plugged our songs overseas and then we were offered a few publishing deals in the U.K. We ended up signing with Sony/ATV when we were 19 and moved to London.
DK: Early on, how did you place your songs? Did you mainly write songs on your own and pitch them, or do you prefer to co -write with artists?
Nervo: At the beginning we left it up to our publisher to place songs however as we met more A&R execs we would deal directly with them and pitch direct. We found the whole process of speaking directly with A&R's very satisfying. It was great to speak directly to the creative teams and work out what they want. As time went by and we proved ourselves as writers we would be given the opportunity to write directly with the artists. This was the best and most exciting for us because we could get a real sense for what the artist wanted. Plus we got to meet some great people! These days because of our crazy schedule we mainly write on our own but we still always like to collaborate. We learn a lot from collaborating.
DK: Regarding your songwriting, do you mainly write melody & lyrics, or do you also create and produce the tracks?
Nervo: We started off in our career with writing melody and lyrics but now we do it all. We can play instruments so are confident in writing a complete song but it's also great working with track guys because they often bring sounds that we could only dream of. With more of the pop projects we're often called in to do just the melody and lyrics but are cool to do it all.
DK: Who were the artists that you first got cuts with?
Nervo: [Early on] there were a few U.K. pop stars that picked up our songs. Our first U.S. cut was with the Pussycat Dolls, and we wrote "If I Was A Man" for their Doll Domination album.
DK: Was there a particular song which was your breakthrough hit? Did you first work mostly with  Australian artists?
Nervo: Our first breakthrough hit was definitely with David Guetta. We wrote and produced "When Love Takes Over" and it featured Kelly Rowland. That song won a Grammy and was nominated for four. We also at the same time had Kesha release a few of our records on her breakthrough album.
DK:  How did you become internationally successful writers? When did you start traveling frequently to the U.S. and Europe?
Nervo: We've always travelled in Europe for our writing. We moved to London seven years ago, so we've been based there for awhile now. I think it was about two-and-a-half years ago when we started coming to the U.S. more. We love being in America and working here. And we love it even more now that the U.S. is obsessed with electronic music.
DK:  How did you meet and start working with such major artists like Britney Spears, David Guetta and Ke$ha?
Nervo: We met David through Kelly Rowland. We wrote "When Love Takes Over" for Kelly's album but her label didn't like it, so David called us three months later and said he wanted to release it (which we were SOO excited about). [Meeting] Kesha was more organic. We met Kesha years ago when we were all aspiring (and struggling) nobodies. We really bonded with Kesha on a personal level–she became a friend and then came and stayed at our place in London, and we jammed out a load of ideas which ended up making her album and getting her a record deal. And the other bigger pop star collaborations came to us when we won a Grammy and came to us via our publisher.
DK: How did you decide to sign with Astralwerks Records? When will your album be released?
Nervo: We signed to Astralwerks 18 months ago. An album will come eventually but for the moment we're concentrating on the singles. We've done our next single with Avicii which we're really excited about. We're loving the direction our record is going.
DK: You are also known for being top DJs. How do you combine your busy careers as artists, songwriters and DJs?
Nervo: We have become good at surviving on six hours sleep :))) We also love our job and are very thankful to be working (and surviving) in the music biz. So every day is a blessing. We had many years of working at bars and restaurants to simply survive, so we're on a constant high that we can survive doing music now.
DK: You've had such great success. What advice would you give to young writers & artists who are trying to break into the music business?
Nervo: Our advise would be to keep working on your craft and enjoy what you do. We have a saying that "the harder you work, the luckier you get", so expect to put in some good (and long) hours and it will pay off. We feel like we've done a P.H.D in songwriting–and we're still learning.
Dale Google Plus
Dale Kawashima is on Google+