Mike Posner Talks About His Debut Hit "Cooler Than Me," His Album 31 Minutes To Takeoff, And Writing His Songs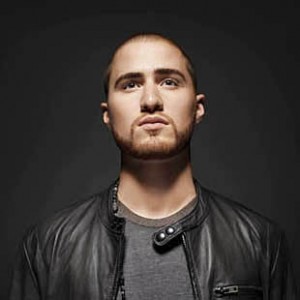 Pop singer/songwriter Mike Posner called his just released debut album 31 Minutes To Takeoff (on J Records) because "something happens 31 minutes into the album that takes the listener and I to a higher place." Yet the title is also a perfect metaphor for the meteoric rise of his single "Cooler Than Me," which has become one of the summer's biggest hits. The track reached #1 on Billboard's dance chart and hit #6 on the Hot 100. In May, Electronic Arts announced that the song will be featured in Sims 3: Ambitions video game and in late July, Posner performed it on America's Got Talent.
Hailed by the Los Angeles Times as "pop's next big thing," the recent Duke University graduate–who launched his recording career producing popular mixtapes in his dorm room and performing for college kids across the country–appeared at Bonaroo and Los Angeles' Key Club in June and was recently on the Warped Tour. In September, he launches his own month-long 15 city Up In The Air tour. Posner geared up for the April 2010 release of "Cooler Than Me" by joining 50 Cent at the This is 50 Fest in New York City, followed by an Austin City Limits performance and a sold out show in Manhattan as part of CMJ. He played multiple shows during SXSW, spent a few dates on the road with Drake and was declared one of Spin.com's "11 Best Moments of Bamboozle." He's also shared bills with Ben Folds and Akon.
"Without a doubt," says the Detroit-born Posner, "the title of the album and the project itself perfectly chronicles where I am in my life, capturing the moments that followed the release of my first mixtape 'A Matter of Time.' I am so blessed that things have played out this way, and grateful to have been given these opportunities so that I can make my friends, classmates, family and home state of Michigan proud. I'm lucky to be on what has been a very organic and grassroots trajectory as a live performer. Before my song was on radio and the video was on TV and YouTube, I had done hundreds of shows on the college circuit. My whole time at Duke, I was living a double life, going to classes four days a week, then catching flights all over the map and playing so many great venues. I'm fortunate to have had that time to develop my skills onstage. It's prepared me for what's going on now and what lies ahead."
31 Minutes to Takeoff is an eclectic collection of heartfelt tunes that showcase Posner's longtime motivation to create a vibe that doesn't sound like any other artist—and deliver lyrics that are so unique and personal that he currently has no interest in writing for any other artist. Posner co-wrote and/or co-produced every song on the album, creating hooks and beats with well-known collaborators like Benny Blanco (Ke$ha, Katy Perry), Greg Kurstin (Kylie Minogue, Lily Allen), The Smeezingtons (Bruno Mars, B.o.B.), and members of renowned R&B group Boyz II Men (who contribute soulful harmonies on "Déja Vu").
Posner's hard to peg sound is the result of the influence of a wide array of artists that he was listening to growing up in the Detroit suburb of Southfield. His parents started him off on Motown and the singer later developed a love for hip-hop, rock and jazz. He began playing drums in fourth grade and was making beats on his parents' computer by the time he was 13, an obsession he carried with him through high school, when he began writing melodies and lyrics. "If you looked through my CD collection," he says, "I had everything from Outkast and Nas, to Rage Against The Machine and Pearl Jam, to Miles Davis and Paul Simon.
"It's always hard to pinpoint what sets one artist apart from any other," Posner continues, "but I can confidently say there is nobody out there with lyrics like mine. Over the past few years, I have worked hard to improve my melody writing so that it matched my skills with words and phrases. I've always been a lyrics guy and I started singing because I didn't think there were any other artists who could pull off my words. I think all of that developed from growing up listening to songs with great lyrics. The content of my songs ranges from things that happen in real life to writing from a third person's perspective about other people.
"I love taking an idea or feeling and capturing it in that perfect moment. The most important thing is that it comes from me and that people know when they are listening that it's something I wrote and feel. I think the most ironic thing about my success as a singer now is that I had only been singing for three months when I recorded 'Cooler Than Me.' I'm getting better as a vocalist, but it's the song and the lyrics that made that song popular."
His rise as a pop star is also the result of persistence and a lot of trial and error. During consecutive summer breaks during college, he interned at Detroit hip-hop station WHTD and hip-hop indie label Definitive Jux in New York City, where he attempted to peddle his tracks to the major record labels. "I never sold one," Posner says. "So I was like, 'Forget it, I'm going to sing the words myself because no one else can pull off singing these lyrics the way I can.'" In March 2009, Posner released "A Matter of Time" by exploiting a loophole in the iTunesU software, which allows professors to post their lectures for free download. Featuring re-workings of Beyoncé's "Halo," songs by The Fray and E.L.O., as well as guest vocals by Posner's hometown friend, rapper Big Sean, "A Matter of Time" climbed to No. 1 on iTunesU.
"When I hit the college circuit during this time, people didn't really know who I was or what I looked like but they knew my music," he recalls. "That was one of the coolest times in my career, when I could sell out a 300-person show and be able to walk to the stage and nobody knew who I was until I started singing. It meant that people were there for my music and no other reason. There were no gimmicks involved — no video, no radio promotion, no photos. I'm really proud of those moments."
The across the board success of "Cooler Than Me" has made his face familiar to thousands of fans on more formal, upscale tours, but in some ways, nothing has changed. "The coolest part is still getting to meet the kids, finishing my set and staying in the merch tent for hours to meet the people and thank them for helping me fulfill my dream. Many of them ask how I got to this place and what it takes for an artist to succeed in this business. I say it's all about being yourself and establishing an identity that's all your own. When I started making my own records at 13, I went through phases where I wanted to make beats like DJ Premier and Kanye, and write songs like Max Martin or Dr. Luke. But I realized that what made them big was their ability to create music that no one else could. The worst thing we can do is emulate our heroes too much. If you catch onto the unique spirit within yourself and discover something your heroes don't have, you'll make them your competition. Also, you have to realize that like in any business, there are very few shortcuts and to a large extent, those who work hard and treat other people well will win in the end. It may take years, but it will happen."
Jonathan Widran is a free-lance music/entertainment journalist who contributes regularly to Music Connection, Jazziz and All Music Guide. He can be reached at [email protected]. He is also on Google+