Mike Posner Talks About Writing Hits For Justin Bieber, Labrinth & Emeli Sande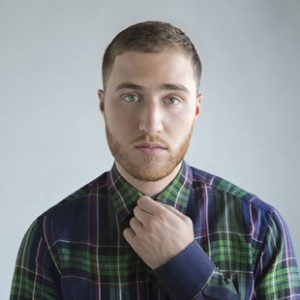 Though there's a touch of melancholy in his infectious new single and video "The Way It Used To Be," Mike Posner has been having a blast on tour this summer, charming thousands of "Beliebers" opening 18 dates for Justin Bieber, followed by 12 dates with Ke$ha. The multi-talented singer, songwriter and producer, who co-wrote and co-produced Bieber's platinum 2012 hit "Boyfriend" (#2 on the Billboard Hot 100), has good reason to be excited. Though he's essentially done recording Pages, his upcoming follow-up album to his 2010 Top 10 debut 31 Minutes to Takeoff, not yet having a specific release date is allowing him time to write and produce more material that he may yet include.
Unlike most pop artists who support a hit debut with touring and then get right back in the studio to work on the next one, the 25-year-old Detroit native—whose debut single "Cooler Than Me" reached #6 on the Hot 100—has engaged in some exciting outside projects these past few years, writing and producing for other top artists and doing features and making cameos on numerous hit singles. In addition to "Boyfriend," Posner has worked in the studio with Big Sean ("Don't Tell Me You Love Me"), 2 Chainz ("In Town"), Wiz Khalifa/Snoop Dogg ("French Inhale"), Travis Porter ("That Feeling") and Big Time Rush ("Windows Down"). He was a featured artist on "French Inhale" as well as Cher Lloyd's "With Ur Love," Avivii's "Stay With You" and Sammy Adams' "L.A. Story."
For Posner, one of the most interesting of these between-album collaborations was "Beneath Your Beautiful," a worldwide hit ballad by British singers Labrinth and Emeli Sande that became Labrinth's first #1 single as a solo artist in the UK. Posner recalls, "I met Labrinth the first time I went to the UK when I was working on my debut album. Though the track we did together didn't make it onto 31 Minutes To Takeoff, we loved working with each other. There was just something special about that guy. After my album came out, I went back to work on some new material with him and he said he was going to be a solo artist and thought it would be a great idea to write something together for his debut album, Electronic Earth. That day, we wrote 'Beneath Your Beautiful', which became one of the album's later singles. Labrinth is kind of an angel. He plays everything, and he has one of my favorite voices in the world. He has that crying effect, a tone that gives me goosebumps when I'm with him. We brought in Emile and did that song in one take."
Though Posner's skills as a prolific writer/producer are in heavy demand, there's a deeper, unexpected reason behind his choice to work behind the scenes with so many artists after the release of 31 Minutes to Takeoff. Despite his out of the box success, he really wasn't sure he wanted to continue as a solo artist. "I had just finished college (Duke University) and suddenly, while I was still trying to figure out my life and what I wanted for my career, I was having hit songs," he says. "I always assumed that once I had a record deal and a hit song, everything would be okay, that all of my problems would magically be solved.
"Little did I know that this quick success would actually exacerbate the problems," Posner adds. "I felt like I was doing everything for the wrong reasons. I was enamored of the attention and not grateful for anything. I thought, if I could just stay home and write music and don't need to travel and work so hard, why am I really doing it? So while I was trying to figure myself out and think about what I really wanted, I started doing songs with other people."
Though Posner was fairly committed to his new course, he was on a plane one day when a lyric popped into his head that rebooted his faith in himself as an artist and ultimately inspired the songs that developed into his new album Pages. The words that changed everything for the singer were: "I can't sing like Frank Sinatra/I can't dance, I'm not that cool/I can't act, I don't have an Oscar/But I did pretty damn good when I found you." The material he started working on in the wake of "Pretty Damn Good" was so personal that even when artists asked, he was adamant about saving these new songs for himself.
"My whole life switched back," says Posner, who began making his own records when he was just 13. "I couldn't quit, because who could I give these songs to that could sing them the way I could? Everything happens for a reason, and I realize now that I had to go through that crisis of conscience to get to where I am now. Pages is the best album I have ever made, with the best songs, ones that have truly been ringing in my ears. I feel that 'Pretty Damn Good' was my epiphany and the lyrical content of the song reflected what I want to stand for not just as an artist but also as a person and man. It's incredible to me that one song could change the direction of my life, but suddenly it was as if I knew what I wanted to say on the album and knew sonically how I wanted it to sound."
Though it's still too early for Posner to reveal the names of his well-known writer and producer collaborators on Pages, he will say that a lot of those who he has written and produced for these past few years were happy to return the favor. The title is based on the concept that he writes all his songs, dreams, goals and personal poetry in a notebook, and the album for him includes select pages from that book.

Here's the video of "Beneath Your Beautiful" by Labrinth & Emeli Sande.
This hit was co-written by Mike Posner.
"The cool thing about being an artist is that you evolution is a great representation of life in general," says Posner. "I don't think I'm supposed to stay the same artist throughout my whole career any more than I am supposed to remain emotionally stagnant as a person. The goal of life is to continue growing and to become a better person, just as the goal of an artist should be to grow and evolve and make better music all the time that reflects maturity and acceptance about the way things are. I kind of just feel like I'm a normal guy from Michigan who gets to live his dreams, and my goal now is to share my story and tell people if this normal kid can do crazy things and write and sing hit songs, maybe their dreams aren't as far off as they might seem. When I fleshed out 'Pretty Damn Good,' I realized that this was the crux of everything. Not to be overly dramatic, but I feel like Pages is Mike 2.0."
Jonathan Widran is a free-lance music/entertainment journalist who contributes regularly to Music Connection, Jazziz and All Music Guide. He can be reached at [email protected]. He is also on Google+