Mary Lambert Talks About Her Album Heart On My Sleeve, And Co-Writing The Hit "Same Love"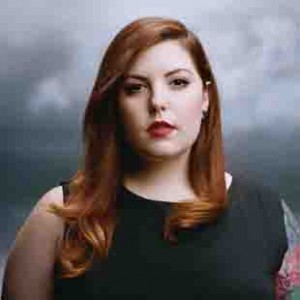 One of the most memorable moments of the 2014 Grammy Awards was the performance of the gay & lesbian rights anthem "Same Love"—nominated that evening for Song of the Year – by Macklemore & Ryan Lewis with Mary Lambert, who penned and sang the tune's musical hooks "I can't change, even if I tried, even if I wanted to…My Love, my love…She keeps me warm." The three were joined onstage by Queen Latifah, who oversaw and officiated the weddings of 33 same-sex and opposite sex couples. Towards the end of the song, Madonna came onstage and began singing with Lambert before launching into "Open Your Heart." Lambert's success with "Same Love" led to her signing with Capitol Records, which released her full-length debut album Heart On My Sleeve in October as the Seattle-based singer/songwriter was in the midst of a month-long 19-city North American tour.
Lambert, who was also Grammy-nominated as a featured artist on Macklemore & Lewis' Best Album of the Year nominee The Heist, spells out the socially-conscious mission of the project on its first single "Secrets," which is to encourage vulnerability. Co-written with the album's producers Eric Rosse, Benny Cassette and MoZella, the self- empowering song's lyrics tap into the singer's real-life insecurities, including her homosexuality and dysfunctional family situations, as she defiantly declares that she doesn't care "if the world knows what my secrets are." The single is currently moving up the Billboard Hot 100 chart and a remix featuring B.o.B hit #4 on the Hot Dance Club Songs chart. Prior to this, Lambert's self-released 2012 debut reached #18 on the iTunes Singer/Songwriter chart and "She Keeps Me Warm"—a single which fleshed out the "Same Love" hook—from her subsequent Capitol EP Welcome To The Age of My Body peaked at #20 on the Adult Top 40 chart.
None of Lambert's current success would be possible without the "quasi stardom" (as she puts it in her typical self-deprecating way) she achieved via "Same Love," an opportunity she says "kind of fell into my lap" via her friend Hollis Wong-Wear, a singer/songwriter who appeared on Macklemore & Lewis' "White Walls." Hollis and Lambert were popular attractions on Seattle's vibrant spoken word performance community, where Lambert won the city's Grand Slam Poetry Competition in 2011. At a time when Macklemore & Lewis had run out of options trying to find the right songwriter and artist to flesh out their powerful rap tune, Hollis showed the duo one of Lambert's spoken word YouTube videos and they invited her to join them in the studio to see what she could come up with.
"I immediately identified with the song, which explored the dichotomy I live every day as a Christian lesbian, feeling that sort of inner contradiction of two communities that sometimes feel at odds," says the singer, who studied classical composition at Seattle's Cornish College of the Arts and originally planned to be a middle school teacher—or a politician.

Here's the video of Mary Lambert's single, "Secrets."
"I so badly wanted to be on the track and knew I had just a short time and had to be very specific. I thought of every facet of the song that I could, and I realized my role was to relate a first-hand experience of being a gay Christian telling the world about living at this intersection. It seemed like a hard task until it hit me that all I ever needed to talk about was love. Essentially, they had the track done and I was just top-lining. I wrote four choruses in those two hours, two which are prominent in the song and two that are saved for the song's outro, but which I think are equally important, quoting from Corinthians 'Love is patient, love is kind…' and then affirming that 'I'm not crying on Sundays.'"
Lambert had the opportunity to do an arena tour with Macklemore & Lewis and found the experience an illuminating source of hope. "The passion the audience had for 'Same Love' and my chorus section in particular proved to me that the world can handle a song with female pronouns by a woman," she says. "A lot of people, myself included, sometimes have a jaded idea about humanity, that everyone's an idiot, or everyone's evil and there's so much bad and wrong with the world. But what an eye-opener these crowds were! The simple moment of singing 'She keeps me warm' along with women of all ages helped me realize that we also have so much capacity for goodness and kindness. That's the most rewarding thing about being part of this incredible song."
Emboldened by these experiences, Lambert scrapped all of the tunes she had written leading up to the sessions for Heart on My Sleeve and began from scratch with Rosse, Cassette and MoZella. She felt that the new songs she wrote were a whole different caliber compared to those she had been stockpiling, and she made no bones about wanting her full-length debut to be a cohesive pop record rather than a gathering of random tunes from a clever confessional singer-songwriter. As she says, "I basically steered the ship as executive producer, but I wanted to collaborate and take advice from people who knew how to take me to the next level creatively and professionally."
Among the highlights is "Heart on My Sleeve," a dusky love song that Lambert chose as the title track because she felt it summed up how she approached writing the lyrics on the album. "I've always lived my life completely open, both to getting hurt, but also to love," she says. "I have experienced so much joy because I've allowed myself to connect. That's not to say that I haven't been burned, but with really profound sadness comes really profound joy. Because I've experienced some trauma and some really dark times, my capacity for joy is massive."

Here's the video of "Same Love" by Macklemore & Lewis
(featuring Mary Lambert). Lambert co-wrote this hit, which
was nominated for 2014 Grammy Song Of The Year.
An unexpected gem among the originals is a sensual piano ballad version of Rick Springfield's "Jessie's Girl," which turns the tune into a haunting, girl-on-girl lament. "The song is pop gold and I love the gender neutrality of the name Jessie," she says. "It's a common gay plight to have a crush on a straight friend, and I wanted to reflect the universal experience of pining after someone in a different way."
Lambert says that the buoyant "Secrets" came to the songwriting team on a whim based on the challenge of creating a one-note melody. It reminds he of Regina Spektor's 2009 track "Dance Anthem of the 80's," whose quirkiness she always found charming. "That song proved that you can have a hook based on a single-note melody," she says. "Benny put handclaps and a beet to it, and MoZella and I shot ideas back and forth before we came up with the idea of writing a positive anthem that wasn't tied up in a bow. It's easy to paint a pretty picture and tell someone to love themselves, but it's way more complicated than that. There is so much shame and guilt in our society, and I think it has deprived a lot of people from living fully. We're all facing battles. We've all had someone who has hurt us, so let's talk about it. I believe vulnerability is what will save the world. The best way to encourage people to be themselves was to put a lens on myself first.
"The acceptance of 'Secrets'," Lambert adds, "has taught me that you can have a social justice message within the parameters of pop music and that a hit song can actually be more influential to the culture than anything a politician says or does. When something's on the radio, it gets in people's heads, so songwriters with a platform in this medium should realize that the words they write have gravity and they need to be careful with what they say in their lyrics. Of course, sometimes people just want to dance and a song can be about pure fun where the lyrics aren't meant to be about social justice. But when that consciousness isn't there and writers and artists intentionally impart a negative message, they can also hurt people. Taking responsibility and discovering and sharing your own voice go hand in hand as part of the growth process necessary to become a successful songwriter."
Jonathan Widran is a free-lance music/entertainment journalist who contributes regularly to Music Connection, Jazziz and All Music Guide. He can be reached at [email protected]. He is also on Google+