Richard Marx Talks About Writing "Dance With My Father" With Luther Vandross, And Writing Songs For His Album, My Own Best Enemy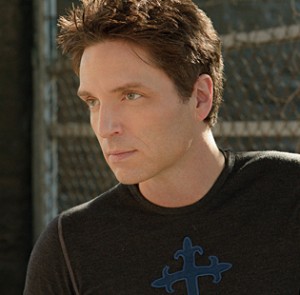 Writer/producer/artist Richard Marx is enjoying one of the most successful and acclaimed periods in his notable music career. In February, he and Luther Vandross won the Grammy Award for Song Of The Year, for co-writing Vandross' memorable hit, 'Dance With My Father.' This August, Marx will be releasing his first album (on a major label) in seven years, My Own Best Enemy (on Manhattan/EMI Records), which includes his new hit single, 'When You're Gone.' Then in the fall, he will be launching his first concert tour in years, backed by a new band he has assembled.
In addition, Marx has had an array of cuts and singles as a writer/producer. Since writing & producing the smash hit 'This I Promise You' for *NSYNC in 2000, he has been in great demand, writing for, or collaborating with leading artists in many music genres. Marx co-wrote Josh Groban's first single, 'To Where You Are,' which helped launch his multi-platinum, debut album. He has also written and/or produced cuts with Barbra Streisand, Vince Gill, Kenny Loggins, 98 Degrees, Keith Urban, Sister Hazel, SHeDAISY, Paulina Rubio, Sarah Brightman, Emerson Drive, Kenny Rogers, Lara Fabian and others.
In a recent interview, Marx talked about the songs he wrote for his new album, and about how he came to sign with Manhattan/EMI after a hiatus as an artist. He also tells the story of how he wrote the deeply moving 'Dance With My Father' with Luther Vandross. In addition, Marx discusses his successful writing/producing career, and lists some of the favorite projects he has worked on.
It was in 2003 that Marx was approached by Manhattan/Blue Note CEO Bruce Lundvall, about recording a new album for the label. Interestingly, it was Lundvall who had signed Marx to Capitol/EMI Records back in 1986. 'Bruce, who I had remained friends with, called me up to say, 'let's make a record.' I immediately said, 'great, who's the artist?' And he said, 'You!' I paused and said, 'Bruce, I don't do that anymore.' And he said, 'I won't hear of it. You have to make another record; I miss hearing you sing."
'It felt immediately right, because it was Bruce, the person who had signed me to my first label deal,' added Marx. 'There was no pressure doing this album. He said, 'go make any record you want,' which is the same thing he said to me back in 1986. So it was a no-brainer. It was also clear to me, that this album would be different from the songs I write for other people, because it would be more personal. Doing my own album provided me the opportunity to say whatever I wanted. Musically, I could also make it a different kind of record. I've been (creatively) bathing in bands like Travis, Coldplay and U2, and I wanted my new album to musically reflect that influence. Therefore, my new album is a slightly edgier, more modern record.'
Marx recorded the album (with co-producer David Cole) in several cities, over an extended period of time. Using various rhythm sections in Nashville, Los Angeles and at his home studio in Chicago, he was able to forge a tight, full-fledged band sound. Among the musicians lending their talents, were country star/guitarist Keith Urban, guitarists Michael Landau, Michael Thompson and Shane Fontayne, bassist Glen Whorf, and drummer Matt Lang.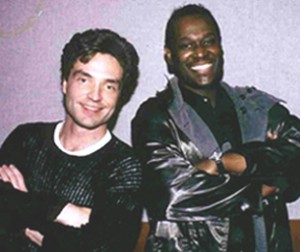 The leadoff single from My Own Best Enemy is 'When You're Gone,' which is already a chart success. But there are several other cuts which may have an even greater impact. 'Ready To Fly' and 'Love Goes On' are classic, definitive Richard Marx songs which could easily be hits for him, or eventually be covered by other artists. Other standout songs are 'Nothing Left To Say,' 'One Thing Left' and 'Everything Good.' Another noteworthy song is 'The Other Side,' which is Marx's moving farewell to his late father.
In addition to recording his own album, Marx has been very busy writing & producing songs for many artists, across different genres. Certainly, his most notable project was collaborating with Luther Vandross on 'Dance With My Father,' which subsequently became a major hit, and won this year's Grammy Award for Song Of The Year. Marx recalled how he came to write this song with Vandross, the song's creative evolution, and how it felt to win the Grammy (in the wake of Vandross suffering a debilitating stroke).
Marx and Vandross had previously collaborated on several songs, dating back to 1991. 'The first song we wrote together was 'Every Year, Every Christmas,' which was a single from his Christmas album,' said Marx.  'Then we wrote 'Isn't There Someone,' for his I Know album (in 1998). It's funny; Luther and I have written many songs together, but we've never written songs in the same room. Then a year-and-a-half ago he called me, and said he had an idea for a song called 'Dance With My Father.' Luther said his most vivid memory of his father (who died when Vandross was young), was him dancing with his kids in the house.'
There were a couple reasons why Luther asked me to co-write this song with him,' added Marx. 'Part of the reason was because we were friends, and our history of writing together. But more importantly, I think he remembered how very close I was with my own dad, who had died in 1997. In fact, Luther had helped me get through the rough time I had, after my father died. 'Dance With My Father' was a personal song he was sharing with me. He described what kind of musical bed he wanted. I wrote the tune that day, and recorded the demo. When Luther got the demo, he kept the music the same, but he made the melody his own thing, phrasing it differently. The song became this amazing statement for him. He recorded it and called to say, 'I'm Fed-Exing you a mix; this is my Grammy song of the year. This is my 'Piano Man,' the most important song of my career.' Then, just a week later, he suffered the stroke.'
Marx was thrilled with the way 'Dance With My Father' turned out, and its subsequent success. However, he had very mixed feelings, because he knew how debilitating the stroke had been for Vandross. 'A year later, I was up onstage at the Grammys, receiving the Song Of The Year award without him,' explained Marx. 'It was a bizarre night. As a songwriter, there's nothing better than winning Song Of The Year. But I couldn't really celebrate, because it wasn't right. Luther wasn't standing next to me, to receive the award. It felt a little hollow without him there.'
The tremendous success of 'Dance With My Father' did further confirm Marx's ability to help create outstanding songs for other artists' projects, as a songwriter, collaborator, and/or producer. His reputation as a top writer/producer has steadily grown, ever since *NSYNC recorded his song, 'This I Promise You,' in 2000, which became a #1 worldwide hit.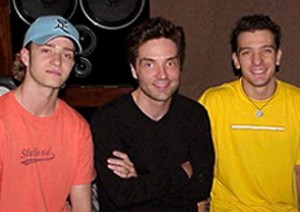 Marx recalled how he got together with the group. '(A&R exec) Jay Landers called me up, and suggested that I write a song for *NSYNC, which was after the group's first album had broken through. Jay made a call to their label (RCA), and suggested me as a possible writer for the group. This was at a time when I was known more as an artist, than a writer/producer. But the group (and RCA) liked the idea, so I sent them a demo of 'This I Promise You.' Then just two weeks later, I ended up in Florida, producing the record with the band. When the song became a hit, it really launched my writing/producing career. I want to give a lot of credit to *NSYNC. All five guys are very classy and appreciative, and it was great being able to contribute to their huge album and success.'
Marx has since worked on a wide variety of top artist projects, ranging from pop and AC, to rock, country and R&B. He has truly enjoyed the experience of collaborating with artists for their respective albums. 'One of my favorite songs that I've been involved with is 'Someday,' which I wrote with Vince Gill. I'm such a big fan of Vince's; he's one of the greatest singers ever. And for the song to have come out so well, means a lot to me. I'm also proud of a song I wrote with Kenny Loggins, called 'The One That Got Away.' Kenny says that when he performs this song live, he gets a standing ovation. It's a very personal song for Kenny, about his estrangement from one of his sons from his first marriage. What I love, is that Kenny says this song helped bring them together.'
There is another project which Marx is very excited about. He has recently produced an entire album with country band, Emerson Drive. 'I really love this band, and for the first time, I produced a whole album on someone other than me,' said Marx. 'We recorded most of the record at my house (in Chicago). The first single, 'Last One Standing' (written with Fee Waybill) is already out. I really want this record to do well for them; they're such a great group.'
The combination of writing & producing for other artists, and releasing his solo album My Own Best Enemy, is certain to keep Marx very busy. 'I love writing & producing (for other artists); it's a big part of my future. But when I recorded my own album, I realized how much I missed singing my own songs. I am having fun being an artist, and I'm looking forward to touring with my band, and playing the new and old songs live.'
Dale Kawashima is on Google+