Adam Levine Talks About Maroon 5's Album, It Won't Be Soon Before Long, Hit "Makes Me Wonder" And Writing Their Songs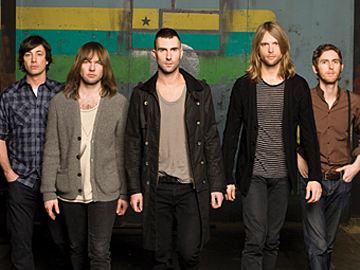 With the release of their highly-anticipated album It Won't Be Soon Before Long, Maroon 5 seems poised to become one of the most popular bands in the music industry. Their single 'Makes Me Wonder' has already reached #1 on the Billboard Hot 100 chart, and their album appears certain to debut at #1. These are remarkable feats for a band which is just releasing their second studio album, which is the follow-up to their 2002 multi-platinum debut, Songs About Jane.
It has been the combination of the mega-success of Songs About Jane (which contained the hits 'This Love,' 'She Will Be Loved' and 'Harder To Breathe') plus Maroon 5's steady touring worldwide, which has positioned the band perfectly for the release of their second album. The quintet (which consists of Adam Levine on lead vocals/guitar, James Valentine guitar/vocals, Jesse Carmichael keyboards/vocals, Mickey Madden bass/vocals and Matt Flynn drums) has also won many accolades, including two Grammy awards, for Best New Artist and Best Pop Vocal Performance By A Duo or Group (for 'This Love').
In a new interview, lead singer & main songwriter Adam Levine talked about Maroon 5's steady road to success, including how the group's strategy of constant touring built a strong foundation. He also discussed the making of It Won't Be Soon Before Long, and which producers they worked with to help create and complete the album. In addition, Levine recalled how he co-wrote 'Makes Me Wonder' with band members Jesse Carmichael and Mickey Madden.
With a lengthy period of five years between albums, it would seem that the band took an extended hiatus before returning with the new CD. But this wasn't the case. 'The common misconception is that we took a lot of time off,' said Levine. 'But because the first album took such a long time to happen, and we were on the road for three-and-a-half years, we actually only took off about a month. And pretty immediately after we got home, we started working on the new record, which took about a year to make. We couldn't have anticipated the success of the first album, and obviously when that happens, it gets more intense and longer and the cycle gets a bit bigger.'
'I think that there weren't a lot of bands out there that sounded like us when our album came out, so radio stations and MTV didn't jump on it right away,' he explained. 'We had to build up a following by touring for the first year. And then slowly but surely, radio stations would start adding [our songs]. When they saw that it worked, other radio stations would start adding it. So it was just an organic process, as opposed to a big blitz process. We just wanted to make a grassroots thing that started from a really sincere place, such as us just wanting to play and have it grow from there.'
When the band finally got off the road and began writing for the new album, they moved into a house together. 'We spent a few months just making music every day and seeing what came out of us,' recalled Levine. 'We always try to have our musical output be sincere and just spontaneous ' there's nothing calculated about it.'
When it came time to record It Won't Be Soon Before Long, the group utilized several producers to help create the modern mix of pop, rock and soul for the album. They began the album sessions with two noted producers, Mike Elizondo (whose credits include Eminem, 50 Cent, Fiona Apple) and Mark 'Spike' Stent (Gwen Stefani, U2, Bjork). 'Mike (Elizondo) had just finished with Fiona Apple's record and he'd done a lot of work with Dr. Dre ' he knew a lot about hip-hop and R&B production,' said Levine. 'And Spike (Stent) was a sonic genius who worked with U2 and Bjork. So we put them together, just to really round out everybody in the band. We could always go to Mike to ask him questions about musicality and arrangements, and go to Spike to ask about the sound of his recordings. That was a great start to the record.'
'Then halfway through the record, we decided to add more live elements into it and balance out everybody's tastes in the band, so that everyone would be satisfied. [So] we worked with Eric Valentine, who had done some good sessions with Queens Of The Stone Age. And we finished up the process with Mark Endert (Madonna, Fiona Apple), who really just tied everything together. The last song we recorded with Mark was 'Makes Me Wonder,' which was the track we'd been struggling with for the entire year that we were making the record. So it finally came together with Mark and then we were done.'
Levine explained the lengthy, complicated process to write and complete their hit 'Makes Me Wonder.' 'While we were on the road in Australia four years ago, Jesse (Carmichael) wrote this progression and we were jamming on it. I took that progression and made a demo of the song minus the chorus. The song sat around for four years. Then (four years later) the band minus me had this jam session and Mickey (Madden) wrote this bass line that everyone wound up jamming on. I took that jam session, put it on the speakers and wrote a melody over it. Then in the eleventh hour of making the record, we wound up tacking on that progression and melody to the original 'Makes Me Wonder,' and now we had a chorus and there it is.'
With 'Makes Me Wonder' hitting #1 on the charts, Maroon 5's new album is off to a great start. It Won't Be Soon Before Long is an impressive collection of cuts which fuses funky soul, punchy modern rock and hooky melodies for a very fresh, commercial combination. 'We wanted this record to be stronger and hit a lot harder,' said Levine. 'We really wanted the album to be uninhibited, to be unrelenting. We have our issues on our first album, but with this one, I just think that we've become better players, and I think the parts are cooler and more unique and definitely funkier.'
Jonathan Widran is a free-lance music/entertainment journalist who contributes regularly to Music Connection, Jazziz and All Music Guide. He can be reached at [email protected]. He is also on Google+