Singer/Songwriter Marie Digby Talks About Her Album Unfold, And Her YouTube Success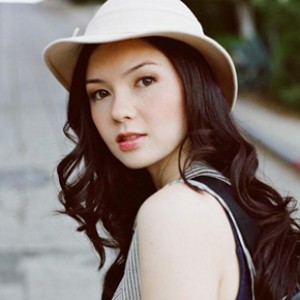 The old adage 'patience is a virtue' really doesn't wash when you're a talented up-and-coming artist worrying if your record label is ever going to release that debut you've put your heart and soul into. For L.A.-based singer/songwriter Marie Digby, beating Hollywood Records to the punch made all the difference in making her a breakout artist this year. Her critically-acclaimed debut album Unfold, which was released in April and quickly hit the Top 30 on the Billboard 200, might never have seen the light of day had she not taken promotional matters into her own hands.
In May of 2007, five months after finishing up the year long process of recording her first album for Hollywood Records with producer Tom Rothrock, the multi-talented singer, guitarist and pianist – hearing nothing encouraging about an impending release date – was champing at the bit waiting for the corporate machinery to take its course. Twenty minutes after learning Rihanna's hit single 'Umbrella,' she propped up a camera in her living room, filmed herself performing the song with simple acoustic guitar accompaniment and put it on YouTube.
After her performance racked up a quick two million views and earned her an appearance on Last Call With Carson Daly, her label finally got on the stick. Digby got back in the studio (this time with Mike Daly) and recorded a studio version of 'Umbrella' that quickly scored airplay on the local radio station Star 98.7 and placement on the popular MTV show The Hills. Originally released as a single last August, 'Umbrella' – which cracked the Hot Adult Top 40 Tracks chart last October – became the final cut on Unfold. Seven months before the release of the full album, Hollywood Records put out a four-song teaser EP that included the acoustic version of 'Umbrella' and an acoustic take on the song that would become the album's title track.
To date, she is the #6 most subscribed musician of all-time on YouTube with more than 30 million total views. Beyond her status as a viral video sensation, Digby is proving to be more than just a one-hit wonder and internet curiosity. Her first official single 'Say It Again,' which was released in January, has been on the Hot Adult Top 40 Tracks chart for over four months, peaking at #21. She's also made incredible inroads on television, where many of her songs have been featured on hit shows. 'Say It Again' and 'Spell' were featured in closing episodes of Smallville's seventh season; 'Bring Her Love' was in the ABC Family film Holiday in Handcuffs; and 'Beauty in Walking Away' was on another episode of The Hills. She also made a cameo on the ABC Family drama Greek, playing 'Better Off Alone.' Due to her strong internet profile, some music supervisors contact Digby directly via her MySpace page, while others contact her through the more traditional channel of her label.
A well-known presence on the L.A. club scene over the past few years at hotspots like The Joint, Club Lingerie, The Rainbow Room and 'every retirement home and hole-in-the-wall restaurant imaginable,' Digby began her first national tour with Eric Hutchinson and Justin Nozuka in May. She is touring throughout July with Gavin DeGraw and then heading overseas to perform in Taiwan, Hong Kong and Japan. 'My mom is Japanese and so I've been to Japan many times, but it's always been a dream of mine to perform in Asia,' she says. 'I'm excited to have all these great opportunities to bring my music to so many new people.'
Reflecting upon her bold move that led to at least a handful of her musical dreams coming to life, she says, 'I guess in my naïvete, I just assumed that since we mastered in December and the artwork was done shortly thereafter, the CD would come out in early 2007. March and April rolled around and I got really nervous. There are so many great, better known artists on Hollywood with built-in fan bases, and all those Disney tie-ins too. At the time, I was a nobody and the label's silence was enough for me to figure out that it was possible Unfold would never see the light of day. I really don't blame them, that's just the business and maybe it wouldn't be so easy to market me, but I was desperate for it to come out and decided I had to do something to make people aware of who I am. Since 'Umbrella' came out and all this got started, people have been patting me on the back because I took matters into my own hands. I would think any label would be grateful for an artist who does more than just wait around for miracles to happen.'
Though it seems like Digby is one of those overnight sensations that could only become renowned in this YouTube era, she was actually working towards her record deal for a long time.
In 2004, the former UC Berkeley student entered a national songwriting contest sponsored by Pantene. Her song 'Miss Invisible' won the top prize: performing the song on MTV and VH1. Soon after, she began auditioning for major labels the old fashioned way, accompanying herself on guitar before a roomful of record company honchos. Hollywood Records offered her a contract, 'but by the time I got the deal, I had learned enough not to get overexcited,' she says. 'My attitude was, here's where the real work starts.' With a wealth of new songs, she entered the studio with producer Tom Rothrock (James Blunt, Beck, Foo Fighters) to record Unfold. 'Like many other musicians, first and foremost I'm an observer," she says. "I love watching people, and songs come out of that. When I have an experience that moves me, I can't sit still until I've written the song.'
'Unfold is my declaration to not be so concerned about what others perceive me as or want me to be,' she adds, 'my reminder every day to be less of a people pleaser and not be afraid to be who I am. I love playing live because there's an energy you share with the people you play for. You feel it intensely when they're paying attention. When you write the most personal and truthful songs, that's when you connect that way. It's scary. You still feel naked, but it's also very cathartic. But I'm realistic about all this. I know without YouTube, I very likely never would have the career I'm enjoying now. I know I'm something of a self-made success story, but I really think to make it as a pop artist, you need a major label behind you. Obviously, the whole YouTube thing is part of my story and I definitely encourage artists to use the internet as a supplement. But just don't depend on it to get your whole career started. You can't just sit in front of a computer and play guitar. You have to get out and perform live. That's when all the opportunities really open up, besides being the most exciting part of the journey.'
Jonathan Widran is a free-lance music/entertainment journalist who contributes regularly to Music Connection, Jazziz and All Music Guide. He can be reached at [email protected]. He is also on Google+