Mitchy Collins Of Alt-Rock Trio lovelytheband Talks About Their Hit "broken" And His Songwriting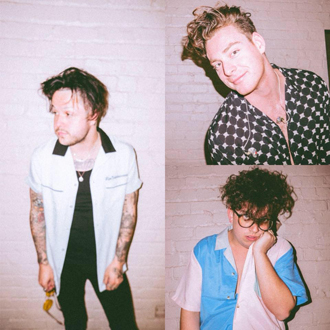 In some of the early press articles on "broken," the breakthrough #1 Billboard alternative hit by his indie alt-rock trio lovelytheband, singer/songwriter Mitchy Collins described it as a song about "finding someone who has issues like you do. . .whose problems complement yours. Perfectly imperfect. Everyone is a little broken inside, trying to find their band aid." Quickly striking a nerve, the infectious debut single is from the L.A. based band's 2017 debut EP, everything I could never say. "broken" is the longest running #1 track on Alternative Radio this year at 6 weeks, and it has amassed over 20 million streams. The single has also reached Top 10 on Billboard's Hot Rock Songs chart and Adult Alternative Songs chart.
The band, which includes guitarist Jordan Greenwald and drummer Sam Price, was named one of Billboard's "10 Rock & Alternative Artists to Watch in 2018," and is following a recent tour with singer/songwriter Vance Joy with summer festival dates including Lollapalooza and Billboard's Hot 100 Festival. They are also touring in June as part of the "Here Come The Runts" Tour with alt-rockers AWOLNATION. In May, they released their new single "these are my friends" on RED Music.
When Collins wrote the lines "I like that you're broken/broken like me/maybe that makes me a fool," he was in a darker personal place than even his clever lyrics allude to. In addition to having a newly broken heart, he was an artist adrift after splitting with Danielle Bouchard, his partner in Oh Honey, a popular folk duo that was signed to Atlantic Records' Fueled By Ramen label. At a crossroads, he wondered about the viability of making music after a rollercoaster- like decade in the industry.
"I was just trying to figure things out in my life…so many things were weighing on me and I had lost faith in myself and what I was doing," he says. On a whim, he called up Christian Medice, a longtime collaborator who had written with him for Oh Honey and who has also worked with Pink, Hillary Duff and Natalie Imbruglia. "I said, 'Let's get together and make some music for the fun of it." We spent a week or two in the studio coming up with ideas, not knowing or really caring if anything viable would come out of it.
"I had spoken the lyrics 'broken like me' into my phone and kept coming back to that phrase," Collins adds. "We started creating a beat and it literally fell out over the top of it, working just right to make the hook. The rest of the song shapes a personal story related to things I had been feeling every day. Like I'm not good enough, I'm feeling alone, but maybe there's someone out there for me who can relate. I wonder if another person feels like I do. 'broken' was the turning point for me, and it inspired me to think about exploring the idea of putting a new band together before. Kind of like the character in the song, I was wondering if there were any musicians out there who could do this with me. I had been working on music for a new project for a year before I met Jordan and Sam in the summer of 2016, and with them, it was easy to start putting the pieces back together."
Collins says that the new single "these are my friends," another collaboration with Medice, is more reflective about the more positive mindset he has now in his life. "It's a song about embracing every part about myself, the good and the bad, like it or not, the things that make me the person I am, even the parts I don't like. It also touches on how we think about the people in our lives, keeping close the ones who love you and pull the magic out of you. Christian and this band are the guys who pull the magic out of me now. I had the hook written and lyrics done when I brought it to Christian, telling him I had this cool idea. We played with it, and built the music around what I had and wrote more verses. Sometimes, I bring all that in to our sessions.  Other times, he'll have a track with fresh eats that inspire me to write the words. Most of the time, he'll give me a musical bed for me to come in and jam over. Every song is a different animal."

Here's the video of lovelytheband's hit, "broken."
Attempting to Google lovelytheband's origins results only in finding the quirky line, "They formed on a drunken night in West Hollywood." The fact that Collins only offers the added detail that he met Jordan and Sam through different buddies "talking shit at some bar" seems to indicate that their past is not as crucial to the story as where they believe they're headed. That includes being signed to RED Music under the A&R guidance of Don Robertson after a merger between Robertson's previous company Century Media Records and RED Music, a label group and multi-faceted label division of Sony Music Entertainment.
"Being signed with RED has been the best experience of my life," Collins says. "We feel so lucky to work with Don and everyone there has been crushing it for us. Jordan, Sam and I are friends first and foremost, and they're two of the best musicians I have ever played with. It's really fun making music again. lovelytheband is the culmination of all of my musical tastes merging into one. That's why it's working so well. I've been in and out of bands and doing my own thing on and off for years, but this is the first time I feel like I am able to be 100% myself."
Growing up playing in numerous bands, Collins was told repeatedly that he couldn't sing well, so for years he relegated himself to a sideline role being a guitar player and songwriter. He finally started singing in his early 20s, and after leaving his old punk band American Living in New Jersey, was part of two other bands (The Kin and Outasight) and also pursued being a solo artist for a few years. Seeking to hone his songwriting and production chops, he later signed a publishing deal with Green & Bloom/BMG and developed his craft behind the scenes for a few years. Feeling the itch to start performing again, he thought about pursuing an alternative folk aesthetic. He met Bouchard through his collaborations with Medice and Phoebe Ryan and formed Oh Honey.
"Eventually, I wanted to start recording and get onstage again, and [Oh Honey] was the perfect vehicle at the time," Collins says. "But I'm grateful for the time I took to just focus on getting better at songwriting. Growing up, I had always written songs, and there's no better training for any goals you want to achieve in this business than spending that time alone, writing. A lot of kids coming up today are missing that solitary, introspective part of the journey. They start bands and immediately seek out producers and outside writers to collaborate with before they're really great. Everyone's looking for a short cut, but the truth is, you have to be willing to pick up a guitar or sit at a piano and write a thousand songs yourself before you create a good one. And to write a great song, you have to be honest with yourself. Don't sugarcoat. Let your heart say what you want to say. The beginning and the end for me is, honesty is the best policy."
Jonathan Widran is a free-lance music/entertainment journalist who contributes regularly to Music Connection, Jazziz and All Music Guide. He can be reached at [email protected]. He also has a review blog called www.jwvibe.com