Violinist Lindsey Stirling Talks About Her Second Album Shatter Me And Writing Her Songs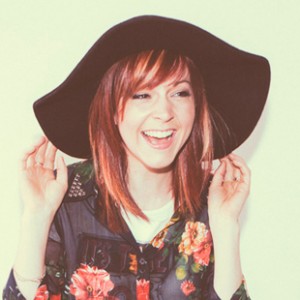 Lindsey Stirling was six-years-old when she asked her mom if she could take violin lessons after attending an orchestral concert her parents took her to. She recalls being particularly fascinated by the concert master, who stood up and tuned the entire orchestra and whose first stroke prompted the ensemble to play. "I wanted to grow up to be a concert master, because they were the rock star of the orchestra," she says. Stirling never reached that childhood goal, but these days, she's a fast rising force in another realm, completely changing the way her chosen instrument is perceived. Her groundbreaking mix of Celtic folk, modern classical, dance, rock and EDM made her a YouTube sensation (with over 4.8 million subscribers and 600 million total views on her Lindseystomp YouTube channel), and her just released sophomore album Shatter Me (on her indie label Lindseystomp) debuted on the Billboard 200 at #2.
Currently in the midst of a 46-city U.S. tour, the classically trained musician (who is now 27) first came to prominence in 2010 as a "hip-hop violinist" on America's Got Talent. Voted off during the quarterfinals, she was told by then-judge Piers Morgan that the world had no place for a dancing dub-step violinist. The rejection fueled her resolve to succeed on her own terms and use the violin as her ultimate form of personal expression, regardless of what industry insiders might say. Her success story has become an inspiration to millions of fans across the globe.
"The same reasons I was told I wouldn't succeed are the reasons people travel hundreds of miles to see me now," she says. "Because it's different—because it's something you haven't seen before. The other night at my show in L.A., a fan told me he traveled from Moscow to see me. He said it was so unique that he had to see me do it live. That's been the theme of my life. It's okay to be different and think outside the box, because life is more beautiful when it has a lot of different colors."
In a true example of the DIY indie spirit, the Gilbert, Arizona native found the perfect outlet for her unique music and visual style on YouTube. After her experience on America's Got Talent, cinematographer Devin Graham reached out and the two created a video for her song "Spontaneous Me," which helped launch her channel. Her video for "Crystallize" – which later appeared on her self-titled debut album – has racked up 94 million views, finishing as the eighth most watched clip of 2012. Stirling's cover version of "Radioactive" with Pentatonix won Response of the Year in the inaugural YouTube Music Awards last year. She is famed for taking requests and has also recorded unique versions of the theme from Phantom of the Opera, and Game of Thrones, the video games Zelda, Pokemon and Skyrim, and songs by Michael Jackson and Rihanna. She uploads all of her videos to Lindseystomp, which in addition to her music videos features short comedy films—many featuring her alter-ego, a "superfan" called Phelba.
Stirling's viral success fueled sales of over 300,000 in the U.S. for the first album, which she released independently on Lindseystomp. The album also went platinum in Germany, gold in Poland and Switzerland, reached #1 on Billboard's Dance/Electronica chart and Classical Album chart and reached #23 on the Billboard Top 200. It also earned her a 2014 Billboard Music Award nomination for "Top Dance/Electronica Album."
In addition to its promising start on the Top 200, Stirling's follow-up album Shatter Me, which has physical distribution through AMPED and digital distribution through Tunecore, debuted at #1 on various charts, including the iTunes and Amazon MP3 charts. It sold 56,000 units in its first week of release. This makes Shatter Me the highest charting independent album on the Billboard 200 since Garth Brooks' Blame It All On My Roots. The video for the album's second single "Shatter Me," featuring vocalist Lzzy Hale of Halestorm, snagged over 5.3 million views in its first month. The lead single "Beyond The Veil" debuted at #1 on the Billboard Classical Digital Songs chart, and Stirling performed the song on VH1's Big Morning Buzz.
"It's all been kind of crazy," she says from a tour stop in San Francisco, "because my whole life since I was a tiny kid, I wanted to perform and share and entertain people. I still can't believe I play violin and play for thousands of people every night and entertain them in my own way that's so untraditional. I like to say that I've found a way to turn the violin into a 'me' experience, where I have made the instrument fit what I want to do with it rather than the way I grew up when I had to conform to the traditional parameters of what I was taught.
"At one point late in my teens," she says, "I began feeling stifled, and wondered why I didn't love the violin anymore. The feeling broke my heart because I once loved it so much. So I thought, what kind of music do I really like? What would be the best way to express who I really am? I always loved dance and EDM music so I started writing and improvising over tracks, and also started playing along to songs on the radio and creating my own arrangements. That led me to join my first rock band in high school, a Jimmy Eat World/Weezer type group called Stomp on Melvin, which led to some exciting early accolades like winning the state title of Arizona's Junior Miss and a Spirit Award in their finals competition. Those were the first steps in finding my true voice as an artist."
"If I want to compose a piece about feeling trapped," Stirling adds, "I have to allow myself to be vulnerable and not be afraid to open my heart—not only to other people but to myself. Sometimes I'm revisiting things I don't want to remember but which at the same time are experiences that are amazing to write about. The times in my life I had a hard time getting through in the past now drive me to write songs I am happy to share with the world."
Not surprisingly based on the exciting visual experiences of her YouTube videos, Stirling makes her live show a true audio visual extravaganza, moving with the grace of a ballerina while working the crowd into a frenzy, "dropping the beat" like a rave fairy. She did several U.S. tours last year, but her increasing popularity has allowed her, on her current jaunt, to book larger venues and increase her production values considerably.
"I love to create an experience for my fans," she says, "and I wanted this show to be very theatrical, full of energy and dancing, with a lot of costume changes and colorful set pieces. One number is inspired by pirates, so my two backup dancers, drummer and keyboardist and I wear pirate costumes. We have some improvised numbers and a lot of choreography. In one segment, 'Take Flight,' we use video screens to make it look like the audience is flying with me as I soar through the clouds. The dancers have sheets and my dress is designed to lift up as a fan is used to create a wind effect. At the end of the show, my musicians dress in the edgy Celtic costumes they wear in one of my videos. I love costumes, love playing dress up and it's fun to put a little Disneyesque magic in there among the fun times and personal moments.
"This is the show I have dreamed of doing," Stirling adds, "and it's wonderful to have the opportunity to create it and share myself with my fans this way. I'm excited to step out on stage with so many hard-working people who are equally excited to be there to help me realize my vision."
Jonathan Widran is a free-lance music/entertainment journalist who contributes regularly to Music Connection, Jazziz and All Music Guide. He can be reached at [email protected]. He is also on Google+